MOTION: The Reason You Love Thrusting, Distilled.
Tantus has distilled the perfect thrusting experience, crafted its essence in anodized aluminum, and named it Motion. The spade end was made for your body: neither end feels "pokey" at all, and because of the perfect design of the Motion, you'll instinctively thrust with no danger to your cervix. The Motion is made with care in America. With all these fine qualities, if you enjoy thrusting with any lesser dildo (and any dildo is a lesser dildo), the Motion will perfect your experience.
Published:
Pros:
Distills perfect thrusting experience. Body-safe, unique weight, gave an epiphany and many orgasms.
Cons:
The fitted foam for storage has an off smell, but that's the only negative.
If you love thrusting, the Motion is made for you. For your vagina, for your butt, warming up with the small end and really loving yourself (or your partner) with the spade end. This might look too pointy to be pleasant in pictures, but the pictures really don't capture the essence of Motion at all. When you see Motion in three dimensions, you'll see that it's not going to hurt you. Interestingly, even though I'm a fast and hard thruster with a moderately shallow cervix, I have never come close to my cervix when thrusting the Motion. I think this is because as my vagina envelops the bulge that follows the spade, my body is craving the outstroke. Without even thinking straight (and I
can't
always think straight when using this aluminum beauty), the Motion works with my body to protect me. The insertable length of the Motion is not long enough to reach the curve of the colon, so there is no poking danger during anal use. The flares are not particularly large, though, so if you're skittish, either swap out the end for the single ball of the Revolve or have a partner assist you.
I have always loved thrusting, but I had never stopped to consider why---what exactly it is about a continuous in-and-out motion that makes me feel so good. The very first time I slid the spade-shaped Motion inside me, I intuitively understood. My muscles relax to allow the head to enter (the Motion's angle is perfect for this). As the head passes, they contract around the neck (aided by the gradual slope). Then, as I continue the instroke, the Motion's bulge grows to meet my muscles which had planned to contract. Instead they relax to envelop the bulge, but they keep the contracting sensation. Then my vagina is full and wants to feel the opposite progression. On the outstroke, the slope back up the the full girth of the spade keeps things going smoothly, and the process can be repeated. This understanding hit me like a bolt of lightening---this muscular sensation is why I love every thrusting toy that I love. This muscular sensation is why a penis is so successful. With just one Motion, my whole world made sense.
If you're curious about the mechanics, here is a dimensioned diagram of my Motion. I took measurements to show where your muscles will expand and contract. Bear in mind both that my camera is poor quality, and that even the best cameras can't show you how beautiful Motion is. It was designed to be used, not to be looked at over the internet!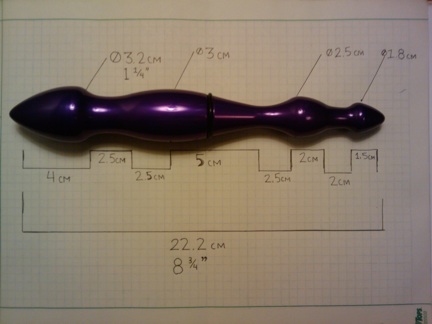 Let's talk about the material: aeronautics-grade aluminum, with an anodized finish to prevent scratches and corrosion. Don't think of a soda can, because the Motion is not hollow. In fact, it weighs 248g (8 and 3/4 oz). The Alumina line has a balanced heft, light in the hand, but felt when inserted. I usually thrust this holding the narrow end between my index and middle finger, which is unusual but very effective---I can go fast without going too deep, and it's very comfortable for my arm. Temperature is held fairly well, and Motion feels wonderful when warmed to body temperature (I let mine rest under my thigh before I use it). The three dildo siblings of the Alumina line (Motion,
Revolve
, and
Flow
) all come in a striking violet color. I'm not typically a fan of purple, but my Motion is undeniably eye-catchingly pretty. The anodized finish is less versatile for cleaning than other materials, but it can be washed with mild soap between uses, and sterilized in the dishwasher. Tantus does not mention bleach or boiling in their literature.
Experience
The Motion (like each member of the Alumina line) is made of two halves, which are screwed together by a threaded rod protected by a silicone O-ring. The threads are cut perfectly, and it's actually a joy to unscrew this for cleaning. Because the halves are separable, all of your Alumina toys can be hybridized to suit your tastes. Also because they're separable, it's possible to lose your o-ring. If this happens, don't worry---head to your hardware store and ask for a 1" silicone o-ring (I measured in advance, just in case).

The Motion arrives in a slender black box with a form-fitted foam insert. This box serves as classy storage and safekeeping. Though the anodized finish is scratch-resistant, I am wary of letting mine roam around free, especially when the box is hardly larger than the dildo itself.

The Motion is an incredible work of art from Tantus, which has earned a place in my heart as my favorite sex toy company, and perhaps my favorite company of any kind. They design, develop, and manufacture all of their body-safe sex toys in the US. Their products are beyond successful, and the Motion is my favorite among the all that I've had the pleasure of trying out. I owe to them my thrusting epiphany, and an awful lot of orgasms.
Follow-up commentary
7 months after original review
I love Motion.
I have tried and loved
a lot of sex toys
, and Motion is in my personal Top Six. From the moment it gave me my Thrusting Epiphany to the most recent time I had it inside of me, I've been firmly in love with Motion.
I talked a lot about how much I love it vaginally in the earlier review. I almost never use the smaller end vaginally---if I want a warm-up, I'll use a different toy before diving straight into the spade end. The smaller end, however, is pretty magnificent as a small anal warm-up or tease. The two little spades are not so different from the metal beads of the Njoy
Fun Wand
. They feel delightful. Because I've heard that the aluminum dulls if it's bleached or boiled repeatedly, I haven't tried the full spade end anally, but I can only imagine it being amazing (so long as you are experienced enough to not let go at a crucial moment).
The Alumina Motion was my gateway metal dildo (I had had a Pure Plug for a long time, but that's not very front-friendly), and I've really taken off and expanded my metal collection. The smoothness, the ability to hold heat once I've warmed it, the slick feel in your hand. Aluminum is so much lighter than steel, it's a bit of a surprise every time I pick this up after having used a steel toy. The weight is perfect. The design is perfect. Motion's cousin, the Flow, is on the very top of my wish list right now.
If you're on the fence, or even if you hadn't considered Motion before---get it. It will change your thrusting life.
This content is the opinion of the submitting contributor and is not endorsed by EdenFantasys.com

Thank you for viewing
Alumina Motion
– double ended dildo review page!