Don Wands Textured treasure - G-spot dildo from Don Wands

Product Details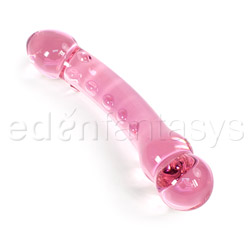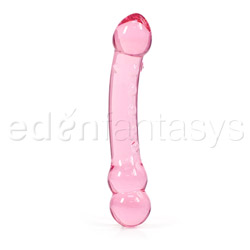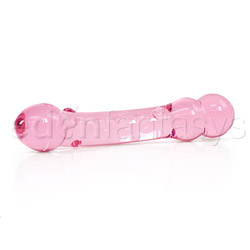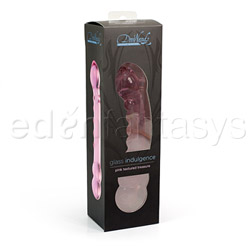 Summary:
The Textured Treasure is a pink glass dildo with a bulbous mushroom tip (great for g-spotting) and a lightly textured curved shaft. With two bulbs at the other end, this product can be used any way you please. With both beauty and efficiency, this dildo is one you'll want to add to your treasure box!
Pros:
A nice variety of texture, glass material is super smooth and safe, slightly curved for g-spotting.
Cons:
No storage pouch, only comes in pink as of now.
Material / Texture:

This dildo is made of glass, which rates a 10/10 on the Eden Safety Scale, and it's hypo-allergenic, latex free, non-porous, phthalates free, and waterproof. You can't go wrong with glass if you like the smooth, hard feeling of it.

In addition to the mushroom-style tip for g-spotting, the opposite end of this dildo has two bulbs that measure one and a half inches.



Along the shaft, there are ten small bumps--five on one side and five on the other. These bumps help stimulate the vagina and provide a light to moderate texture. If you're not a fan of bumpy texture, this might not be for you. However, I do consider this to be light texture in comparison to something like the Rainbow Nubby Wand.



Those not against this texture will appreciate the stimulating feel of the bumps' contrast with the very smooth glass material.

Material:

Tempered glass

Material safety

Texture:

Nubbed / Smooth

Safety features:

Food-grade material / Hypo-allergenic / Latex free / Non-porous / Phthalates free

Design / Shape / Size:

With a six-inch insertable length and one and one quarter-inch diameter, this toy may not satisfy size-queens. However, the majority of average users will appreciate the size of this dildo.

The design of this toy is not realistic, as most glass dildos go, but it is a beautiful, artsy piece that has texture to work with you. The dildo isn't considered discreet, as anyone who knows about sex toys can probably guess it is a dildo just by looking at it. However, it does not really resemble a penis.

Color:

Pink

Length:

7"

Insertable length:

6"

Circumference:

4 1/4"

Diameter:

1 1/4"

Weight:

1 lb

Performance:

Because this product has no motor or electronic properties, its performance really depends on the user. If you know your own body well enough, this dildo will provide orgasm after orgasm, whether it be a g-spot, vaginal, or clitoral-stimulated one.

There are no batteries, no charging, and no settings to fiddle with. This dildo is 100% waterproof and silent on its own. Use it with whatever force and technique that works for you--just be sure not to bruise your cervix by thrusting too hard.

Care and Maintenance:

Glass is one of the easiest products to care for. It can be cleaned in almost every way possible and can be easily sterilized, as well.

Dishwasher: Stick this on the top shelf of your dishwasher for a super easy way to clean your toy.
Boiling: Submerge in boiling water for a few minutes to sanitize the dildo. Do not use directly after boiling, as it will retain very high temperatures.
Bleaching: Rinse well and soak in a 10% bleach solution for an easy clean.
Soap and water: Use warm/hot water and a mild unscented soap to wash your dildo by hand.
Toy cleaner: Use your favourite toy wipe or spray to get this clean.

For storage, you should note that this product does not come with a storage pouch so you may want to purchase one. Keep it in a safe, clean, and dry place to make sure it doesn't chip during storage. Glass does not attract lint, dust, or any other material, so simply wiping it off with a damp towel before use will be sufficient.

Care and cleaning:

Bleachable / Boilable / Dishwasher safe / Soap and water

Packaging:



This dildo comes in a box with a transparent front, enabling you to see the product before opening the box. Inside, there is a clear plastic shell keeping it in place.



On the back, there is some information about using this product, such as how it is double-ended and can be used for temperature play by putting it in cool or warm water to hold the right temperature for you. Is also contains some care instructions, but nothing I haven't listed here.

I did not keep this packaging for storage, and I don't think most people would. Like I said in the previous section, your best bet would be to buy a nice padded pouch for this to avoid chipping, though it is durable for glass.