Pipedream Basix dong with suction cup - Realistic dildo from Pipedream

Basix dong with suction cup videos
Product Details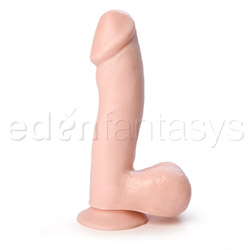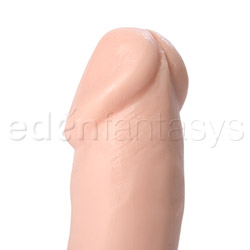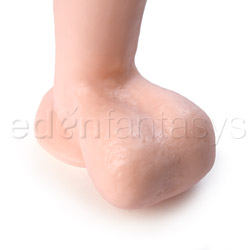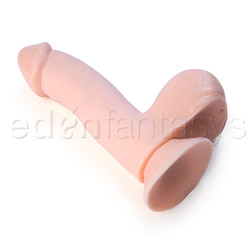 Summary:
Should you want to save a bit of money, and get a realistic (albeit flawed) dildo, this may be the one for you! However, sinking a bit more into your purchase price can get you a better material, and overall a better experience than this toy.
Pros:
Great suction cup, very very firm, realistic shaft design.
Cons:
Strong smell, very malformed (square) tip!
Material / Texture:

Like most rubber dildos, this one has quite the pungent smell to it, a sickly-sweet smell that accompanies quite a few sex toys. If you've bought one before, you know what I mean! It's not something you can wash off: it's quite firmly embedded into the material. While this isn't terrible, per se, it is a bit off-putting when you catch a whiff of it.

The dildo itself is quite a firm little bugger. There's a bit of give if you push your fingers in hard to it, but you gotta really push! When locked in place with the suction cup at the bottom, the shaft will thankfully stay quite rigid and upright, meaning you can ride until you pass out! For those of you who like a bit of a softer, jelly-like feel to your toys, you may not enjoy how tough and firm it is.

Material:

Rubber

Material safety

Texture:

Veined

Safety features:

Hypo-allergenic / Latex free / Phthalates free

Design / Shape / Size:

The biggest drawback of this toy comes from the tip. It's.. square. Really! Around the glans area, it actually has a square shape, and I'm unclear as to whether all forms of this toy are like this, or if mine was a manufacturing problem, but it felt really, really uncomfortable when trying to get it inside of me. Thus, the square-peg-round-hole problem. With a softer material, you would be able to easily overlook this form problem, but with a material as rigid as this, it's quite uncomfortable upon initial penetration.

Though it's a bright neon pink, the rest of the shaft looks very lifelike for a rubber mold - outside of the tip area, that is.

Length:

7"

Insertable length:

5"

Circumference:

6"

Diameter:

2"

Weight:

10 oz

Performance:

I love toys that have suction cups on them. It's so easy to stick it to something and go to town, and this one thankfully has a strong suction cup. Moisten the inside the cup a little, and push down hard, and it'll almost stay until your house ages and falls down around it, which is great for those who like to bounce REALLY hard.

Care and Maintenance:

This isn't really a toy you want to share. Rubber is very porous and doesn't store very well, and frankly, the smell may get to you! Even if you have no plans of sharing this dildo, I'd still buy a few condoms and use them over top of this product. It's a heck of a lot safer, plus it makes cleaning up so much easier!

Personal comments:

If you can overlook that one glaring problem, then this is quite the dildo! Firm and tough, with a suction cup and a thick shaft, it's a great buy for the price, but if you want something a little more.. forgiving, toss a few more dollars into your purchase and make sure you're getting a round peg for a round hole!