Tantus O2 Adam - Realistic dildo from Tantus

Product Details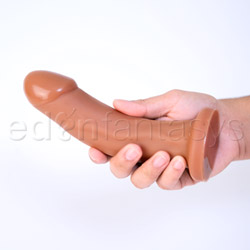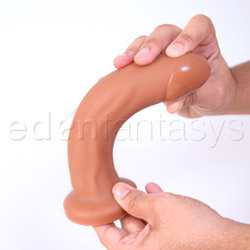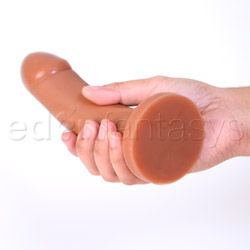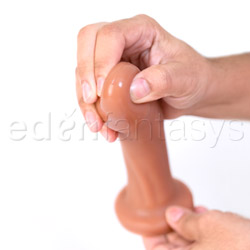 Summary:
Adam is a great choice for anyone looking for G-spot stimulation with a realistic feel. The firm silicone is strategically placed for optimum pleasure. Good for anal and harness play, Adam is a master of versatility. Anyone that can accommodate a 1 5/8" girth can enjoy Adam. Expert or novice should be equally thrilled. Tantus has paid attention to every detail and created a very enjoyable product, they should be very proud.
Pros:
Good G-spot stimulation, Feels realistic, Harness compatible, Nice base, 100% body safe.
Material / Texture:

Adam is made of Medical grade silicone and has two different finishes to the surface. The head and bottom of the base are shiny, high gloss finishes, while the entire shaft is done in a matte finish. The high gloss head does seem to have a bit more drag on the skin, but both finishes do have a slightly tacky feel. I did find I needed more lube than usual with Adam.


Adam is a realistic dildo made of two different formulations of silicone, one soft and one firm and strong. The result is an amazing, lifelike, feeling in use. Adams inner core is very firm silicone that holds shape and gives structural stability. The outer surface is soft, very plush, squishy silicone. Adam does have some texture in the way of veins and ridges. The veins and ridges are comprised of the soft silicone and are mild in use. 02 silicone, like all Tantus silicone is Phthalates free and body safe. Adam's skin is a lint magnet so washing before and after use is recommended. There is no smell or taste to Adam's silicone.


I also own the Tantus 02 Revolution, and while it is an 02 dildo, the silicone is different, not so much in feel, but in the outer finish. The Revolution and Adam are both matte finishes, but the Revolution has no tacky feeling to the surface. I don't know if this is because of the actual finish or because Adam is a flesh tone dildo. Adam feels very much like VixSkin to me.

Material:

Silicone

Material safety

Texture:

Veined

Safety features:

Food-grade material / Hypo-allergenic / Latex free / Non-porous / Phthalates free

Design / Shape / Size:

Adam's curved shaft proved excellent for G-spotting and I found his overall size great for use outside of a harness. Adam is a total of seven inches long with six and a half inches of insertable length. His diameter is one and five eights of an inch. The base is approximately two and a half inches across and a half inch thick.


Adam's inner core holds shape well and is not lost in use. Adam is flexible, not floppy. Adam's head is two inches long, the inner core stops after the first inch, leaving one inch of ultra soft, plush silicone at the tip. The Corona is raised about a quarter of an inch and does a great job massaging the G-spot as well. The Tantus logo is located at the base of the curve and can be useful in keeping the correct orientation of Adam while using.

Length:

7"

Insertable length:

6 1/2"

Circumference:

5 1/4"

Diameter:

1 5/8"

Harness compatibility:

O-ring compatible

Weight:

13.5 oz

Performance:

Tantus 02 silicone is very similar to Vixen's VixSkin but Tantus has seemed to strategically place their inner core in the perfect position to provide optimal stimulation. Let me explain, instead of pouring a inner core and just coating the outside with soft 02 silicone, Tantus has created areas of thicker and thinner 02 density in various places on the dildo. For example: The inside curve of Adam is coated very lightly with the 02 silicone. While the head including the ridge, or corona, is heavily coated. Also, the inner core stops half way up the head of the dildo. The backside, or underside, is heavily coated in 02 making it much more soft and squishy. The result is a crazy mad scientist blend of firm but soft stimulation. The G-spot stimulation Adam provides is like what you would expect from the N-Joy pure wand covered with just enough soft, squishy, silicone so you can go crazy with it. It's a little firmer in certain areas than a real Penis, but that's what provides that just right stimulation. Adam really is a stellar dildo.

Care and Maintenance:

Adam can be Boiled or placed in the dishwasher (top shelf, sans-soap) to sterilize. A 10 % bleach to water solution can also be used. Washing with antibacterial soap and water should suffice between uses, unless you plan on sharing. Silicone lube can ruin Adam's finish and should be avoided. Water based lube is best for Adam. Adam does attract lint, so storage in a zip lock bag away from sharp objects is always a good idea.

Care and cleaning:

Bleachable / Boilable / Dishwasher safe

Personal comments:

I adore Adam! I can't imagine my collection ever being without one. Unless I'm wanting seriously firm pressure for G-spotting, Adam meet's all my need's for realistic G-spot stimulation. He's not too firm, not too soft! I know that sound's cliche, but Adam is perfect!