Tantus O2 Mikey - Realistic dildo from Tantus

Product Details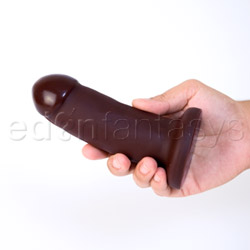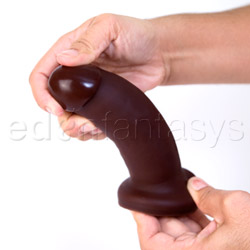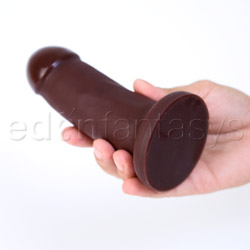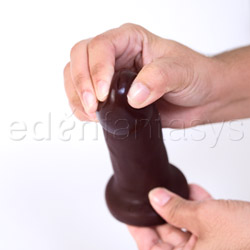 Summary:
O2 Mikey is designed to feel like the real thing and it does. Mikey is a great choice for those who want a shorter but girthy toy that feels real, is harness compatible, is easy to hold and control. O2 Mikey is an absolute pleasure to use. I highly recommend O2 Mikey.
Pros:
very realistic feel, premium silicone, safe ingredients
Material / Texture:

Mikey is made of Tantus' premium O2 silicone. Its a dual density product with a thick core of firm silicone in the center and a thin layer of much softer O2 silicone covering the core. The frenulum, the fold that sticks out under the head, is pronounced on Mikey, but there is no other significant texture. Mikey only has the most subtle bumps and hints of veins around his shaft.

It has no scent or taste at all.

While Mikey feels firmer than a real penis in your hand, it feels very realistic inside you.

Material:

Silicone

Material safety

Texture:

Veined

Safety features:

Food-grade material / Hypo-allergenic / Latex free / Non-porous / Phthalates free

Design / Shape / Size:

Mikey is five and three quarters inches in circumference and has an insertable length of only five inches. Mikey has a semi-realistic look.

The head is shiny while the shaft and base aren't. I had assumed that the head might be hard. It looks hard in the photos. But the firm silicone core only extends into the head a little bit. The head is almost entirely the softer O2 silicone.

The base is thick, making it more comfortable for use in a harness. The Tantus logo is imprinted faintly on the top of the base. Where the shaft meets the base, there is a slight indentation all the way around the shaft. I assume this is for the ring of a harness to nestle into so it stays firmly in place.

Length:

5 3/4"

Insertable length:

5"

Circumference:

5 1/2"

Diameter:

1 3/4"

Harness compatibility:

O-ring compatible

Weight:

11 oz

Performance:

When Mikey arrived I didn't expect him to be as good as Lonestar, a vixskin silicone, dual density toy with the same circumference as Mikey. I love Lonestar so very much. He's not the same in many ways, but Mikey does feel as real as Lonestar.

While my first session with Mikey was just ok, every subsequent time was very good. Its possible that my prejudice that nothing could feel as real as Lonestar affected my initial experience.

Here is my comparative assessment of Mikey and Lonestar.

Lonestar is much softer overall. Lonestar will swing wildly back and forth or up and down with only a little movement of the base. Mikey is much stiffer and only moves a little. Lonestar can be squeezed and compressed further than Mikey. Its clear that the soft outer material of Lonestar is much thicker and the firm core is much thinner than with Mikey.

My estimate from squeezing is that Lonestar's soft layer is the same thickness of the core, so two thirds of its diameter is soft outer material. By contrast Mikey probably has about a quarter of an inch thick layer of soft O2 covering its much thicker core. If these estimates are correct, Mikey has a core that is one and a quarter inches thick, while Lonestar's core is about five eights of an inch thick. Both dildos have the same delicious circumference.

The bottoms of both Lonestar and Mikey are shiny and equally firm. It seems that the density of the firm silicone used in each toy is comparable.

Squeezing the heads of both toys, its clear that vixskin's soft silicone is softer than Tantus' O2 silicone. So Lonestar is softer not only from having more soft silicone covering but because that soft material is softer than O2 silicone.

Comparative Mikey/Lonestar realism test results:
Realistic look: Lonestar
Hand squeeze test: Mikey
Blow job test: Lonestar (Yes, I actually gave them both blow jobs)
Realism of wiggling: Probably Mikey
Realism of Vaginal feel (the test that matters): a draw

After exhaustive testing where I'm actually sore from attempting to evaluate this, I cannot decide which feels more realistic. Even though they don't feel the same, with Mikey being much firmer, they both feel real.

I'm also not sure whether the soreness doesn't have something to do with a residue of some kind on Tantus products. Tantus toys are phthalate free and free of all toxic materials, but I was very sore after using O2 Rascal without washing it first. Even though I washed Mikey before use, it feels like I'm a little more sore than I would expect to be. Note that I've had no continued soreness problems with the O2 Rascal and don't expect problems with Mikey either. Tantus products contain no unsafe ingredients and have no unsafe residues, so I don't know what to say about my soreness problem. I'll report in a follow up review if there are continued soreness issues.

I found that Mikey's extra firmness made him the more effective toy. Its easier to climax using Mikey than Lonestar. I'm so sorry Lonestar! It pains me to say anything bad about Lonestar, an absolutely stellar toy. Even though Mikey is fairly straight, he provides excellent G-spot stimulation and is easy to hold and control with his perfectly-sized base.

In comparison with the O2 Rascal, Rascal is softer than Mikey. There is more of the soft O2 material covering the O2 Rascal than covers Mikey. Tantus tells me that the O2 material is the same in both toys. Only the color is different.

Mikey achieves a realistic feel from having the right ratio of soft O2 covering to firm core material.

Care and Maintenance:

Mikey is made from premium silicone and while some Tantus products can tolerate silicone lube, with this one Tantus specifically recommends that you stick with water based lubricants.

Caring for it is easy. It can be boiled, bleached or washed in the top rack of a dishwasher to sterilize. For routine care, wash with soap and water after use.

It can be stored among other toys without extra wrapping. Touching other products won't affect its silicone finish. However it is a lint magnet so you may want to find a lint free way to store it, such as a plastic bag.

Care and cleaning:

Bleachable / Boilable / Dishwasher safe

Personal comments:

This may not be true for younger readers of this review, but I can't hear the name Mikey without thinking of the Life cereal commercial starring a child of that same name.

Deciding whether to purchase O2 Mikey or Lonestar will probably depend on how soft you want your dildo to be, whether you want it to look one hundred percent realistic and possibly on whether you like your toys to sport balls.

For those who want a dildo of this size that feels real and that you can thrust as hard as you like, Lonestar is a good choice. Lonestar can also give you that nice ball slap sensation against your bottom. For those who prefer a firmer toy that will be easier to climax with and provides a bit more G-spot stimulation, O2 Mikey is a fantastic choice. Either way you can't go wrong.

Here's a chart of my assessment of the relative softness of various toys.

Mr Softee ********** (10)
Lonestar ******** (8)
O2 Rascal ***** (5)
O2 Mikey **** (4)
O2 Revolution *** (3)
Rascal ** (2)

I've enjoyed O2 Mikey a great deal. He will definitely stay on the top of my toy box.