Tantus T-Rex - Realistic dildo from Tantus

Product Details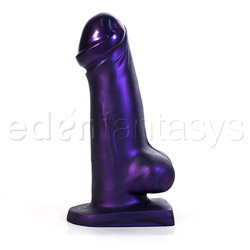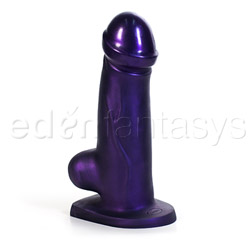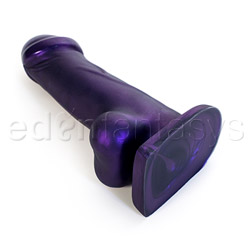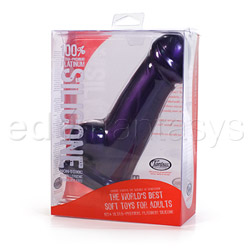 Summary:
The T-Rex is a heavy hunk of high quality silicone that is designed for people who crave lots of girth but not an excess of length. It's easy to care for and capable of filling any orifice you choose, but beware... T-Rex is not your average dildo!
Pros:
High quality silicone construction.
Cons:
Lint magnet, base is too flexible to hold on to.
Material / Texture:

Made in the USA with hypoallergenic high-grade silicone, T-Rex has only a faint "factory clean" scent which dissipates after washing. The head of it has a glossy finish for smoother insertion while the rest has a fine matte finish. Both feel quite "grabby" so we strongly suggest using a good lubricant to reduce friction if the size alone isn't enough to make you reach for a bottle.

With the exception of the balls, the silicone is nice and pliable, similar to the Tantus O2 line, and it is flexible enough to not be unyielding to body movements once inside.

Material:

Silicone

Material safety

Texture:

Veined

Safety features:

Food-grade material / Hypo-allergenic / Latex free / Non-porous / Phthalates free

Design / Shape / Size:

T-Rex is 8.5" overall, but only 6" of that is insertable so it's ideal for people who enjoy more width than length in a toy. LOTS of width. The fairly-realistic design is 2" wide in the shaft, but at the bottom of the head and the area right above the balls it measures 2.25"... far wider than the average penis.


It's very heavy too, which is something to consider if you want to travel with it, but the dense construction allows it to stand upright on its own and keeps the shaft straight even in a horizontal position.

Length:

8 1/2"

Insertable length:

6"

Circumference:

7"

Diameter:

2 1/4"

Harness compatibility:

O-ring compatible

Weight:

1.75 lb

Performance:

Between its girth and weight, there's no doubt that T-Rex can be classified as a very "filling" toy! Lubricant and patience are going to be even an advanced user's best friends in this situation. The dildo's pliability helps insertion to an extent, but the base of the head is very easily felt and may not be comfortable for everyone during vigorous thrusting or removal. The veins on the side, though not overly rigid, are also easily felt.

If you're not using a harness it's easiest to get a grip around the balls of it because the base flexes far too much to hold on to this weighty toy comfortably.


Care and Maintenance:

Like all Tantus toys, T-Rex is simple to take care of. You can clean it with soap and water, a toy cleaner, or a 10% bleach solution. You can even boil it for 3-5 minutes or put it on the top rack of your dishwasher (minus soap). The one thing that you do have to be very careful about is your lubricant choice; silicone lubes can damage silicone toys. Other than that, storing it in its original plastic box or another container that would keep dust and lint off of it would be a good idea, although either can be easily rinsed away before use.

Care and cleaning:

Bleachable / Dishwasher safe / Soap and water

Experience:

Alan says:
I can't imagine ever using a toy like this myself, but Michele managed to give me a show I'll never forget. Sexy as hell, but clear to me that it's not for beginners. One thing I'm curious about though is how this toy might be harness compatible? I've heard that it is, but I'm thinking if you were to slip an o-ring over the top there would be too much room between the wearer's body and the toy. I'm also not sure it would be possible to smash the base in enough to get a ring under the balls. But then again, we've never played with a harness before so maybe somebody with some experience could verify if it would work that way.

Michele says:
Ok, this thing is huge. Seriously, I used to think my VixSkin Johnny was a formidable dildo, but it looks positively average lying next to this one. It took 3 tries on different nights, a lot of warm-up, and a good amount of lube to conquer T-Rex but I finally did. It was too heavy to hold for long without cramping my wrist so I wound up squatting over it on the table. Being stuffed that full was an interesting feeling but not one I think I'll be in the mood for often, particularly since the bottom of the head catches on my pubic bone if I do much deep thrusting with it. Size kings and queens will love it though.

What I love about T-Rex is the silicone formula. It's *much* more pliable than the earlier Tantus toys were and I think it's even a little better than the O2 line. I really hope they either remake some of the older designs (like the John Doe or V.I.P.) or make some smaller toys with it.