Looking for a challenge?
The T-Rex may not be a toy that's destined to be used very often but with its size challenge and the teasing stretch of its unforgiving firm silicone, once it's been managed the domineeringly intense stimulation of Rex is really something to remember.
Published:
Pros:
Large solid build, thick and filling G-spot reaching head, small but still stimulating balls.
Cons:
Likely to be too much of a size challenge for most to enjoy.
Having hemmed and hawed over whether or not to invest in such a beast of a toy I finally came to the conclusion that the T-Rex was most likely destined to end up in my collection out of curiosity so I gave in and ordered the monster. Already owning his slightly smaller brother (the Raptor) I had challenged my size limits with that solid Dino dildo and was preparing myself for an even bigger Dino Dick challenge this time around.
Packaging:
The packaging of the T-Rex is typical of Tantus in its design, though it is a much larger box than I am used to with Tantus dildos, roughly twice as large! With the generous size of the dildo itself this is a necessity rather than an excess. While most Tantus toys arrive standing upright in their packaging, the T-Rex sits at a diagonal angle within its clear plastic packaging, with its modest balls quite prominently displayed. On the back and sides of the packaging you will find plenty of information about the silicone used in Tantus toys.
As will often happen with Tantus packaging, mine was cracked in places so care was taken not to cut myself on the plastic (it can be sharp enough even when not cracked.)
First Impression:
Seeing the T-Rex in person it was about the monstrous size that I had expected it to be but with a slightly more pronounced head ridge than I had judged by looking at product pages and peoples photos online. While I had heard a hand full of reviewers mentioning this as the reason it was unusable for them; it somehow doesn't show as well as it's seen in person. In person this ridge is well, a little intimidating when seen on a toy this size.
Looking at the proportions of the T-Rex I found myself thinking that the shafts thickness itself would be quite manageable (I have thick toys like the James Deen Dildo and Vixskin Maverick that get regular use). For those who have managed over two inches of girth I can imagine the shafts thickness would work but the ridge is what really makes this a challenge even for the size queens or girth lovers out there.
Build/Shape:
Being loosely based on a Dinosaur dick just like the Raptor is, the T-Rex is in some ways a realistically shaped dildo but in other ways its proportions give it an abstract appearance. While the shaft is thick, the head ridge is impressively raised and the balls are unusually small for such a large toy. Along the sides of the shaft are some sparse but realistic veins. The base of the toy is thick and makes the T-Rex O-ring harness compatible and despite its large and heavy build the T-Rex is decidedly firm and solid meaning there will be no droop when worn in a harness. Feeling the shaft in my hands there is very little give or bend to the Silicone.
Measurements:
Total Length: 8 1/2 Inches
Insertable Length: 5 3/4 Inches
Circumference of Head Ridge: 7 1/4 Inches
Circumference of shaft (measured directly under the head ridge): 6 ¼
Circumference of Lower Shaft: 7 Inches
O –ring Diameter: 2 ½ Inches
- Compared with the VixSkin Maverick -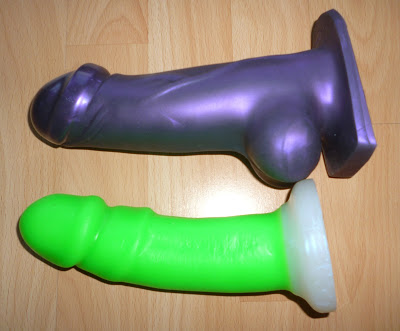 In Use:
Obviously this is not a toy for the faint of heart and even for experienced girth lovers this may take several attempts before success. For me a few attempts with lots of lube and a generous warm up time was needed. Keeping lots of water-based lube to hand and using a couple of 2 inch plus girthy toys before getting to Rex. The smooth shiny head of the T-Rex works well for rubbing against the clit before insertion and it makes the initial insertion smoother too allowing the silicone to glide.
The ridge was as much of a challenge as I feared but several attempts in it was managed thanks to the shiny material of the head of the T-Rex. After the shiny head comes the matte finish shaft which only really creates a challenge if lube is running short. Having a more modest girth in the shaft (when compared to the head ridge) the shaft feels slimmer than its actually quite girthy diameter.
Though Rex surprised me in being manageable, it is not a toy designed for heavy thrusting and I found that the thickness combined with the ridges stimulation of my G-spot was intense and enough to really satisfy me.
...
Experience
The T-Rex is even designed for use as a strap-on dildo, with a thick flat base and enough space between the base and the balls that the receiver can enjoy slapping against them (if you can manage it strap-on on sex with this doggy style can provide a great deal of clitoral spanking with no with no added effort)
Included with the T-Rex is a two and a half Inch thick O-Ring. I have never seen an O-Ring included with a Tantus toy before and I can only assume that they were so kind as to include one because it would be hard to otherwise find one that's thick enough for Rex. This O-ring is large enough for me to comfortably roll it over my hand and wear it as a bracelet/bangle.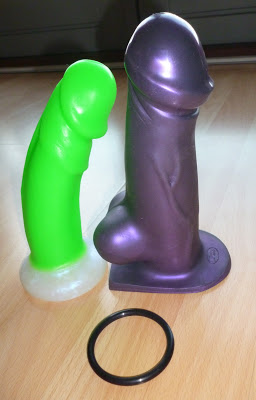 - Raptor - T-Rex - Maverick -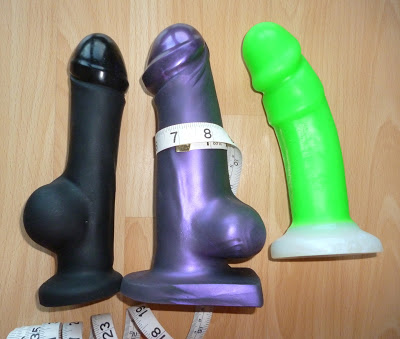 Overall:
While I feel the need to point out that this is most likely not going to work well for most people with its intimidating large size and a head ridge sure to get in the way for alot of peoples bodies, I ordered this myself feeling that it would remain unused and would live its dildo life as a large phallic ornament to admire in my bedroom; as far as phallic ornaments go this is beautifully bizarre looking and far as huge but maybe manageable dildos go it's even better and fills to a point of pure ecstasy.
Large and unforgiving with a particularly raised head ridge, you have been warned that this isn't a challenge to be easily accepted! but if at this point this still sounds appealing then the stretch and fill might just be what will make this toy magic for you too.
Care:
Made of high-quality Silicone, the Tantus T-Rex is both Latex and Phthalates free, silicone is completely non-porous meaning that it can be fully disinfected by boiling it for 3 minutes or by throwing it into the top rack of your dishwasher or it can be simply washed after use with warm soapy water or specialized toy cleaner, it is generally believed that silicone based lubricants should not be used with silicone toys. I would recommend using a generous amount of water-based lubricant with the T-Rex.
I keep mind stored in a large Zip-sealed bag in between uses as I find this the best way to keep it clean and dust free which can be otherwise difficult to do with lint attracting silicone.
This content is the opinion of the submitting contributor and is not endorsed by EdenFantasys.com

Thank you for viewing
T-Rex
– realistic dildo review page!