Doc Johnson American Bombshell B7 warhead - Dildo from Doc Johnson

Product Details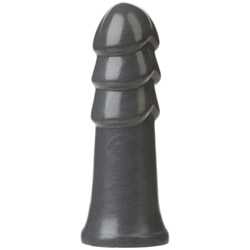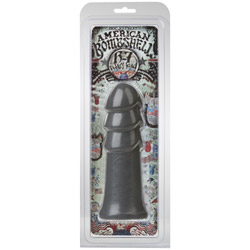 Summary:
For a different type of dildo that provides multiple stimulation points the deeper it is inserted, the B7 is GREAT! The girth is quite "fulfilling" and the depth is perfect for vaginal insertion.

To me, this is a "BIG O" toy
Pros:
size, design, girth
Cons:
PVC, hard, inflexible
Best use:
The American Bombshell B7 warhead is a very different type of dildo that is PERFECT for vaginal stimulation. It is a smooth PVC material that is 7" long and 7" in circumference. It also has a diameter of 2 1/4" and weighs a good 1 lb.

For the most part, dildos are designed to resemble a penis, but NOT this one (in a VERY positive way)! The three rings, located at different heights on the dildo, provide a FANTASTIC and different type of stimulation. I find that some of the most exciting stimulation is when penetration begins and feeling the head of a penis go in all the way. With this dildo you get that stimulation 3 TIMES, as you are enjoying deeper depth.

I have been married to a WELL endowed man (and love of my life) for almost 15 yrs, so the girth provided with the B7 warhead is perfect. I would HIGHLY suggest using LOTS of lube and to be gentle for someone who is not used to this type of size. This toy WILL provide you with a whole new level of vaginal stimulation, especially with the three rings which provide more girth as insertion gets deeper

There is NO question that this dildo is best intended for vaginal stimulation for a woman who wants to feel very full and deeply penetrated.
Material / Texture:

I found this to be a GREAT dildo, but the material would be one of the only downsides I see. It is a smooth, phthalate-free, PVC material. I did not find it very soft and it's almost quite hard. The one pound weight of this toy does contribute to the size and hardness of the material.

The plus side of the material is that it is PVC, so it requires little maintenance and has a long life. Just as I would HIGHLY recommend with ANY toy (no matter make, material, etc), proper cleaning is key in maintaining the life of the toy. Simply wash it with warm water and soap.

Even though this toy is a plastic and not silicone, I would still recommend storing it separately. For example, we use small, drawstring, cotton bags for EVERY toy and the by doing so, they are almost as good as new each time.

Material:

Pvc

Material safety

Texture:

Smooth

Safety features:

Phthalates free

Design / Shape / Size:

NO questions, the design and shape of this dildo is what makes it one of my favorites! The size, along with the three separate stimulation rings on it, makes it an AWESOME toy to add to our collection.

It is 7" long and 7" in circumference. It also has a diameter of 2 1/4". This toy is not for someone who doesn't want to be stimulated deep and wide. However, for those who like a nice girth and deep penetration, this toy will not let you down.

Color:

Grey

Length:

7"

Insertable length:

6 3/4"

Circumference:

7"

Diameter:

2 1/4"

Harness compatibility:

O-ring compatible

Weight:

1 lb

Performance:

The best part of the B7 warhead is the feeling of a dildo with THREE separate stimulating rings that provide a large amount of girth and depth.

The downside of this toy is the hardness of the material and lack of maneuverability. A big plus would be if this exact design and shape toy was possibly silicone based (which it is not). To have more softness and flexibility would take the B7 to the next level.

Special Features:

Flared base
Harness compatible
Texturized
Waterproof

Care and Maintenance:

Care and maintenance for the B7 warhead is pretty simple. It is a plastic based toy material, so washing it with warm water and soap after each use is sufficient.

Again, even though it is not silicone, I would recommend storing this toy (along with every toy) individually in a small "amish style" draw string bag. We feel this preserves each toy better and provides a much longer life.

Care and cleaning:

Soap and water / Toy cleaner