Doc Johnson The G vac-u-lock - Dildo from Doc Johnson

Product Details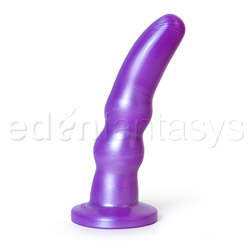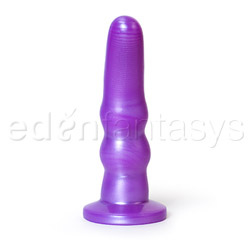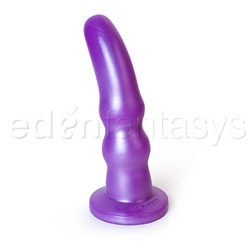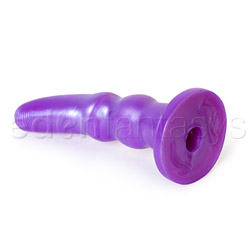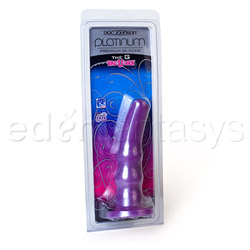 Summary:
Ever wanted a toy that just did everything? Well here's the answer. Although it's called the G, this toy has it all. It can not only be used in a harness, but also as a G spot dildo, and a P spot stimulator! What's best, it's 100% silicone which means you can share it all you want! It's the perfect little toy.
Pros:
Does just about everything from G, P, and harness play.
Material / Texture:

The G vac U lock is made from 100% hypoallergenic, phthalates free premium silicone. The toy itself is super smooth with only a little bit of friction (yes you will need lube with this one). Pretty metallic purple is adorned with dark purple swirls making the toy not only pleasing during use but also pleasing on the eyes.

As dildos go, the G is pretty darn flexible and plush. It's firmer than a penis but has just enough give to it to be comfortable for penetration. The base is completely hollow allowing for bullet insertion (vibes will only be felt in the shaft) making the dildo completely bendable at the base of the shaft. The head is firmer but is still squishy. Therefor, the G is both comfortable and a good choice for beginners.

The toy has a slight, fruity scent with no taste what so ever.

Material:

Silicone

Material safety

Texture:

Bulged / Smooth

Safety features:

Food-grade material / Hypo-allergenic / Latex free / Non-porous / Phthalates free

Design / Shape / Size:

The G is seven inches long with three of those inches being easily insertable. I say easily because at the three and a half inch mark, you run into the bulbs which may or may not be insertable depending on the person. The circumference is four and a half inches at the head and five inches at the bulbs. The base is flared and so the toy is completely safe for anal play (yeah!). Because the toy does have larger areas, beginners might be intimidated however they will be able to work their way up to larger girths and therefor, if you're wanting more girth,this is the way to start out.

Finally, let's get down to the G spot stimulator. The head is raised by only one fourth of an inch, meaning that the pressure on the G spot is slight. Even so, it's consistent and provides the user with gentle stimulation.

Color:

Purple

Length:

7"

Insertable length:

6 1/2"

Circumference:

5 1/4"

Diameter:

1 5/8"

Harness compatibility:

O-ring compatible / Vac-u-lock compatible

Weight:

9.7 oz

Performance:

How does the toy perform? Pretty darn well. In the harness it is sturdy and easy to maneuver around. I've had some toys that are just too heavy or too soft to maneuver but the G is not one of them. Although you won't receive intense, squirting sensation from the G it still provides enough of that deep down, oh so yummy, sensation to satisfy.

As an anal toy the G is great for those who really want to stretch themselves. Start out at the tip and work your way past the bulbs. Because it has a flared base it is safe to use, even for extended wear. Go ahead, stretch yourself out.

Of course, the toy works perfectly fine as a dildo too. The flared base even serves as a handle, which is great when things get a little too slippery.

Care and Maintenance:

The G is super safe and really easy to care for. After using you can disinfect it by boiling it for three minutes (please use tongs while removing) or throwing it in the top rack of your dishwasher and running without soap. Then, simply dry with a lint free towel and store in a cool, dry place away from other silicone toys. It's that easy! Plus, because you can disinfect the toy, you can use it between orifices (if you disinfect it each time)or between partners (again, disinfecting between people).

Packaging:

The G comes in a pretty little clear, plastic, clam shell case with a blue and pink background adorned in silver swirls. The back provides in depth information regarding the safety of the material.The packaging itself is perfect for using as storage but might be a little awkward for gifting. If you intend to travel, I would suggest packing the G away in the clam shell case as it will protect it.