Pipedream Feather love cuffs - Handcuffs from Pipedream

Product Details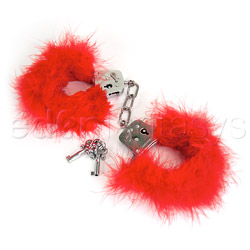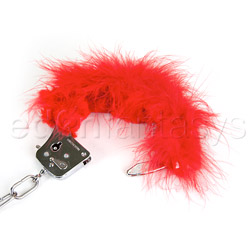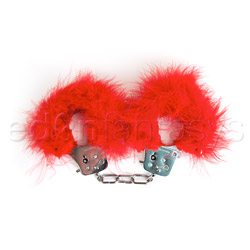 Summary:
These cuffs are not for the beginner looking for a soft BDSM experience. These can be rather painful if worn over long periods. The sleeve is attached to make the cuffs cute but also more comfortable and they do, slightly. It is a good option if you are into role-play and would like to try a BDSM type toy.
Pros:
Quick release, cute feathers.
Cons:
Difficult to get out of, feathers shed everywhere.
Best use:
Handcuffs are pretty self-explanatory. They can be used to attach wrists together or attach someones wrist to a bed post or chair, what ever your thrill.

This product can be for beginners, those who have a hand-cuff fetish, or pretty much anyone interested to try them. They are made to be more comfortable seeing as the have a sort of feathery covering. Handcuffs are not as comfortable as neoprene cuffs therefore it might not be suitable for a beginner looking to be bound for along periods of time.

Ideally, they should be used to attach both wrists together from the front. You could do it from the back and hold onto the cuffs as you penetrate the person doggy-style, but discomfort could be an issue.
Design / Craftsmanship / Material / Size / Fit:

I think these are designed as pretty standard cuffs for beginners. They are made in china and are probably not made of stainless steel. They have a quick release latch on the side and come with skeleton keys.

As I tested the cuffs on myself I have found that the key had a hard time opening one of the cuffs. Also the quick release on the same cuff has a hard time too. It took a while until I was able to free myself from the cuffs. It made me a bit wary about being able to get out of these if I needed to do it quickly, I am not so sure they would be easy to get out of.

These might last a long time with good care. However they do not look like they are made of a good material. They can be cleaned with water and soap but they must be properly dried off to avoid any rusting. It doesn't seem to be constructed that well. These were probably massed produced without quality in mind. I have noticed that the silver of the cuffs is actually just paint and that the cuffs are made of a bronze material.

The feather cover is very soft. It sheds a lot. As soon as I got the cuffs out of their plastic shell casing the feathers were flying all over the place. Not my cup of tea.

Material:

Faux fur

/

Metal

Material safety

Color:

Red / Silver

Length:

11"

Weight:

0.5 lb

Performance:

These are rather noisy when attached to a metal bed. We need a certain amount of discretion where we currently live, and by using these attached to the bed they are not discreet at all.

They can be quite painful if worn for long periods of time. They are a more sadistic type of bondage implement. They worked well for binding my wrists together for about 15 minutes, but after a while they get uncomfortable. It seems you have to position them just right if they are worn and you or in missionary with your arms above your head.

If you try them out and do not like them you can always use them for a Halloween party and dress up as a cop. These can also be used for role-play.

Personal comments:

I found it interesting to try this since I have never tried this type of product before. I didn't particularly love the feathers. In fact the material sleeves, I assume, must be hand washed delicately.

If I am going to be tied up I prefer something more supple or something that will not dig into my skin and bones.

Experience:

We have tried it attached to the bed, and with both my wrists attached together simply. They were better when used for shorter periods.

I can wear them in doggy-style if my partner is holding onto the chain but I can only tolerate it this way for a few minutes. My man finds this very exciting and sexy.

I have tried to attach them to my ankles but the cuffs were too small for that. I haven't gotten hot enough that the cuffs became imbibed with sweat. But the sleeves are pretty warm.

I doubt we will be using these very often. They will be our occasional kinky cuffs. I guess we just aren't police style wrist cuffs kind if folks, my partner and I. I am planning to do a role-play of me as a cop and my man as a robber or something and just tie him up or have him play the cop. I love role-play so these will probably be used more for this purpose.

Other

Lining:

Faux fur

Safety features:

Food-grade material / Latex free / Non-porous / Phthalates free