Sportsheets Menage a trois - Harness and dildo set from Sportsheets

Product Details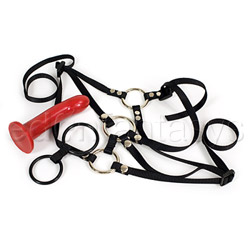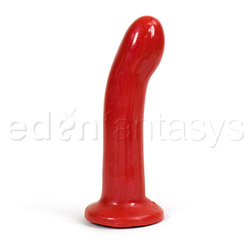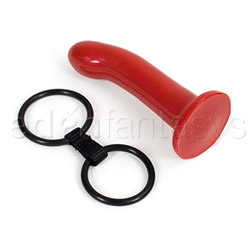 Summary:
The Menage a Trois for Two Harness Set is one of the best couple item purchases I have ever made. This harness made a fantasy come true and boy did it feel good! The quality is great and so are the materials. It is comfortable to wear, versatile, and sexy to wear!
Pros:
Awesome experience, can fit many dildos, versatile, fits up to 60" hips, comfortable, well made.
Best use:
I have wanted the Menage A Trois for Two Harness Set since I joined Edenfantasys back in 2007. It's always been on my wishlist because double penetration is one of my fantasies. But, I don't like threesomes and I wouldn't engage in one just for the purpose of fulfilling my curiosity. I've read reviews on this product and similar ones and there wasn't enough good experiences to sway me on trying it sooner. I was still a bit weary that using this harness would end in disaster, and I didn't want my boyfriend to be disappointed either. He has wanted to help me fulfill this since I told him about it over a year ago. We both were excited to receive it. And even more excited that...
...it worked perfectly! The Menage A Trois harness allows my male partner to wear it and add a dildo so that he and the dildo can enter me. Depending on the my position, he could enter me vaginally or anally, while the dildo filled me up the other way. It can also be worn by a female and have two dildos inserted although this is a bit more difficult. The harness kit also includes the Sedeux Flare Dildo. You can read a more detailed review on that
here
. This review will mostly focus on the harness since it can be used with many different dildos.
Material:

The harness is very well made and sturdy. The straps are nylon and have metal rivets and snaps. The nylon is very thick and super durable. It does not stretch, but there are thick plastic pieces that allow for full adjustment.

The o-rings come in two varieties, some are metal and obviously have no give. They are smooth and are fulled welded together with smooth edges. I'm not sure what kind of metal it is though. The package nor Sportsheets site gave me any clues. My guess is that it is either nickle platted or stainless steel. It feels nicer than my other nickle plated items though. The other o-rings are made of durable smooth rubber. It is firm and doesn't stretch much at all. This helps keep the dildo in place.

dildo is made of superior non-porous silicone. This is lovely since the dildo can be used either vaginally or anally. It allows for sanitizing and sharing. The material is firm enough for smooth thrusting but still somewhat flexible so you don't have to worry about pubic bones etc.

Dildo

Material:

Silicone

Harness

Material:

Nylon

Design / Craftsmanship:

The Harness's design is a g-string style, except that it has two o-rings in the front instead of one. An extra strap across the lower abdomen holds the second ring in place. They both can be removed and swapped out for the different sizes or materials. This is done easily by the use of the snaps that allow the rings to be removed. A strap connecting to the lower ring goes between the legs and up the butt like a thong. On a guy this means that it either fits between the balls or sits on the side of them. Where the g-string attaches in the back is a matching metal o-ring like the front. It cannot be removed. If you want to get rid of one of the o-rings in the front, you can do this by removing one and then attaching the open snaps to the remaining o-ring. As a female you might want to just do a single penetration to your partner, or as a male you might want to wear this just for look or feel instead of double penetrating your partner. It really is more than just a DP harness for males to use on females.

The dildo is 5 3/4" long with 5" of smooth and sleek insertable length. At 4" in circumference, it needs a 1 1/2" or 1 5/8" o-ring. The dildo does curve slightly at the end which makes it great for some g-spot and p-spot stimulation. The flat base lies comfortably against the wearer of the harness and since it is firm but yet still flexible, thrusting is easy.

The o-rings: The set comes with two metal rings, sizes 1 1/5" and 2" in diameter. The other ring is rubber and 1 3/4" in diameter.

The harness itself and the o-rings are pretty discreet. It is like a web of nylon when not on a person and takes me a few tries to figure out which way it goes and I KNOW what it is! The dildo however is obvious of course.

Dildo

Color:

Red

Harness

Color:

Black

Size / Fit:

So how and where does it adjust? Since I don't know the name for this kind of hardware, take a trip with me please? Think back to when you were a wee kid and were forced by your parents to wear a bike helmet. Those god awful straps that went under your chin were adjusted by a plastic piece that threaded the nylon strap through them. That is what these are...and if you still have no clue what I'm talking about...



They are on both hips that tighten the sides and then one in the back on the butt which tightens the g-string underneath. They are very easy to adjust and stay tight where you want them. The adjustable straps will fit up to an astounding 60" hip size! It was very comfortable and didn't cause any irritation to my partner.

The rings are not as accommodating however. If you are average in thickness, you should do just fine, but if you are thicker, you will likely only be able to fit into the metal 2" o-ring. The picture on the package shows the penis AND balls in the ring. My partner couldn't fit his balls in the ring even without his penis. If you are looking to do this, you will need to buy larger o-rings. I can't imagine that even an average sized guy would find this comfortable with the hard material and sizes of the o-ring
s provided.

Weight:

1 lb

Harness

Maximum hip size:

60"

Maximum waist size:

One size fits the most

Dildo holder diameter:

1 1/2" / 1 3/4" / 2"

Performance:

My partner and I were very excited for the upcoming rendezvous. We don't often like to plan our sexcapades, but in this instance I wanted to make sure I prepared in all the right ways so that my fantasy played out as perfect as possible. I prepared for the big event by used my Colt Anal Douche Kit and then warming up for anal penetration but wearing my Ryder plug. We lubed me, him, and the dildo and I positioned myself on the end of the bed in the doggie style position. This seems to be the easiest way to use the harness with out awkward movements etc. In order for it to work for my partner and I, we had to have him enter vaginally first because he is much longer than the dildo. Once both were in, I let out a huge gasp. It was the perfect amount of fill. Thrusting was easy and my boyfriend loved the view. The majority of the thrusting was from him since, again, he is longer, but the Sedeux Flare moved a few inches too. The experience was amazing and the orgasm was nothing but. My partner had no complaints and said the harness didn't hurt him at all.

Harness

Special Features:

Care and Maintenance:

To care for the harness, you can just spot clean it. The silicone dildo can be boiled or put in a dish washer to sanitize. It can also be washed with soap and hot water. To store, just place all of it in the respectable compartments of the package it comes in. When choosing a lubricant, never choose silicone based. It will ruin the gorgeous dildo.

Packaging:

The packaging is simple. It is a snap to close clear plastic case that has two compartments. One hold the dildo and spare o-rings, while the the other has the harness. The backing picture is not discreet at all since it shows a couple and the male is wearing the harness, member in full show. It can be removed however. The back of this does contain some information about the harness, o-ring sizes, and materials. It is great for keeping everything together.

Experience:

Without a doubt, I am giving this harness kit 5 shining stars. It was everything I hoped for and more and has remained out of the package since the day we got it!

Other

Safety features:

Food-grade material / Hypo-allergenic / Latex free / Non-porous / Phthalates free

Dildo

Length:

6"

Circumference:

4"

Diameter:

1 1/4"