Menage a Trois Without The Awkward Feeling Afterwards
If you've ever had the fantasy of getting both holes filled at once, but haven't wanted to bring in a third person and trying to thrust something yourself wasn't working that well, take a gander at this. It's a bit hard to figure out at first, but once you get it on it'll never let you down. Comes with a silicone dildo, or use any of your own. Swap out the o-rings to get better fits. This kit is well worth the money for the experience it provides.
Published:
Pros:
Allows for dual penetration without a third person, Comfortable to wear
Cons:
Confusing to figure out at first
What is it exactly, and why are you telling me about it?
A threesome is quite possibly one of the most common sexual fantasies out there, but a lot of people have a hangup about adding a third person to playtime. This menage a trois for two set is pretty much the perfect way for most people to experience a menage a trois without having to actually go through with getting a third partner.
Ok, so what all comes with it, and what does the box look like?
The box itself is not so discreet. It's a lovely pink color, and pretty obvious as to what's inside of it. Inside the box you'll find a total of three o-rings: two metal ones (1 1/2" and 2"), and one rubber ring (1 3/4"); the harness, and a dildo.
Can you give me more information about what came in it? Textures and smells and quality and all that?
Sure thing! The dildo is actually the
Sedeux Flare
, at least when I bought my kit it was. It's a good silicone dildo that does really well as a multipurpose item. At about 5" long and about 4" around, some women may not find it as filling vaginally but it does make a great anal dildo for those who don't have that much anal experience. The only downsides to it are that it holds onto lint and scents.
The harness is mostly a nylon webbing with interchangeable o-rings. There really isn't much of a scent to anything here. The webbing is soft, but not something you'd necessarily want to rub all over yourself.
So... How exactly do I use it?
It can be really hard to figure out how to use this harness at first, but looking at the box can really help. The easiest way to figure it out is to take a good look at the o-rings on the front. There will be two straps that pull each of them towards the side, one that connects them together, and then one that connects the front side with the back side. When you first get it, that last strap will be on the larger ring, and that should go between your legs.
From there, you can adjust pretty much everything on the sides to get the fit that you want. Before you get everything all settled in though, you'll want to slip on the larger of the rings as a cock ring. The best way to do this is before you get hard if at all possible, and should start with your balls and then followup with the penis. If you're already hard and can't get your penis
and
balls through, just use your penis and swap for a smaller ring if you can. If you want to change whether the penis or dildo is on top, just arrange the o-rings how you want and then snap in place.
I think I get it. Who all will it fit?
It'll fit a wide variety of sizes. I'm wearing it in the pictures, and where it's sitting is about 34 1/2" around and there's room to go smaller, although futzing with the straps gets a bit more difficult the smaller you go. My husband measures about 42" around where he normally wears this harness and there's still room for more. The box says that it will fit up to 60" hips, and it should at least come very close. If you're right near 60" I might not get it, but 58" and under you should be fine.
Ok, that doesn't sound too hard. Can I swap out the o-ring at all?
Absolutely! You can swap out any of the o-rings on the front. The one in the back is held firmly in place with rivets that run through the webbing.
Awesome! Now how about cleaning and storage?
Should you need to clean it, you can hand wash it in warm soapy water and let it air dry. I might cover the snaps with clear nail polish to keep them from rusting, but we've been lucky after a few washes. There hasn't really been much that's happened that's made us want to wash it so it's gotten a few very light washes and left out to dry. To store it, I recommend the bag that it came with.
Do you have any pictures for me?
Sure do! My husband was too shy to pose for the pictures himself, so I'm modeling it. I've got two shots of me with the included dildo and
Marco Blaze
with his suction cup tucked into the harness to try and show what it'll all look like together, and I have a shot of the back.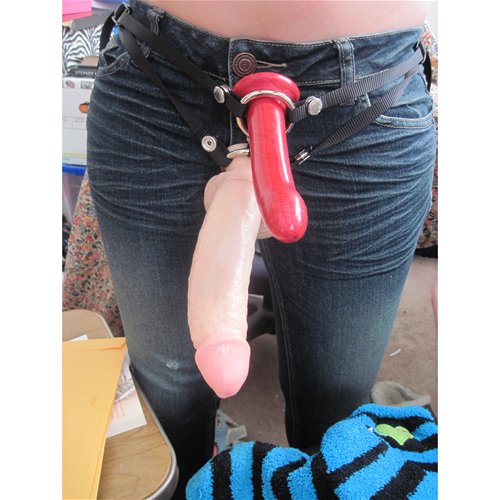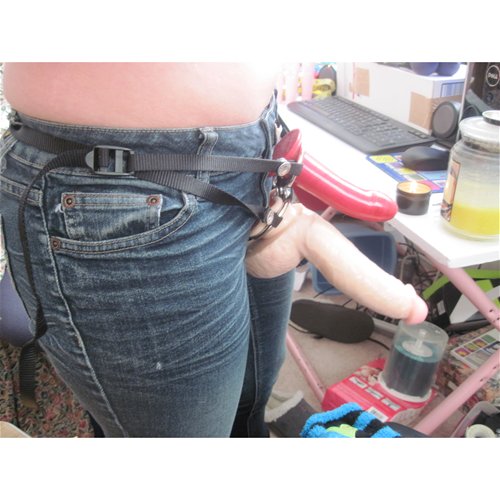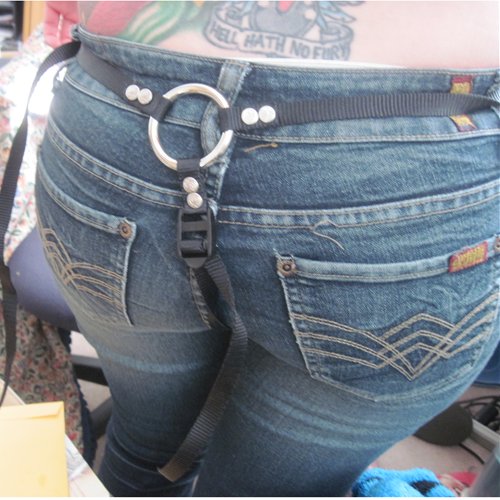 Experience
I too am among the hordes of people who have always wanted to experience a threesome but have a hangup about adding a third person. This kit allows us to act out having a threesome and get me double penetrated without having to either thrust a dildo myself or having to involve a third person. It's one of the most versatile things we own, even if it has to sit around and wait for me to be in the mood for anal. I can't see ever getting rid of it and I do think it's quite a fantastic investment to make if you want to play around with DP without a third person.
This content is the opinion of the submitting contributor and is not endorsed by EdenFantasys.com

Thank you for viewing
Menage a trois
– harness and dildo set review page!