California Exotic Inked restraints tattoo ankle cuffs - Ankle cuffs from California Exotic

Inked restraints tattoo ankle cuffs videos
Product Details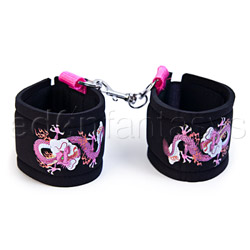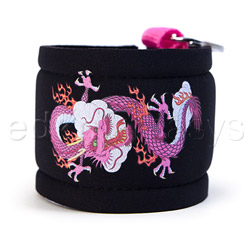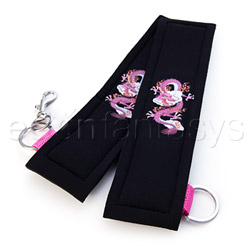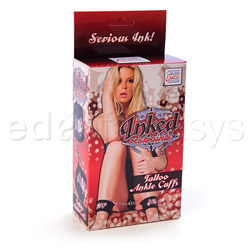 Summary:
A set of comfortable, adjustable cuffs for the kinky person who wants a little style in bed, the Inked Tattoo Ankle Cuffs provide restraint for moderate to light play. They're a great option for those folks who want simple but comfortable restraints but are probably not great for anyone planning to seriously struggle, as the velcro straps chafe somewhat.
Pros:
Sturdy, expandable.
Cons:
Chafe a bit under rigorous pull.
Design / Craftsmanship / Material / Size / Fit:

I was extremely impressed with how well made these cuffs appear to be. The velcro which is used for securing them is sewn on well to the softer neoprene exterior. The hooks are sturdy and the loops of fabric which they connect to are effectively embedded in the rest of the cuff.

Material:

Neoprene

/

Nylon

Color:

Black

Length:

10"

Closure:

Buckle / Velcro

Hook style:

O-ring

Weight:

3 oz

Performance:

Generally, the cuffs worked exactly as one would hope. They were easy and intuitive to put on. The velcro stayed together even as I struggled vigorously against it. My one complaint was that the edges of the velcro strip chafed a little when I struggled against the cuff. I would therefore recommend these cuffs for mild to moderate restraint play, but probably not more intense play.

Care and Maintenance:

Neoprene is impenetrable! How often can you say that about a sex toy material? Feel free to wipe this down with soap and water, but don't worry about sanitizing it since the material won't absorb any of the gross stuff.

Packaging:

The girl on the package looks a little drugged. I think the marketing was maybe trying for lustful, but what I read is mostly just confusion.

Now that we've got that out of the way, the actual info: The cuffs come in a simple paper box, with bright red packaging. Definitely not discreet. I do commend the company for limiting their packaging though--I'm all for saving the environment, one sex toy package at a time.

Other

Size:

One size fits most

Texture:

Smooth

Fits up to:

11"