That Isn't Serious Ink, That Is A Bruise!
I enjoy being tied up just as much as most gals do, but what I don't enjoy is Velcro that tears skin open and cuffs that leave bruises. You would think that with the soft material these ankle cuffs are made of you would avoid these issues, but somehow it still managed to happen. If open wounds, uncomfortable chafing and hard to explain bruises are things you like to avoid, you may want to avoid these cuffs too!
Published:
Pros:
Cuffs can be worn on both the ankles and wrists,
Highly adjustable
Cons:
Uncomfortable material,
May not hold up for rough play
The box that these ankle cuffs arrive in is actually really nice. The front displays a confused looking model wearing the ankle cuffs, the name of the product and the manufacturer. The back is pretty much the same, but has a better picture of the product. The right side of the box contains a good amount of information about what is contained inside, as well as the material makeup and the website for the manufacturer. The box is eye catching enough that had I seen it in a store, I would be interested, which I'm finding is rare with most packaging.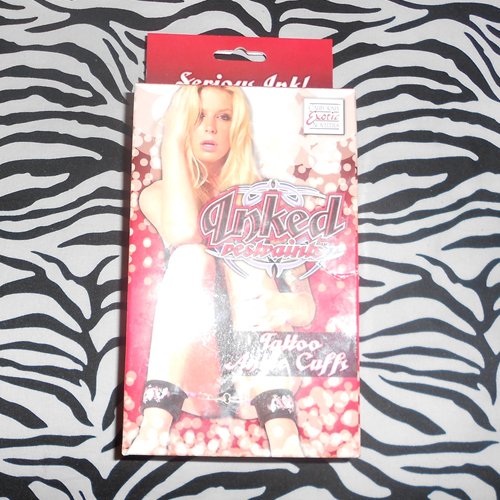 Including the Velcro strap, each cuff is 12 inches long and is 10 inches without. One of the best things about these cuffs is the adjustability; they can adjust as small as 8 inches or as large as 11 inches. The outside is made of neoprene and it is where you will find a small 3 inch dragon. The issue with the dragon is that when the cuff is bent to strap around your ankle it causes the applique to spread and look cracked. I have yet to have any flake off, but I am almost positive that in time my dragon will not only fade, but will be missing chunks. There are two bright pink nylon loops that hold flat zinc O rings and one has an attached clip. The O rings look just like the kind that you would use to put keys on and can be removed if you would like. The clip can handle some playful struggling and pulling, but if you really don't want someone to get away don't use these cuffs. If you need to clean these you can use a damp rag to wipe them clean.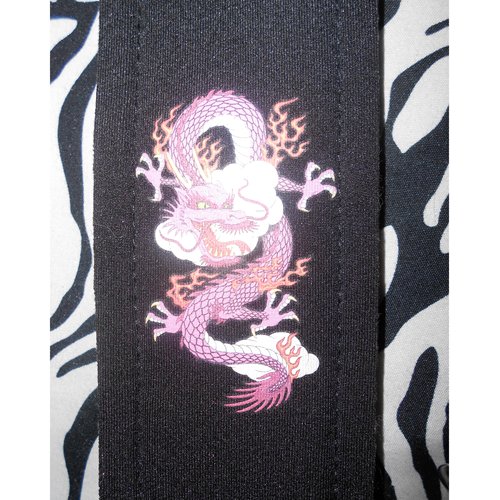 These are considered to be 'ankle cuffs' but I used them as regular old hand cuffs. I had no issue with the neoprene, but that is because when you are wearing them, you don't feel any of that. Almost the entire inside length of the cuffs are covered by the soft fuzzy side of the Velcro, which actually doesn't feel so soft or fuzzy when it is on the soft inside of my wrist. I first strapped one of these cuffs around my ankle just to see how it would fit and was immediately greeted by an unfinished edge of Velcro that decided a nice little scratch would do my leg nicely. When I removed them to see what could have caused this, I noticed at the end of the hook (hard piece of Velcro) that it was unevenly cut and two pieces stuck out further than the others. It was like this on both cuffs, but it was easily fixed by cutting the pieces straight with a pair of scissors.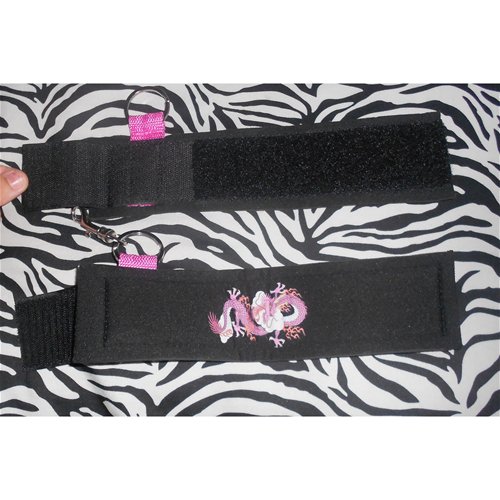 Unfortunately these cuffs are not as comfortable as you would think just by looking at them. The Velcro causes the cuffs to be slightly ridged in the middle, but the top and bottom are very flexible. The chafing caused by this is the least of my problems though. At some point during our not so rough encounter, I managed to get two bruises on my wrists from these cuffs. I'm not exactly sure at what point it could have occurred, but I do know that explaining bruises around my wrists is never fun, especially when you don't want to divulge that you got them from using a pair of ankle/hand cuffs during sex.
This product was provided at a discounted price in exchange for an unbiased review. This review is in compliance with the FTC guidelines.

Thank you for viewing
Inked restraints tattoo ankle cuffs
review page!