California Exotic Inked restraints tattoo blindfold - Blindfold from California Exotic

Inked restraints tattoo blindfold videos
Product Details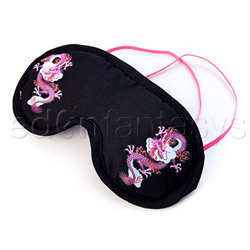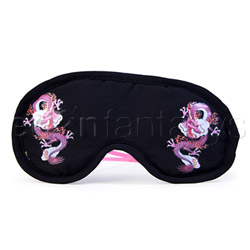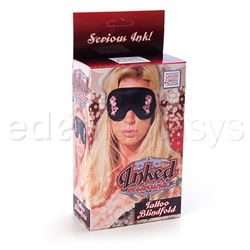 Summary:
This adorable dragon blindfold performs exactly like most basic blindfolds... except it's cuter. It blocks the wearers vision admirably, and it's perfectly comfortable. However those with very large heads may wish to purchase a different blindfold as it's a little small and not adjustable.
Pros:
Comfortable, cute, functional.
Cons:
Dragons are decals, little small.
Best use:
This is a fairly simple standard blindfold, the elastic is a little tight so if you or your partner has a very large head it might be best to buy a different blindfold. It's simple, comfortable, and reasonably effective. It can be used during sensual play as a blindfold, or for bedtime as a sleep mask. If you're very experienced with blindfolds, it's probably not worth purchasing this one as it's not a very unique blindfold, unless of course you really love the little dragon decals (which are quite cute) but beyond the aesthetics it's a very simple standard blindfold.
Design / Craftsmanship / Material / Size / Fit:

This is a very simple blindfold, the blindfold itself is black, padded and made of soft synthetic material. The straps are pink elastic and on either side of the blindfold are little dragon decals. I was a little disappointed that these are decals, initially I assumed the dragons would be embroidered, but they're cute none the less. It's reasonably well made, although I doubt the decals would survive a wash, this should last a good while as long as you don't get it dirty (and really, how dirty are you going to get a blindfold?)

This is a fairly small blind fold, it's tight on my head, and my head isn't particularly large, so if you have a big head this may not fit, I would say it would fit nearly all women, but only small to average sized men, men with large heads are unlikely to fit.

Material:

Elastic

/

Polyester

Color:

Black

Length:

7"

Width:

3 1/2"

Weight:

1 oz

Performance:

This performs just fine, it's a very simple blindfold, but if you get it positioned well there's very little shifting and it lets in very little light, some people (depending on facial anatomy) may get a little strip of vision if they look directly down, but you really can't see much, and it's quite comfortable. It's not spectacular (as in, it's not the best blindfold in the world), but it's functional, attractive, and comfortable and not too pricey. It also works very well as a sleep mask.

Other