A blindfold that is cute AND functional?!
If you are looking for a blindfold for some light bondage and sensory play, or for a nice mask to shield out the light while you catch up on your sleep, this mask is perfect! Both cute and functional, this novelty item is sure to please!
Published:
Pros:
Comfortable, affordable, blocks all light
Cons:
May not fit those with larger heads
Originally, when I came across the Inked Restraints Tattoo Blindfold, it was not intentional. I was searching Eden for some light bondage toys when I saw this item. Instantly, I thought, "this must go on my wish list
now
", and as soon as I was able, it was my next planned purchase! I was in need of a sleeping mask, and this item doubles as both a light bondage face mask and a sleeping mask.
The blindfold is made of two materials. The pink straps that hold the mask in place are made of elastic and the mask itself is polyester. Being polyester, the item should hold up pretty well, but I would recommend hand-washing to not only make it last longer, but also to protect the designs! The mask itself is black, on the far left and right are the dragon prints. The mask is padded with what feels like some sort of foam. The extra padding not only makes the mask more comfortable, but also thicker, to prevent light from getting through.
Here, you will see an overview of the front of the mask: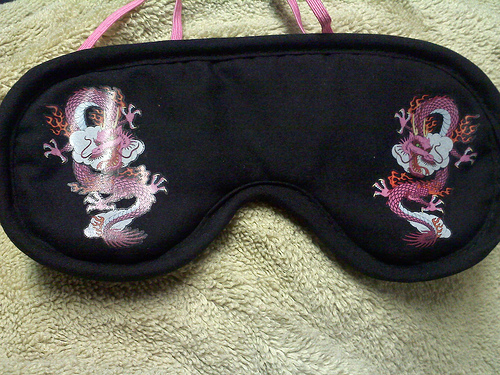 I decided to take a closeup shot of the dragon detail, but you can also see the double stitching, and texture of the material itself in this photo: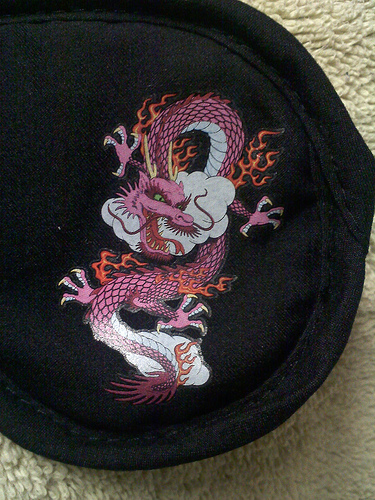 The item comes in one size: "one size fits most". While this size was perfect for me, fitting securely around my head, it may not fit those with much larger heads. The mask in length was about 7 inches, width just under 3 1/2 inches at its widest point (which covers your eyes) and 2 1/2 inches at its thinnest point, covering the bridge of the nose. Measuring the circumference of the mask when it is not being worn and the elastic not stretched, the measurement came to about 17 1/2 inches. I measured my head and the circumference measuring around where I would actually place the mask, and wrap the elastic bands around my head, came to about 22 inches. Again, this item fit me comfortably, but if you have a much larger head when measuring around the area where the mask will be resting, it may be too tight for you.
The packaging that the item came in was pretty simple. A box with the typical information on the front, along with a picture of a woman wearing the blindfold. The top right corner of the box sporting the "California Exotic Novelties" logo, the back just giving basic information about the blindfold itself. 3 sides of the box had the same photo, but as you look at the box and turn it to look at it's right side, it gives the basic information about the product, company, and UPC bar code. Inside of the box, the mask came wrapped in a thin plastic pouch, taped shut.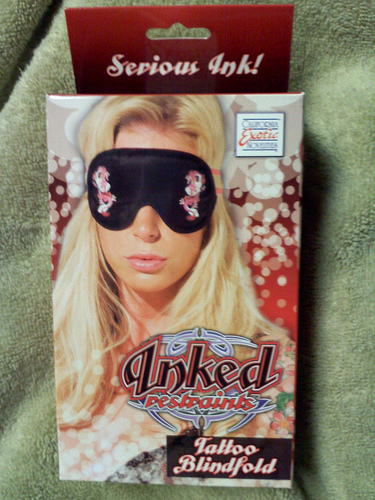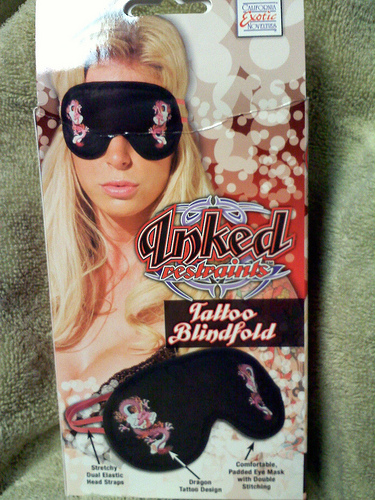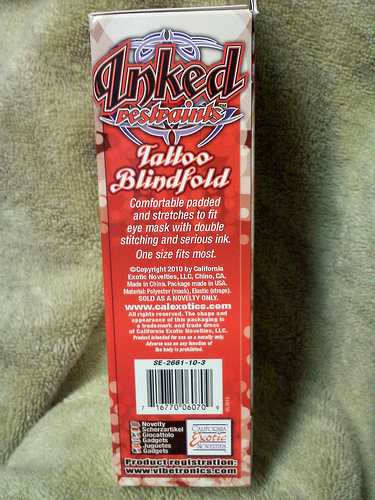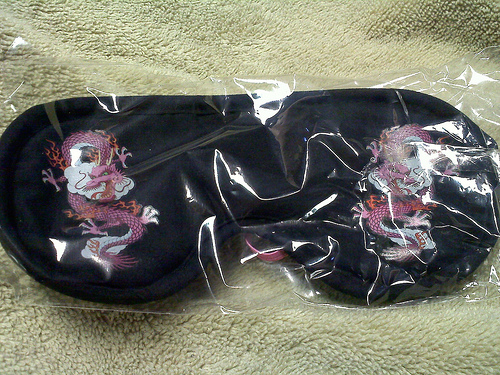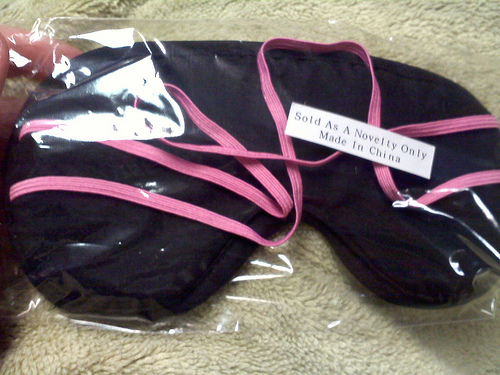 Upon pulling the mask out, I didn't notice any particular scents right away, but as I put the item closer to my nose, the one distinct scent I was able to detect was elastic. Just that typical "new" elastic smell, not just on the two straps, but all over the mask. After a while, I also managed to get a whiff of what I can only describe as "clean". It reminded me of the smell clothes have after having been washed and then dried in the sun. The smell wasn't too strong, and after sitting out for a bit in the open, the smell faded dramatically. Most likely, the smell was a bit stronger at first because the item had been inside of the plastic and the box, confined.
If you have never felt polyester material, it is soft, not abrasive or irritating at all, almost a silky smooth texture to it. Running your fingers over the mask you will notice that it almost feels like a pair of very worn blue jeans, that have been washed and worn to the point of no longer having that stiff feeling to them. If you squeeze the mask between your fingers, you will feel the foamy padding of the mask. It almost begs you to put it on and enjoy some light bondage play with a partner, or take a nice long nap!
Experience
First, let me start by saying that my reason for needing a sleeping mask in the first place was because my partner and I are on different sleeping schedules. I work, and on days when I work I am required to be up before the sun! My guy, on the other hand, does not work and likes to stay up late. While I am a bit of a night owl myself on days when I am not required to wake up early, often I find myself going to bed several hours before him due to my schedule. This wouldn't present an issue, if it weren't for the fact that the way our place is arranged, the light from our living room shines into our bedroom. I am one of those sleepers who needs complete darkness and no noises in order to fall, and stay, asleep. So, as one would guess, I find it difficult to fall asleep when my sweetie is in the middle of his video games.

After I received this item in the mail, after a long hard day's work, I took a nap with it on! Not one bit of light managed to sneak past the mask. I was comfortable and it wasn't confining at all! I was very thrilled by the fact that something so simple was going to be such a life saver for me! As mentioned in my description of the product, this was initially discovered while looking for some light bondage toys, and so of course I can assure you it will be used during some sensory play, and is perfect for it too, because of its ability to hide every last sliver of light!

Although I did not purchase them, there were other pieces to the "Inked Restraints Tattoo" set. There was a harness, ankle cuffs and wrist cuffs. All of them are also black and sporting the dragon design on them.

This blindfold gets 5 out of 5 stars for being comfortable, functional and 100% adorable! It is the perfect addition to your collection of light bondage toys, or to your sleeping routine!
Follow-up commentary
3 months after original review
I've owned this mask for 3 months now, and although I do not use it often for its intended purpose, I love wearing this as a sleeping mask! It has not frayed, broken in any way - it doesn't even show the typical signs of wear and tear!

I love this blindfold!
This product was provided at a discounted price in exchange for an unbiased review. This review is in compliance with the FTC guidelines.

Thank you for viewing
Inked restraints tattoo blindfold
review page!