Blinded by ink.
The Inked blindfold is a cute little addition to any ones fun time, or just to help black out extra sun when you are trying to sleep. The blindfold is small and discreet and can be a lovely gift. You need a blindfold that is decently priced, and gets the job done. I'd highly recommend this one. It is an excellent beginner blindfold..
Published:
Pros:
Price, Color,
Cons:
overly large box, feels cheaply made/
I do not own any blindfolds. When we are in a situation that one of our eyes needed to be covered we would use something else. I finally got tired and decided to order a real blindfold. I was not sure on which to order, or if in this situation would I need to get a really expensive one. I decided to try out something that was reasonably priced, and still functional. I decided on the Inked restraints tattoo blindfold. I admit. I was not disappointed.
I've noticed that EF has a lot of inked items. I had never tried one before this, so I did not have any real expectations. I just went for it because it was in my price range and I needed one. When you receive the inked blindfold, it comes in this thing paper box. The box is quite large, a little too large for the blindfold. The box does not have any pictures on it that would make you blush. The box just has a picture of a blonde wearing the blindfold. You can use the box as storage, but it is kind of pointless, the box would take up more room than just placing it on its own. The box does not have much information on or in it. I wish it did, so you would know how to wash it if you needed.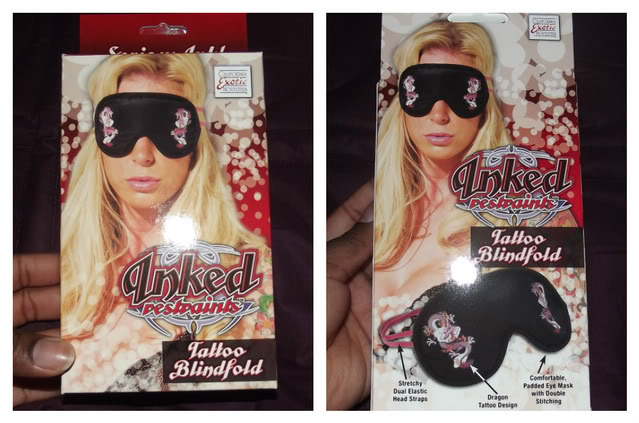 The blindfold itself is kinda cute. When you open the box, the blindfold is sitting at the bottom of the box inside of a plastic package. You do not need to keep the plastic, and if you do not want it. You should make sure to toss it in the trash so that little fingers do not get ahold of it.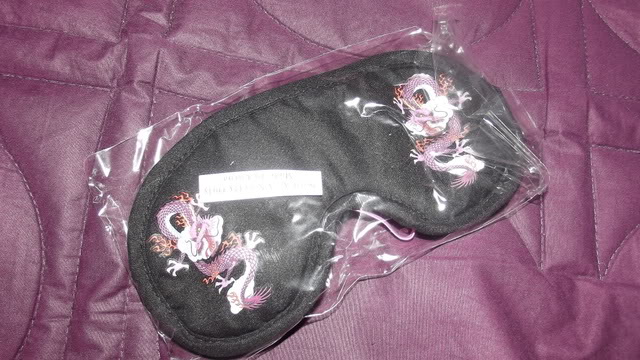 When you open the package, you will notice that the blindfold has two dragons over the eyes. I thought that was kind of cool even thought I do not care for dragons. Another thing I noticed is that it felt kind of cheap. It feels like it will not last too long, and you will be replacing it soon. I did not look at the material when I ordered it, so I did it once I got it to the house. The blindfold is made of polyester. Polyester is not the best material, but a lot of clothing are made of it. Polyester is a category of polymers, or, more specifically condensation polymers, which contain the ester functional group in their main chain. Usually, polyester refers to cloth woven from polyester fiber.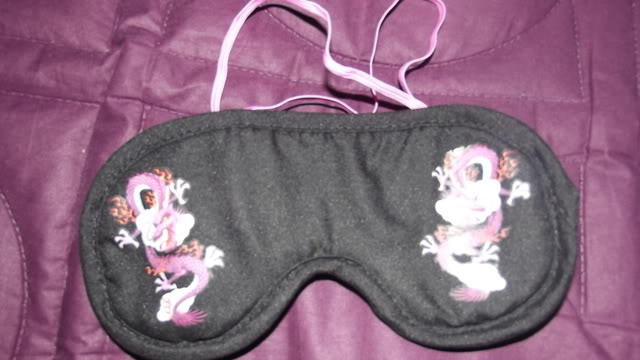 The dragons seem to be a stencil. Like something that you would Iron on. At first I was worried that it would start to peel off, but I've washed it once so far and it has not. I hope it does not. The blindfold does keep light out, so it does not what it is supposed too. It does fit on the face comfortably, and it does not move around when you are laying down, or tossing around. When washing you should hand wash it, and allow it to air dry. I would not recommend placing it into the washing machine or dryer. I do not think it would make it through that.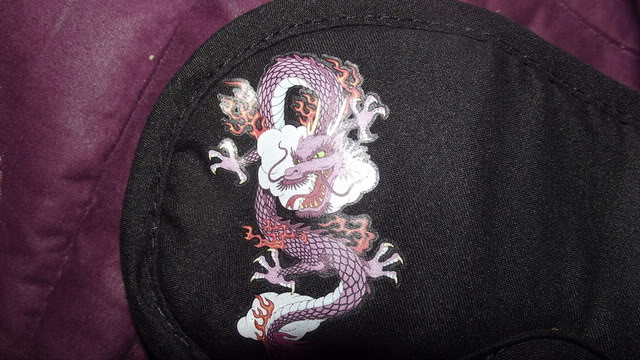 The polyester does not have a smell to it, so when you are wearing you do not have to worry about smelling it too. The blindfold also has some elastic. This is what the head band made of, and it holds up pretty well. The band is made to stretch about 6 inches, so it is made to fit the average head. Your head would have to be the size of a basketball or larger for it not to fit. It is also double layered so you know it will stay in place. The blindfold itself is 7inches in length and about 3 1/2 width.

When storing you can just fold it and place it anywhere. You can keep it out in the open because some people use blindfolds to sleep. If someone saw it they would think it was for sleeping, and not for naughty time. This is a good gift for a friend, and even some family members.
Experience
When we used it, I was not disappointed. I got it to obstruct my view, and that is what it did. It is lite weight and can be taken anywhere. I love the colors, and they seem to be more directed towards women than men. I also noticed that it has matching items. After using this blindfold, I do not know if I would try the other products, but they are very good if you want something that is reasonably priced, cute and functional.
This content is the opinion of the submitting contributor and is not endorsed by EdenFantasys.com

Thank you for viewing
Inked restraints tattoo blindfold
– headgear review page!