JoyDivision Joyballs de Luxe - Vaginal balls from JoyDivision

Product Details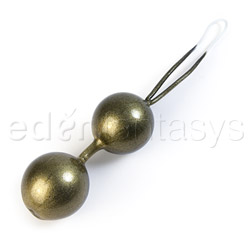 Summary:
As a workout tool that will give you some extra pleasure in the bedroom or as an addition to intimate and erotic activities, Joyballs are definitely a great thing to have. I would recommend them to anyone as a great buy; they're versatile and worth the money. Don't be surprised if they become a part of your daily routine.
Pros:
Quiet, comfortable, easy to clean, effective.
Cons:
None that I can think of.
Best use:
Great to use for strengthening the pelvic floor muscles by wearing during a shower, around the house, or even while using other toys for extra stimulation. I chose to use these all on my own. Think of them as your own personal, sexy weight set. Ideally, these are to be worn while practicing repetitions of kegel exercises. As the packaging says, "Treat yourself to the ultimate female massage." By strengthening these muscles, you will increase the pleasure for both yourself and your partner during orgasm. (These are also recommended to help you get back in shape "down there" after pregnancy and childbirth and are endorsed by both gynecologists and midwives.)
Material / Texture:

These are attractive from the minute you take them out of the box. The Joyballs I received are bronze in color, and have a very appealing, smooth and glossy texture. The toy has no discernible smell and makes only a very quiet chiming noise when shaken or otherwise moved rapidly. I find the sensation of the inner balls moving to be very pleasing in a tactile sense, both inside and outside the body. These are made of medical-grade silicone and the retrieval cord is made of smooth nylon and also silicone-coated where it meets the base of the toy. The Joyballs are also hypoallergenic, non-toxic, and softener free.

Material:

Silicone

Material safety

Texture:

Smooth

Safety features:

Food-grade material / Hypo-allergenic / Latex free / Non-porous / Phthalates free

Design / Shape / Size:

I enjoy the shape and spacing of this toy very much. The two balls are held together by a silicone-covered cord, and create a somewhat full feeling and arousing stimulation without being overly noticeable. (It's not as though you would forget they were in, but you would be able to go about household tasks without being distracted.) This size is probably a good fit for most users. As I understand it, the idea is that your pelvic floor muscles will be getting a workout by having something to hold onto, and you wouldn't want anything much larger because it wouldn't give you a very good workout. I did travel with this toy. It was easy to conceal in my toiletry bag, and while I did not wear it around others, it is easy enough to use behind closed doors with no one the wiser. I also wore them while talking on the phone - they make no noise so no one will know.

Color:

Gold

Length:

7 1/2"

Insertable length:

3 3/4"

Circumference:

4 1/2"

Diameter:

1 3/8"

Weight:

4.8 oz

Performance:

I really think that the material is one of the best things about this toy. It is smooth, but not as hard as smooth plastic. It also makes is very easy to clean. But the Joyballs are also discreet. And they feel great! If you are doing actual kegel exercises (says 3 or 4 sets of 15-20 reps) you will definitely be able to feel those muscles. I guess I can't pick one favorite thing about them, they really are great in many ways!

Special Features:

Bendable
Free samples
Travel

Care and Maintenance:

This toy comes with its own cute little silver cloth storage bag. If you weren't going to keep them in the bag it came in, I suppose any other kind of soft fabric could be used to contain them for storage. The Joyballs can be washed after use with hot water and soap, and you could also use toy cleaner. Silicone is a very safe material and can be cleaned fairly easily. I used it the Joyballs with water-based lubricant only, and found that it works quite well and only a small amount is needed.

Care and cleaning:

Boilable / Dishwasher safe

Packaging:

In addition to the cloth bag provided with the Joyballs, you also receive a packet of water-based lubricant (which is enough for several uses). The box for this toy is very attractive, with a silver metallic cardboard sleeve containing a clear plastic clamshell that holds the toy and other items. There were also two small pamphlets inside of the package, one explaining their quality guarantee, the history of love balls, directions and cleaning instructions in 18 different languages. There is also enclosed a small pamphlet advertising many other toys made by the manufacturer, JoyDivision (which I will now be looking into, if their other toys are anything like this one!).