Evolved Love taps the heartbreaker - Paddle from Evolved

Love taps the heartbreaker videos
Product Details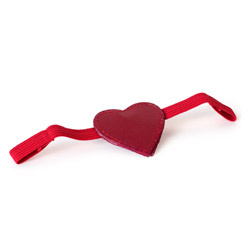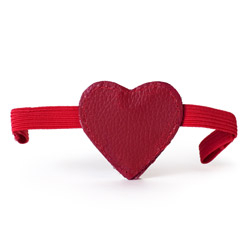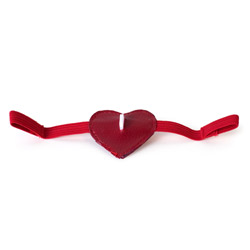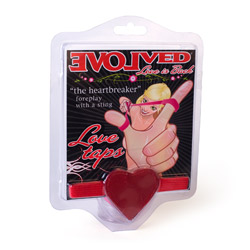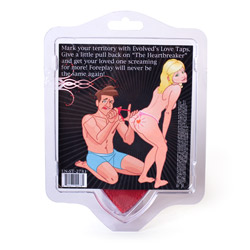 Summary:
"The Heartbreaker" is the perfect BDSM toy for beginners and those who are scared of big bad whips. It's small, cute and completely non-threatening. It can be used for gentle spanks, or rough play sessions that will leave you with a few red marks. It may not pack enough of a punch for experienced spankers, but it certainly gets the job done and looks very cute while doing it.
Pros:
Small, lightweight, compact, cute, can be gentle or rough.
Cons:
Not 100% waterproof, may not be "heavy duty" enough for experienced BDSM lovers.
Best use:
The Love Taps "The Heartbreaker" from Evolved is a fun foreplay aide. It is a spanking tool with a fun twist. Instead of the traditional paddle, "The Heartbreaker" paddle has an elastic strap on either side, with holes for you to slide your fingers in. The small plastic grip on the back of the paddle allows you to pull back as far as you want to give your lover a nice "love tap" wherever you'd like.
Design / Craftsmanship / Size / Material / Features:

"The Heartbreaker" paddle itself is very small and compact. The leather heart is 2" long and 2" wide, which tapers down to less than an inch at the bottom of the heart. Including the elastic straps, it is about 8" long when loose, and can be stretched comfortably to about 12" without ruining the elastic. The paddle comes in red and purple, and only one size. This design is very compact and travel friendly. So travel friendly, in fact, that it would fit easily in a pocket or the smallest of purses.

The heart itself is made of smooth leather, and the two straps are simple elastic. There is a small plastic grip protruding from the back of the heart for grip during play. Because of the leather composition, this toy is best cleaned with Toy Wipes or a wet cloth.

Material:

Leather

Material safety

Length:

7 1/4"

Width:

7 1/4"

Weight:

0.1 lb

Performance:

This toy is perfect for anyone. The finger holes in the elastic are stretchy, and big enough to fit the meatiest of fingers. The elastic was truly put to the test when my partner used it, and he said it was perfectly comfortable. The holes are both the same size, so they can be used on both the right and left hands. Although this toy is small, it packs a big punch. I had some decent red marks after a session of "Love Taps" with my partner.

Care and Maintenance:

Because this toy is made of leather, I would suggest cleaning it with Toy Wipes or a damp wash cloth with mild soap if needed. It can be used in conjunction with lube, but I would not recommend it because it can be messy and hard to remove from the elastic straps. Since the toy is so compact, it can be stored virtually anywhere. Personally, I keep mine in a small compartment in my toy chest.

Packaging:

"The Heartbreaker" comes in a plastic shell with a thin paper insert. The front reads "Evolved- Love is Back/"The Heartbreaker" foreplay with a sting/Love Taps", and the back says "Mark your territory with Evolved's Love Taps. Give a little pull back on "The Heartbreaker" and get your loved one screaming for more! Foreplay will never be the same again!" The plastic mold can be snapped shut and reopened, so it is possible to store the paddle inside, but I threw away my packaging and prefer to store it in my toy chest.

Experience:

I highly recommend this toy for BDSM beginners, because it is small and non-threatening, and can be used gently or with force. I'm a fan of spanking, but I know that not everyone is. Whips and chains can seem like a bit much for some beginners, and if you're thinking of getting into spanking but want a toy that's small and easy to use (and not scary looking!) than this is absolutely perfect for you.

Other

Texture:

Smooth

Safety features:

Phthalates free