Love Taps is certainly a Heartbreaker
The 'Love Taps the Heartbreaker' is a fun toy for couples who love to play around, but isn't useful for much more than just that.
Published:
Pros:
Cute, easy to use, delivers light pain
Cons:
Not very durable
I ordered the "Love taps the heartbreaker" because it looked silly and I thought it might be fun to play with. It has certainly lived up to such expectations, but definitely has not exceeded them. It's fun to use, but it doesn't seem like it would last long or captivate your 'paddling' desires very long.
The 'Love Taps' comes in a plastic blister pack with a paper graphic. The package is anything but discreet since the front brandishes a nude woman and the back shows a half naked man using it on a half naked woman. The toy itself, though, might be considered discreet; I could see that an explanation of it being a novelty sling shot being believable. However, it is not something I would leave laying around if I had company over.
The 'Love Taps' toy itself is made of leather, so if you are allergic to leather, then you might want to stay away. The main portion is a heart shaped piece of leather, with two white hook/handle things to pull with stretchy pieces of elastic attached to the side. I haven't needed to clean it, but cleaning it would be as simple as using a wet wash cloth and wiping it off. I would not do much more than that because the toy's durability is somewhat questionable. I haven't had the toy very long, nor has it been used very much, yet the sewing is already starting to come undone. Some of the leather is also looking worn down; showing off small white spots that should be purple.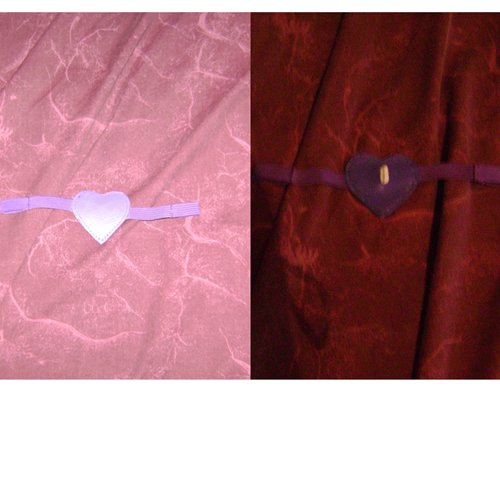 As for it's use in the field, the 'Love Taps' has worked exactly as expected. It delivers a quick, nice sting to a person's bottom, as well as any other body part one would chose to use it on. The pain it delivers isn't top notch, so if you are a pain fetishist, 'Love Taps' is not for you. This is more of a fun novelty toy for couples. Although, one thing it's excelled at is being used for CBT (Cock and Ball Torture). If anyone is into this, this is a nice, cheap toy that can easily be used to torture your boytoy.
Overall, the toy's quality is equal to it's price: cheap. It's cute, quirky and fun. I wouldn't trust it to be a long term toy or any use for serious pain/paddle use. Still, I won't regret purchasing the 'Love Taps,' the fun times it has created will not be forgotten.
*Sorry for the quality of the pictures
Follow-up commentary
4 months after original review
Haven't used this toy a whole lot over time, yet the toy is starting to look like it has a lot of 'miles' on it. Its condition is degrading quickly. But, it still works splendidly when ever we decide to use it, so it meets my approval.
This content is the opinion of the submitting contributor and is not endorsed by EdenFantasys.com

Thank you for viewing
Love taps the heartbreaker
– paddle review page!