Nearly Broke My Heart...Literally
The heartbreaker is bound to break your heart, but not in the way you would expect. This toy is too cheap to actually get use out of, and it feels like it will break each time you use it. For looks and laughs only, it's totally worth the inexpensive price you pay for it. Depending on what you're looking for, this could either be a great item, or a huge disappointment.
Published:
Pros:
- Cute
- Great Gag Gift
Cons:
- Quality Concerns
- Unimpressive
What It Is
Love Taps "the heartbreaker" from Evolved Novelties is a fun little accessory that claims "foreplay will never be the same again". This product is best used with a partner and can be a great way to test the waters if you or your partner are too intimidated by more aggressive looking BDSM gear or are simply looking for an inexpensive, fun product to help introduce your partner to sex toys. This heart shaped item makes a fun gift to give your lover, but would be a funny gag for a friend or party favor.
Use/Design
This little toy is designed to give your partner a little snap during foreplay or when you're just messing around with each other. It's not an erotic product by any means and doesn't seem like something you would use when you're in the middle of a passionate moment. For being fun and playful it's great, but if you're looking for something that will ignite the sheets, this just won't do it.
The center of the toy is shaped like a heart. The side that connects with the body is flat, but the back has two little plastic pieces that stick out from a little slit in the heart. The plastic pieces are attached to an elastic band that is on either side of the heart and runs through the center of it. The ends of the bands are slightly folded over and are stitched. The overall design of the item looks really sweet and makes it very easy to use.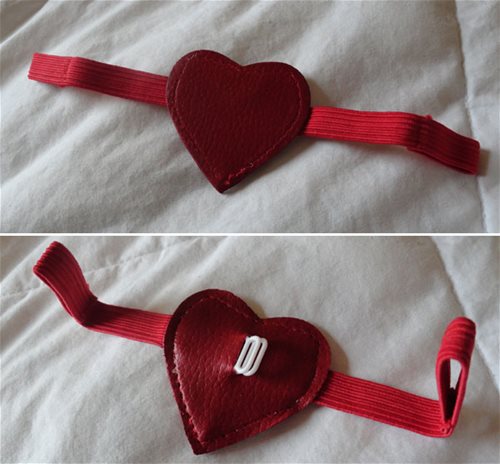 This toy is used by putting your thumb and index finger into the holes on either end of the elastic band. Make sure you insert your fingers with the flat part of the heart away from you. Once your fingers are inserted, you spread them apart, take your other hand and pull back the plastic pieces. Once you've pulled it back, you place your hand against your partner's skin, and let go of the heart. When you let go, the heart will snap against your partner's skin, creating a little sting.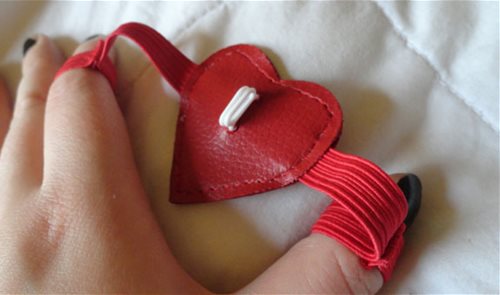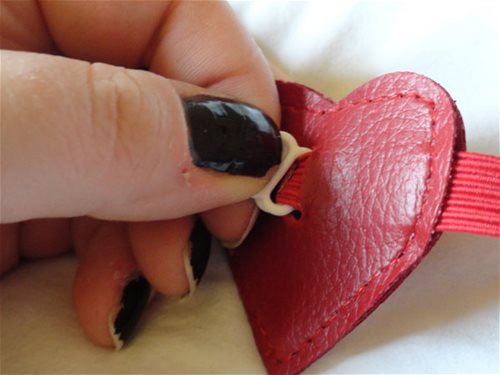 Material/Quality/Size
This toy is made from a few different materials. The heart itself is made from
leather
, it has elastic bands on either side of it, and plastic pieces that are used to pull the toy back.
The bands are very stretchy which make it easy to stretch it back, and the heart itself, though slightly pliable, doesn't have much movement to it. The fact that the heart doesn't stretch is great because it connects nicely with your partner's skin when the plastic pieces are let go.
The quality for this item is okay at best. The stitching around the heart and in the elastic aren't done very well and the slit in the back is a little rough. For actual use, this isn't going to hold up for very long. The product was clearly designed as more of a gag than an item to use during your foreplay. Don't be surprised if this product breaks after only a few uses.
The full length of the toy is 7 1/2", 2" make up the widest area of the heart. The areas that house your fingers are approximately 1" wide, but stretch really well and will fit fingers of any size.
Care and Maintenance
Should this product get some type of lube or bodily fluid on it, you can simply wipe it off with a damp cloth. There's no need to concern yourself with cleaning this item well, and you want to make sure that the leather doesn't get too wet. Avoiding areas that would introduce some type of moisture to this toy would be best since it can't be cleaned very well.
This toy is very small and can easily be stored just about anywhere. There are no material concerns, it's totally travel friendly, and doesn't even look that inappropriate just leaving it out. While someone might know what this product is, there's nothing about it that really gives away what it is and what it's used for.
Experience
Packaging
This toy arrives in basic clamshell packaging that's clearly designed to hold the toy in place well, preventing it from moving around inside the package. It's not discreet at all, but it's done in a cute, comical sort of way. The front has the name of the company across the top, the product name, and a drawn image of a female pulling back the toy like she's ready to snap someone with it. The back of the package shows another drawn image, only this one is of a couple. A man is on his knees about to slap his woman on the ass. There is a little information about it, but no real directions, which isn't exactly necessary since the way this item is used is fairly obvious.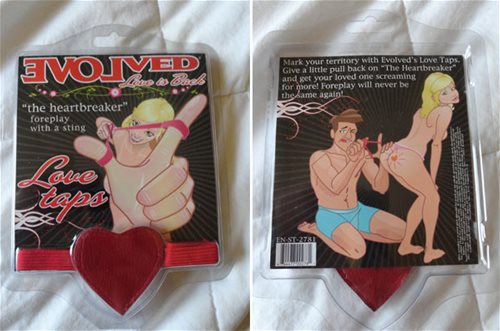 The packaging isn't necessary to keep and can be recycled along with your other plastic items.
This would make a cute gag gift for a friend, or would even be a funny and inexpensive item to give out at a bachelorette party or sex toy party.
Experience
I saw this product and it immediately made me chuckle! It looked like something my husband would really get a kick out of and in my cart it went. I gave this to him at Christmas along with a bunch of other toys. It was a great addition to the other items I gave him, and I was pleased to see that he thought it was a funny item to have.
When we opened the package and removed it, but husband wasn't sure at first how it should be used. I showed him, and could see the smirk on his face. After getting it all ready, he proceeded to snap it against my ass cheek. There was a very light sting, but it wasn't anything painful. It left a mark for only a couple minutes and sadly, was not in the shape of a heart. When it was my turn, I pulled the heart back and decided to snap him on his thigh. The bottom of the heart caught the area between my thumb and index finger and was a little annoying. He was more of a baby about how it felt, but he's not into any type of impact play. After we each took a turn snapping each other, the wear was already obvious and I'm actually surprised that we didn't break it.
For a comical gift to get your partner to laugh, this is great, but when it comes to actual performance, this couldn't have been more lacking.
This content is the opinion of the submitting contributor and is not endorsed by EdenFantasys.com

Thank you for viewing
Love taps the heartbreaker
– paddle review page!