"Foreplay Will Never Be The Same Again" (because you destroyed it)
This is the worst product I have ever tried in terms of quality, sexually arousing, or even just the fun factor of it. Do yourself a favour and buy a cute crop, or just save your money and spank your partner with your hand. Don't even buy this as a gag-gift, it's just junk.
Published:
Pros:
Travel-Friendly
Cons:
TERRIBLY Quality
Kept Nicking my Skin
Short Life Span
Not a fan of whips, crops, floggers, or paddles? Well, now there's "The Heartbreaker". "The Heartbreaker" is a less-intimidating, much smaller product than the other BDSM products available. This little heartbreaker does pack a sting though, so don't let the cute appearance fool you.
"The Heartbreaker" arrived in a plastic clamshell package. The front of the package has the brand and name of toy stated on it, along with a cartoon female using the heartbreaker slingshot.
The back of the packaging has a bit of irrelevant text, and a cartoon picture of a man (who looks slightly confused), using the slingshot on the cartoon female's butt. The back of the package says, "Foreplay will never be the same again!" … I couldn't agree more.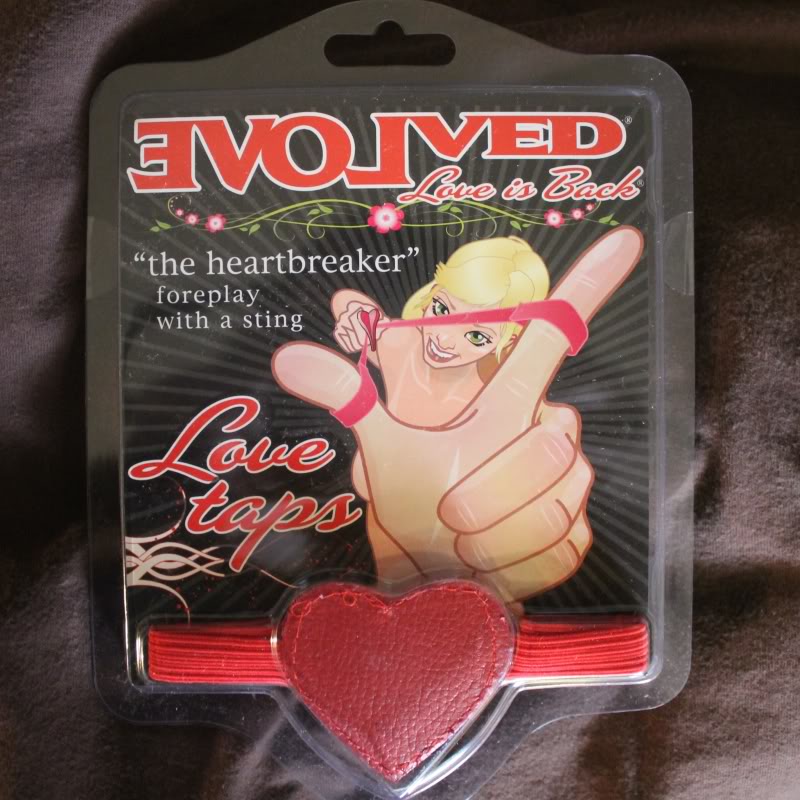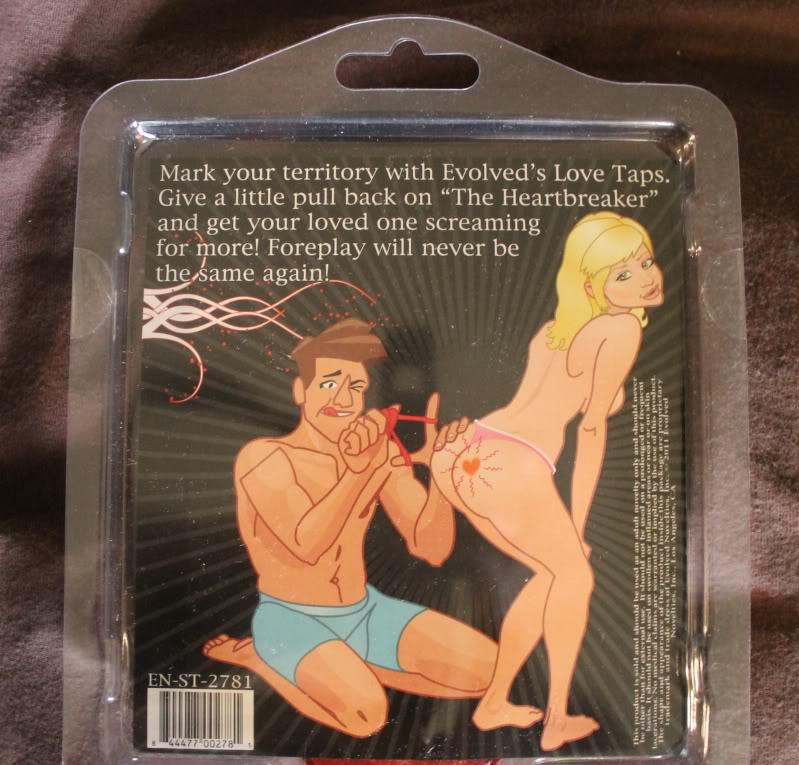 The heart piece is made of leather and the elastic is, well, elastic. The heart is 2 inches wide and 2 inches long. The entire length of the product is roughly 7 ½ inches. On the back of the heart, there is a tiny plastic piece, which is to be used to pull back the heart when you are ready to shoot the heart onto your partner's bottom. To be completely honest, I had no idea what the plastic pieces were for at first, but my partner filled me in.
There are no directions in the packaging, but I suppose it's a simple enough product that instructions are not necessary. Below you will see the plastic piece on the back of the heart. It's easy to grip; you should not have a problem with that.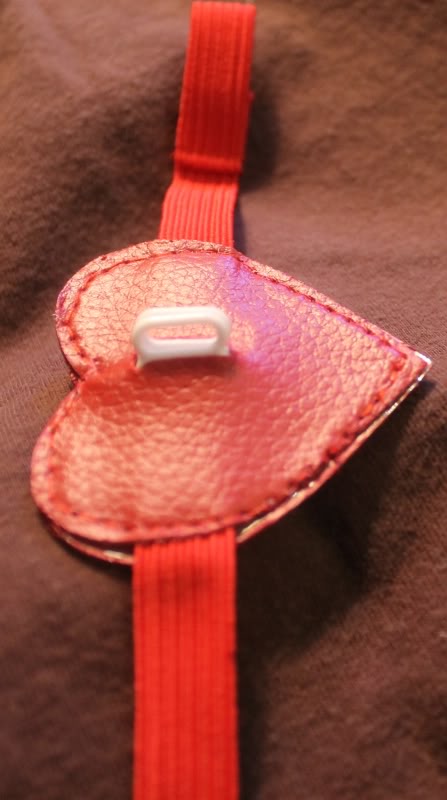 The elastic is quite stretchy, so you can pull the heart back quite far to really make your partner feel the sting. Also, the finger holes are just as stretchy, so even if you have abnormally large fingers, you'll still be able to use this product.
The quality of this product is something you'd expect to see at a dollar store, and even then, they'd have it on clearance for 50% off because they just want to get rid of them. The stitching on both the elastic (where the finger holes are) and the heart is terrible. The stitching is not even, parts are unravelling, and there are a few loops and frays. I've attached a photo below to show you the sad attempt of craftsmanship.

And being completely honest, the picture underemphasizes the flaws. My partner and
I used this product a few times, and although it did not break yet, I am quite certain that the life span of this toy will be short-lived.
When I used the ass-sling-shot, I noticed that no matter where I placed the finger holders on my fingers, the darn thing would keep hitting my skin (the crease between the index finger and thumb). The pointy tip of the heart kept nicking my skin and it hurt like a B.
You can see the heartbreaker on my fingers below, although I am not holding the back plastic piece like you are supposed to (in fear of it snapping on my skin again).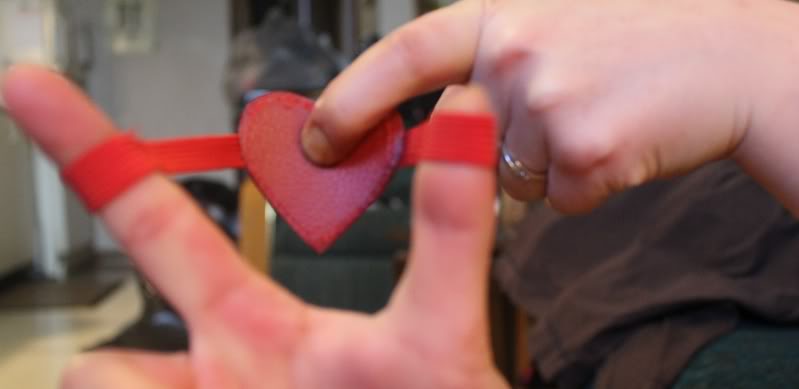 The Heartbreaker can be used for gentle taps, or taps that will sting. The harder you pull the elastic back, the more stings the receiver will feel.
Even though it's cute, and non-intimidating, I do not recommend this even to the newest of the new in BDSM. Yes it's only $5.99, but it is NOT worth it. I would say that it would be okay for a gag gift, or a prize if you had a party, but then I'd be lying. It is NOT okay to give this even as a gag gift because the quality is garbage.
If you are looking for a cute, non-intimidating piece here at EF, check out the Impressions Crop. I own that piece and it's just lovely! The crop is $10.50 (so it's affordable), has a cute little heart on it, and the quality is a billion times better.
The only positive thing I can say about this product is that it is travel-friendly.
YOU'VE BEEN WARNED!
Experience
As I mentioned above, there really isn't anything sexy about this product and the stinkin' thing kept nicking my skin when I tried to use it on my partner. We have a crop, so we will never use this product again after today.

My boyfriend thought it was funny, and when I watched him sling-shot me, he looked like a little boy playing with a sling-shot and rocks. He was definitely amused, but not sexually excited by it.

This product receives a 1 out of 5 from me, and even then I feel like I'm being too generous. The only positive thing is that it is travel friendly, but with it being such a bad product, why would you want to bring it with you anywhere anyway???
Follow-up commentary
2 months after original review
To be honest, this toy is one of the silliest things we have ever tried, and not silly in a good way. We have not used it since because we don't find it sexy at all. When we feel like doing a bit of "love tapping", we use our crop which is much sexier. I would still. not recommend this product to anybody because it's too silly and on top of that, the quality is terrible.
This product was provided free of charge to the reviewer. This review is in compliance with the FTC guidelines.

Thank you for viewing
Love taps the heartbreaker
– sex toy review page!