Toy's heart Si-x type f sleeve - Blow job imitator from Toy's heart

Product Details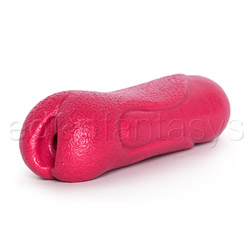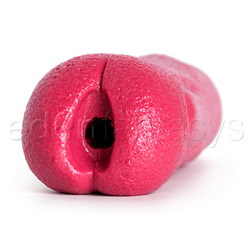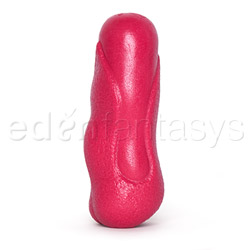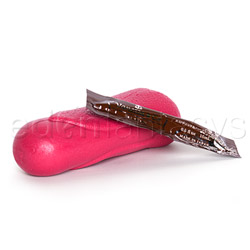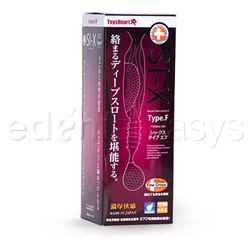 Summary:
The Si-x type f sleeve is more than an interesting name; it is by far the best oral stimulator on the market. The interior of the sleeve was designed to perfection with even an imitation tongue with taste buds! With one of the best interior designs on the market also comes a very easy to clean sleeve that does not require a lot of maintenance. This sleeve will surely keep you coming back for more.
Pros:
Possibly the most realistic oral sex simulator!
Cons:
Packaging and lubricant instructions are mostly in Japanese.
Best use:
The Si-x type f sleeve is possibly one of the most realistic blow job simulators around. The interior is specifically designed to give the user the sensation of oral sex. Using this is very simple, and it can be used with a partner. To use this, you insert your penis into the tube after you add lubricant. Once inside you can stroke at your own pace. As stated earlier, you can use this with a partner by having your partner use the Si-x type f sleeve to stroke you. This can add a little bit of spice to your relationship, or it can be just a little tool for you to use at your leisure.

This is also very travel friendly, so if you plan on a trip, this is very lightweight and will fit easily in a travel bag.
Material / Texture:

The Si-x type f sleeve's interior does imitate the feel and texture of the inside of the human mouth quite well.

The Si-x type f sleeve is made from Thermoplastic Rubber (Also known as TPR and TPE). Thermoplastic Rubber is a blend or compound that exhibits a thermoplastic character. Thermoplastic Rubber is hypoallergenic, nontoxic, and phthalate free. While Thermoplastic Rubber (TPR) is less porous than Cyberskin it is more so than Silicone. Thermoplastic Rubber can be used to produce a wide variety of textures, which include bicycle handles, toothbrushes and some children's toys

Since the Si-x type f sleeve is made from Thermoplastic Rubber you can only use water based or silicone lubricants. Petroleum based oils will damage the material.

This toy can not be sterilized, so if you plan to share this with someone, you should wear a condom with this masturbator.

Also worth noting, out of the package the TPR material was not sticky and did not have a smell of any kind. You should still wash it before using, and also before and after every use.

Material:

TPE

Material safety

Safety features:

Hypo-allergenic / Latex free / Phthalates free

Texture:

Ribbed

Shape / Design / Size / Fit:

While nothing striking to look at, the exterior is well designed and helps slippery hands from losing grip. The sleeve looks more like a flower than any form of sexual object, which adds to the discreetness.

The interior is by far one of the most realistic chambers and is extremely detailed. The interior features ridges that accurately simulate the roof of the mouth. Not only are their realistic ridges, but also a very realistic tongue like bump that even features tiny nubs the size of taste buds. The chamber's opening is easy to get into: once in, the chamber gets wider and then a little tighter, adding the oral sex sensation.

This should accommodate mostly everyone.

Color:

Pink

Length:

6"

Fits up to:

2"

Vaginal depth:

5 1/2"

Weight:

8 oz

Functions / Performance / Controls:

Special Features:

Lubricant included
Super stretchy

Care and Maintenance:

This is toy is extremely easy to clean and simple to maintain. To my knowledge you do not need to coat this toy with any kind of powder or cornstarch. The texture stays consistent after washing.

TPE (TPR) is fairly easy to clean, but as mentioned earlier, TPE cannot be completely sterilized, due to the porosity of TPE.

Please follow these simple instructions when cleaning and maintaining your product.

1. Rinse the interior and exterior of the Si-x type f sleeve thoroughly with warm water.
2. Apply Anti-bacterial soap and make sure you apply to as much of the interior/exterior as possible.
3. Rinse off the anti-bacterial soap.

Packaging:

Around 90% of the packaging is in Japanese: only a few words such as "Phthalates free" are in English. The packaging is mostly purple with hints of pink and other warm colors. The Japanese text adds a cool factor, but it would be nice to have some English text and some cleaning instructions.

I loved the color scheme and I felt that this looked very cool.

Personal comments:

The Si-x type f sleeve was the most realistic oral simulator that I have ever tried, and I was truly amazed in the attention to detail that the manufacturer went into when designing this. I was especially amazed with the imitation taste buds; they looked and felt just like they should. Most sleeves (realistic vaginas and etc.) have a fancy exterior design with the same basic interior ribbed or nubbed design; it was certainly nice to see a departure.

I am not sure why the company decided to go with such a basic and uninspired exterior look, but it really did not detract from the over all functions of the product. The interior is all that counts, but it would not have been bad to have a nice exterior just to look at.

The included lube/lotion package was completely in Japanese, with no translation for English users. Yes it does add that import cool factor but what about people with allergies? If a company is going to export a product to another region, then it must translate it into the language(s) of the region. Since I can not read what is in the lubricant, I really can not suggest someone use it.

Lastly, I have to admit, there was something cool and special about trying a toy that was produced and marketed in another country, especially cool to see what the guys in Japan have at their disposal.

I am going to give this toy a much deserved five star rating.