Doc Johnson Blush extra long stroker - Penis sleeve from Doc Johnson

Blush extra long stroker videos
Product Details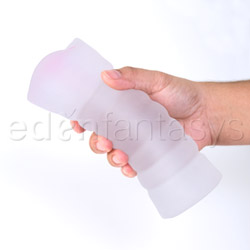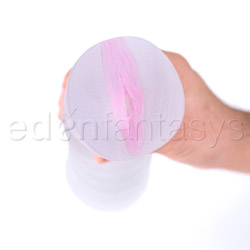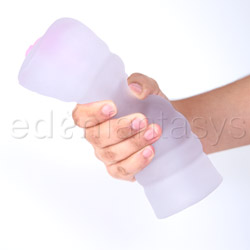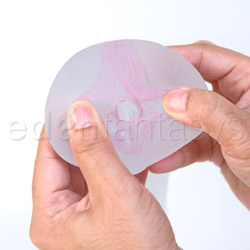 Summary:
The Blush may be marketed to the big guys (based on the name and the packaging), but it is perfect for any guy who wants to use a masturbation sleeve that is so good that you forget you are powering it. It lets you go with the fantasy and enjoy. The Blush is highly satisfying.
Pros:
Clear, Good tight fit, luxurious plush feel, easy to clean.
Cons:
Slight chemical odor.
Best use:
The Blush extra long stroker is a generous sized (6'5" long) clear penis sleeve. It is open on both sides, although the side for insertion is styled with vaginal lips to heighten the fantasy of really being inside a woman. To use it, you put a bit of lube on your penis (and I would also add some to the opening and first inch or so of the toy), position the vagina styled opening over your penis and just slide it down and back up. The opening expands to handle your girth, but creates a nice tight fit around the penis. Because the toy is fairly thick (about 3" in diameter), you don't really feel your hand around it, so it feels distinct from just jacking off. While the length makes it great for bigger guys, it can be used by anyone since the flexible material takes a nice tight grip on your penis, regardless of its size. Very similar to Doc Johnson's Meggan Malone stroker, this one has the added benefit of being clear. It's very hot watching your penis (slightly silhouetted) sliding in and out of the Stroker!
Material / Texture:

The Blush is made with Sil-a-gel, which gives it a very soft and plushy feel, but gives it good stability so that the opening remains nice and tight. It does have a bit of a chemical smell, which, while not being overpowering, is noticeable. It has ridges on the surface that are good for keeping your grip on it. These ridges are also on the inside of the toy, which adds to the sensation on the penis.

Material:

Pvc

/

Ultra realistic 3.0 (UR3)

Material safety

Safety features:

Anti-bacterial property / Latex free / Phthalates free

Texture:

Ribbed / Smooth

Shape / Design / Size / Fit:

The design offers no real surprises, but it is very effective. Of course, it can't replicate the warmth of a vagina, but its thickness, the tightness of the opening and the internal ridges all combined to make me feel that I was doing more than just jerking off. I would say that it does have a realistic feel. It's not a tiny toy, but it is small enough and lightweight enough that it would be easy to travel with. It will easily fit in any bag. The fact that it is clear does make it somewhat more discreet looking than a colored sleeve, but it won't be hard to figure out what this is, particularly with the vaginal styled opening. It will look better sliding up and down your penis than it will sitting out on your coffee table when your neighbors come over.

Color:

Translucent

Length:

7"

Fits up to:

2"

Vaginal depth:

7"

Weight:

1 lb

Functions / Performance / Controls:

Special Features:

Internal nubs and ribs
Realistic design
Waterproof

Care and Maintenance:

The Blush does come with a set of instructions on how to care for it. It is fairly simple though- soap and water or a toy cleaner will do just fine. It is open on both ends so you could run water through it, but to really clean it (and remove all of the semen and lube) you will need to flip it inside out. That's easy to do since the toy is flexible. As for lube, I would stick to water-based products. You will not need a ton of lube to enjoy Blush. Store it away from light and dust and where it is not pressing up against other silicone toys. It will fit nicely in your toy chest or in a drawer.

Packaging:

The packaging is nice and colorful and does emphasize that this is an "Extra-Long" Stroker that can be used by the big boys. It is not particularly discreet though (big image of the product along with a description). I would not store the toy in the box just because it takes up a lot of extra space. It does come wrapped in a plastic bag, which you can continue to use for storage. There were no instructions included on how to use the Blush, but it did have a useful care guide.

Experience:

The Blush does what a good penis sleeve is supposed to do- it lets you forget that you are doing the work. The feel is amazing and realistic. I am a big fan of clear sleeves- I like to see myself sliding back and forth in that plushy sleeve. There was a lot of cum that I had to wash out when I was done. Thank goodness the Blush is so easy to clean!