Stroke me, please me and make me write bad checks!
A great stroker for everyone, the Blush Extra Long delivers. Texture can be felt while not being to extreme and the realistic vagina/skin can be a real turn on. There is the "wonderful" Sil-A-Gel/Doc Johnson type smell and the pink coloring on the vagina fades with washing. But that should not stop you from giving it try, really this is a great toy for your stroking pleasure.
Published:
Pros:
Great feel, Plenty long enough, Realistic looking vagina.
Cons:
Smell, Color of vagina fades, Lint magnet, did I mention the smell?
Just look at that vagina, doesn't it look scrumptious?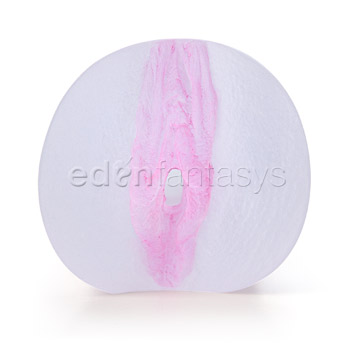 (I used Ef's picture so you can see how it looks when you get it.)
Kind of makes you want to finger it, rub your penis on it and just pound the hell out of it, does it not? Well, I have had that pleasure and that is why I am here today to tell you about it.
The Blush Extra Long Stroker is a great masturbation aid from the folks at Doc Johnson. From the realistic shaped pink colored vagina, the oval shaped opening, all the way through 7" of the ribbed "Tunnel of Love", to the open end, this is a great feeling stroker. It has an outside diameter of 2 3/4" at the entrance and it tapers down slightly to 2 1/2" at the end. This and some outside ribbing make grasping easier.
The outside to show ribs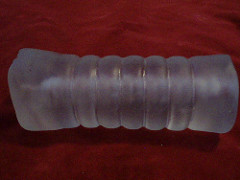 I am not sure why but the inside tunnel starts in about the middle at the entrance and comes out towards the top. It does not affect the use and as a bonus, you can see your penis better when it is fully inserted. This tunnel has ribs every 1/2" and is about 1/2" in diameter, it can stretch enough to fit any girth.
Turned inside out to see the inside texture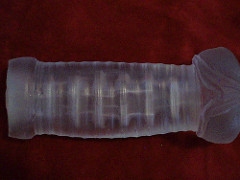 This stroker is made from
UR3
that has been infused with
Sil-A-Gel
. As such, it has a smell that cannot be missed during use; in fact, the smell will linger on your hands or in the room for a while. I have had this since the New Year and it still is just as strong as the day I received it. It is not a horrible smell but there nonetheless.
For lube, it becomes a bit confusing. EF says for UR3 that you can only use water based. The small paper that comes with the stroker says you can also use a silicone lube. Furthermore, EF says that for Sil-A-Gel that you can use silicone as well. So, what I am I to do? Well, scientific research of course. I applied my favorite silicone lube to the end; let sit for five minutes and wiped it off. There was no "Adhesion" evident and it wiped right off. So, water and silicone based lubes are suitable for use. This means you can use it in the shower/tub as well. Yeah!
For cleaning, soap & water and toy cleaners will work fine. It can be turned inside out to make cleaning more easy. This is also helpful for drying it off; you need to make sure the toy is dry before storing. You do not want mold to grow in your stroker, do ya? I also recommend to apply some cornstarch after it drys, this will help prevent it from becoming sticky.
The Blush comes in your standard box and it looks like this-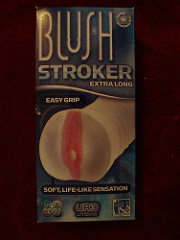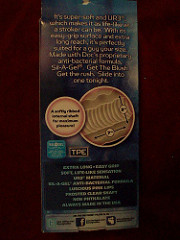 As you can see, there on the front is a picture of the stroker, so it is not very discreet. It has some general info on the toy and the company. Inside, the stroker is in a plastic bag and there is a piece of paper with care instructions. You could us the box for storage but I find it to big for that, so I just use a zip top bag. It is on the large side so taking it with you on trips may require some special arrangements for it. It will not fit in a pocket very well.
Experience
The UR3 feels wonderful when warmed up before use and while nothing will feel like real flesh, it does come pretty close. The texture feels very nice; I like it best when stroked slowly with a twisting action. Something else that feels good is when I place my finger over the exit hole to provide suction; it will actually collapse the sleeve! Another fun way to use it is to insert to the hilt, hold it at the base, plug the exit hole and pull the top upwards. Not only does it suck even more, it becomes tighter the farther you pull it.

I have found that if you rinse off the cornstarch and dry it, it will hold itself in place when using it on the couch. Partly due to the stickiness and partly due to the weight as it weighs about 1 lb. I did not have to wedge it between the cushions. It works well like this when the wife and I are having some "Threesome" type fun. I can just lay it on the bed and let it please my penis while I am giving the wife some oral.

Overall, I highly recommend this stroker; it is durable, feels good and should work for most people.

I have to thank EF for it, specifically Victoria, as I won it at the Holiday party that was held here. Otherwise, I probably would have overlooked it.
Follow-up commentary
4 months after original review
I am happy to report that I am still pounding this toy. I keep it in the wood shed for those times when I am working in the yard and feel like a quicky. I like to lube her up and go in soft and let the visual of my penis growing add to the fun.

She is holding up very nicely and I have no problems to report. To bad the color did not stay but I do not rely notice during use. The smell has faded some but I can still smell it when I take it out of the bag. Thankfully it is not as bad as when it was new.
This content is the opinion of the submitting contributor and is not endorsed by EdenFantasys.com

Thank you for viewing
Blush extra long stroker
– penis stroker review page!