Doc Johnson Titanmen man tube - Masturbator from Doc Johnson

Product Details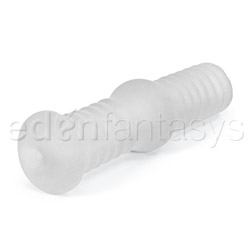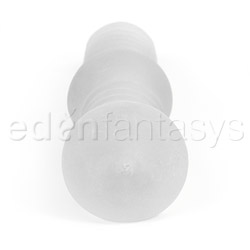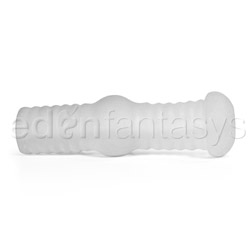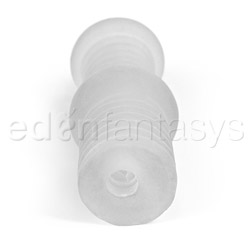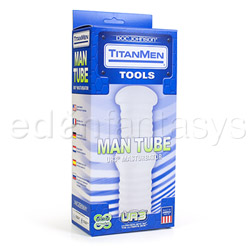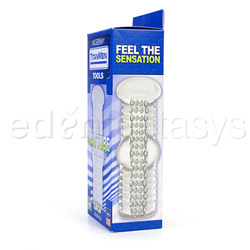 Summary:
I would recommend this toy, its similarity to actual anal sex was as close as I could imagine a toy at this price having. Material is great, very soft & supple, it also had a pleasant texture and a solid heft to it, a little over a pound. Only downside I noticed is that it has a bit of a smell but it's more similar to a shampoo smell than a plastic smell. The look of this toy isn't very appealing but I think the feel is more important than the way it looks.
Pros:
Material
Texture
Size/Weight
Best use:
As my first male masturbator I was pleasantly surprised how much it could enhance one's solo sessions. That isn't to say it couldn't be used as a toy with a partner, as well as a docking toy as it has openings on both ends. The Titanmen Man Tube at first glance doesn't appear to be much more than an ultra soft cock tube, but if you look at it you will notice that the end resembles a tight anus that you can just plow with your cock, but don't forget the lube on this one. Otherwise, it will prove to be quite the challenge. The tube has an internal length of 8 inches and is ribbed the whole length to allow for a better grip, there is even enough space to grasp it with two hands. The fit of this toy is very tight to simulate an anus, I have a 7 inch penis with a diameter of 1 3/4 inches and I am certain anybody under these measurements will still find this toy to be exceptionally tight. This toy is translucent, so you can semi-see your penis through it which I feel detracts from the experience slightly, but not in a way that would influence me against the product.
Material / Texture:

The Titanmen Man Tube is incredibly soft, both inside and out, made of a material known as Ultra-Realistic 3.0 or UR3 (NOTE: UR3 is a very porous material and should not be shared without a condom or knowledge of your partner's STI status). The inside is lined with soft textured bumps that tug with every thrust. It is also quite tight and a liberal amount of lube is recommended but that's part of the fun of simulated anal sex. However I found it to have a fairly strong plastic like (but not necessarily offensive or overwhelming) smell that will cover an area with a radius of about 4 feet and will linger on your skin for 15 minutes or so. The material itself is very floppy and as a result using two hands to get things started is much more efficient than trying with only one. This toy will also collect dust if it comes into contact with say, your carpet, so be sure to make an effort to keep it somewhere where it will be protected.

Material:

Ultra realistic 3.0 (UR3)

Material safety

Safety features:

Latex free / Phthalates free

Texture:

Beaded

Shape / Design / Size / Fit:

The design of this toy isn't exactly the most appealing thing to look at but at least I can say that it somewhat has an anus opening which gives it some, though minimal, realism. The shape is designed to be handheld so it has two bulges to make it easier to keep a hold of, especially if your hands are covered in lube. The size of this tube is 8 inches which is nice because it will give the average man some extra room to work with so most men will have no problem with this. I don't see a reason why even someone with a large cock would have a problem with it.

I do have somewhat of a concern about the durability of the material though UR3 seems to be known as a fairly durable material so it's my guess that with proper care this toy should take a few solid years of pounding before anything happens. This toy isn't the most discreet as it is large, but its purpose isn't as obvious as a fleshlight or something similar. Due to this, it isn't recommended for travel.

Color:

Translucent

Length:

8"

Fits up to:

Any size

Width:

2 1/2"

Vaginal depth:

8"

Weight:

0.5 lb

Functions / Performance / Controls:

Special Features:

Ergonomically shaped
Super stretchy

Care and Maintenance:

This is cleaned by washing it with soap and water, do not use harsh chemicals, alcohol included. Corn starch can be applied to the surface to keep it soft and help keep it from deteriorating. After washing out the toy you may choose to turn it inside out to dry, I however have found it easiest to turn approximately half of it inside out dry with a towel, and repeat for the other side then allow it to sit for a while to finish air drying. When storing this toy it is best to keep it somewhere where it won't get dusty such as a rubbermaid box. As far as the use of lubes go, this toy is latex free so a silicone lube can be used, and of course water based lube may be used as well, I prefer a silicone-water hybrid as it isn't as sticky as water or as greasy as silicone but can still be reactivated with water. Oil based lubricants are not recommended as they can decrease the longevity of the product.

Experience:

The Titanmen Man Tube has proven itself to me that it will make your orgasms harder and more intense especially when compared to a traditional toy-free solo session. As you reach climax you will almost certainly feel the bumpy texture of the interior pull at your cock and as you climax you will find yourself grabbing the toy in an attempt to maintain control.