Tantus Pelt paddle - Paddle from Tantus

Product Details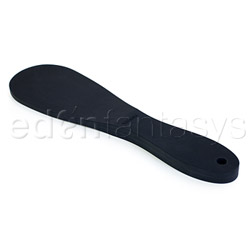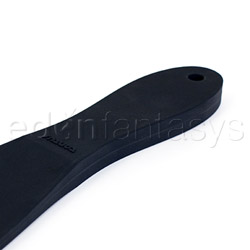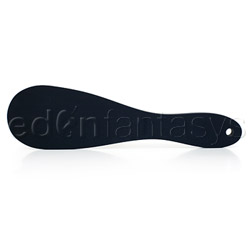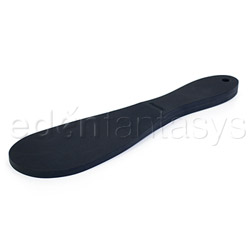 Summary:
If you're looking for simplicity with a lot of sting, this is it! This paddle is not for the light masochists, but for those who will actually enjoy a moderate to heavy amount of pain, even with light force. Made of 100% silicone, this paddle is flexible, easy to clean, and smooth as a baby's bottom--but made for an adult's!
Pros:
Very powerful! Easy to clean, very travel-friendly.
Cons:
Not for beginners, dust/dirt/lint magnet.
Best use:
The Pelt paddle is simple in concept: a small paddle, made of flexible silicone material. Sounds boring, right? Wrong. This paddle packs a whole lot of excitement into such a simple and compact design!

This paddle is for the moderate to more advanced BDSM users. I would not suggest this as a first paddle to anyone, as it can be quite painful. However, users will find out for themselves that its size and plain appearance are not to be underestimated.
Design / Craftsmanship / Size / Material / Features:

The design is well done, for something so simplistic. Made of 100% silicone, it's unlike any paddle I've owned before. While there is a seam on the sides, it has a very smooth and velvety finish. The seam does not bother me in the slightest.

The only texture, aside from the seams, is the word "TANTUS" at the end of the handle. This is tiny, and is not noticeable during play at all.

Now, being made of silicone, I'd like to point a few things out. One is flexibility, which it has a lot of. While some paddle have some flexibility, this one has a ton. I've often found in the past that I prefer firmer paddles, because they deliver a more painful smack. However, being a fan of stingy sensations, I've learned that paddles with this much flexibility are actually better! The bite is incredible with this.

In addition, silicone is an unusual material for paddle. Most come in leather or wood. While this is a nice vegan option, it also has other benefits. Those who play with blood, for example, will find this paddle to be useful. I, for one, enjoy using vampire gloves, which can create lots of dots of blood on the buttocks during play. In this case, the Pelt paddle is an excellent choice for further play because, unlike leather paddles, you can completely clean this one with no problems! This opens many doors for those who play with blood or other bodily fluids.

The size is not large--just under a foot long and 3.25" wide. However, for "pelting," this is the perfect size. Other sizes of this material are listed below, if you're looking for more of a "thuddy" effect as opposed to "stingy."

Material:

Silicone

Material safety

Color:

Black

Length:

11 1/2"

Width:

3 1/4"

Weight:

1.7 oz

Performance:

As I've stated before, don't underestimate this paddle. It will leave your or your submissive's bottom red in no time. I would caution Dominants to first try this on their forearm to gauge just how hard to hit for certain levels of pain, because it is very easy to gauge the intensity too low when playing.

This paddle exceeded my expectations on the intensity level. I was interested in the silicone material, but assumed it would be a beginner's paddle: I was very wrong. Masochists and sadists alike will love this paddle, but I wouldn't suggest it to anyone who has pain as a hard limit.

Care and Maintenance:

Care is super easy, since it's made of silicone! This is another fantastic feature of the Pelt paddle. It can be wiped with toy wipes, toy sprays, boiled, put on the top shelf of the dishwasher, or in a 10% bleach solution. However, unless you get blood or other bodily fluids on it, washing it isn't necessary. Keep it clean, but sterilization isn't needed unless there is contact with bodily fluids.

That being said, it does attract some dust/lint, so wiping it off with a damp paper towel wouldn't hurt, before and after regular play.

Store this with any other paddles, seeing as the silicone won't react with other non-silicone toys. Do keep it away from silicone toys, though. You don't want your favourite dildo merging with this paddle, as that can cause degradation of the material and potentially ruin your toys.

This paddle has a hole for a hanging strap, and can be stored that way as well.

Packaging:

There is no packaging with this toy--just a tag stating what it is.

Other

Texture:

Smooth

Diameter:

3 1/4"

Special Features:

Flexible
Kinky
Waterproof

Safety features:

Food-grade material / Hypo-allergenic / Latex free / Non-porous / Phthalates free