Spartacus Purple fur lined ankle restraints - Ankle cuffs from Spartacus

Purple fur lined ankle restraints videos
Product Details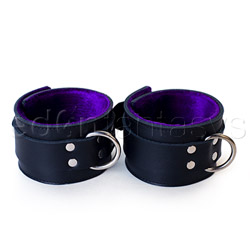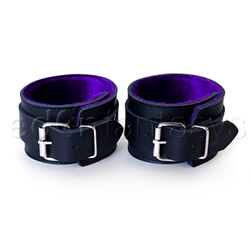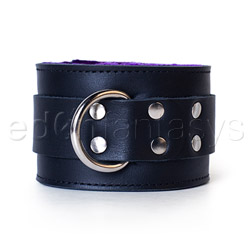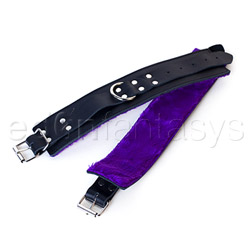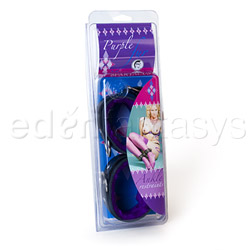 Summary:
These restraints are really comfortable. These restraints held up to heavy play and felt good the whole time. I was so elated to not have restraint marks on my body the next day, I have to get the whole set!
Pros:
Beautiful violet colored fur looks regal, comfortable, real leather, stands up to heavy play.
Cons:
Small in size, may not fit every body.
Best use:
These restraints are meant for use on the ankles. They will accommodate ankles from 7-10" in diameter, and are about 2" wide. They have 5 holes that are about 3/4" apart, so they can be adjusted to meet most sizes snugly. The D ring on them is fairly large, about 1" in width at the base, to make fastening these up fairly easy with either a clip or rope. They have a beautiful violet colored faux fur lining that feels very smooth and makes these comfortable to wear for extended time.

While wearing these cuffs obviously makes a fun fashion statement, they will also hold up to extended play and lots of tugging. I found the leather to be very strong, with no signs of wear and tear no matter how hard I struggled. The leather is very soft and bends easily. It has a nice leather smell to it, but you have to put you nose right up to it to smell it. This set is not meant for suspension, though. We did not try it for suspension and I would not recommend it.
Design / Craftsmanship / Material / Size / Fit:

I loved the way these cuffs felt on my ankles. They are made very small. Luckily, I was able to fit them on me, but just barely. I do not consider myself to be a "big" woman for the most part and I am on the second to last hole on my ankles. My ankles measure 9". They fit my wrists perfectly with a slight overlap, but even then I am still not on the smallest hole. My wrists measure 6". It made me think that maybe Spartacus designed these cuffs for the "average" BDSM couple, who are very much below average in size.

I have to admit that the fur does not cover all the seams on my cuffs. The outer ridge, where the fur meets the leather, has a very rough feel to it. These cuffs almost have to be on with a snug fit so there is no chance they will slip or bend at all. Maybe that is why they made them so small? Either way, these cuffs would be very uncomfortable if they had no fur at all. I don't think these cuffs are made for everyday use. Cleaning the fur will be a bit of a challenge. I suggest trying to keep them dry if possible.

A nice thing about these restraints is that there is no sound to them. Other than the buckle there is no metal on metal to jingle. Once you have them attached to someone, the buckle and D ring have nothing to bang on to (what you hook them too may change that though).

Material:

Fake fur

/

Leather

Material safety

Color:

Black / Purple

Length:

13"

Width:

2"

Closure:

Buckle

Hook style:

D-ring

Weight:

0.4 lb

Performance:

This would be great for beginners or advanced users since it can handle a lot of rough tugging during play. The nice thing about these cuffs being small is that I can wear them on my wrists or my ankles. I found these cuffs to be comfortable and I could wear them for extended periods without feeling itchy or being rubbed raw. I don't want to think about my restraints causing discomfort during bondage, these really did make me forget they were there.

These restraints look really nice on, too. The dark violet color is not too feminine and adds a lot to the look of these cuffs. They almost required two hands to get on and off. While I could do it if I had to with one hand, it would be difficult. I found once I got them on, that is where they stayed until I got help taking them off. These cuffs really worked great for us - I plan on buying the wrist restraints to match.

Care and Maintenance:

The faux fur on these cuffs may require washing if they become soiled. While fur can be thrown in the washer, the leather shouldn't be. You can wipe both the leather and the faux fur with a damp cloth and a mild soap if necessary, then let the fur air dry. Then you can fluff it a bit if you want.

Other

Size:

One size fits most

Lining:

Faux fur

Texture:

Smooth

Fits up to:

Any size

Safety features:

Phthalates free