Sportsheets Sex and Mischief breathable ball gag - Mouth gag from Sportsheets

Sex and Mischief breathable ball gag videos
Product Details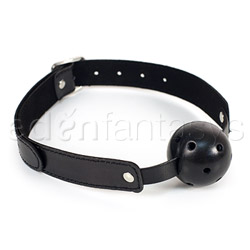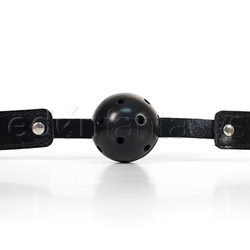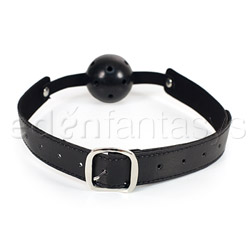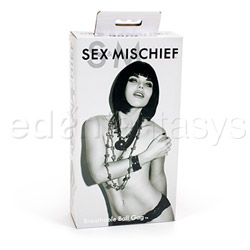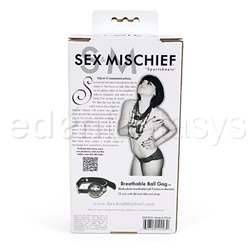 Summary:
The Sex and Mischief Breathable Ball Gag made by Sportsheets is a very good quality ball gag. I really like how the ball gag allows you to breathe when it is in your mouth. It will create a lot of drool when you use this product, but it is very sturdy. It is comfortable to wear and is adjustable. I highly recommend this product to beginners just getting into kink play, because it is very non-intimidating for the the person who is wearing it. You won't make much sound when wearing this ball gag.
Pros:
Comfortable, adjustable, breathable ball gag, sturdy, made by Sportsheets.
Cons:
So much drool may be a downfall for some people.
Design / Craftsmanship / Material / Size / Fit:

I really like the design. Usually I don't like things that are quite this simple visually, but this is just right. It is really quite arousing just to look at. Fantasies run through my head, and I want to use this product a lot. It is great because it allows you to breathe through your mouth and doesn't completely cut off air from your mouth. It is good for beginners just getting into the scene of fetish and kink. I am very impressed by this product.

I consider this product very well made. It has lasted through numerous rough kink sessions, and I am quite happy about that. I don't like products that don't last long. I consider this one of my favorite ball gags.

It is made out of Metal, Plastic, and Vinyl. Unfortunately, this product only has a safety rating of 2 on the Eden scale.

The metal feels very cold and smooth to the touch. The plastic obviously feels like plastic. It doesn't have any taste. The vinyl is pretty nice feeling, and I'm glad that this product included this material. The materials make the product, in my opinion. It all combines to one great product and I plan to keep on using this gag for as long as it keeps lasting.

Material:

Metal

/

Plastic

/

Vinyl

Material safety

Color:

Black

Length:

26"

Closure:

Buckle

Weight:

0.1 lb

Performance:

This product really did exceed my expectations. I wasn't expecting this product to work as well as it did. The only downfall is the amount of drool that is collected inside the breathable ball gag. Everything else about this ball gag is spot on. I really enjoy it. For the price, it is a great investment. I plan to use this product frequently and have many more adventures with it.

Care and Maintenance:

You can care for this product quite easily. It comes apart and you can clean each piece individually.

Metal toys can be boiled or be bleached (10% solution), are dishwasher safe (top shelf), or can be washed with soap and water.

Plastic can easily be cleaned with antibacterial soap and hot water or by wiping down with isopropyl alcohol.

You can wash vinyl with warm water and toy cleaner or mild soap using a soft cloth or ordinary long-handled, soft bristle brush.

I personally clean the mouth gag before and after each use because it does get a lot of drool on it. I like my toys not to smell like my own drool, so definitely clean it before and after each use.

Packaging:

The packaging is not discreet at all. It has a semi-half naked woman on the front, wearing the ball gag around her neck. People will know what this product is. I didn't keep the box; I store this product in my toy box. There were no user instructions, but you don't really need them for a ball gag. It is very self-explanatory.

Other

Size:

One size fits most

Safety features:

Food-grade material / Hypo-allergenic / Latex free / Non-porous / Phthalates free

Diameter:

2"