Sportsheets Sex and Mischief metal handcuffs - Handcuffs from Sportsheets

Product Details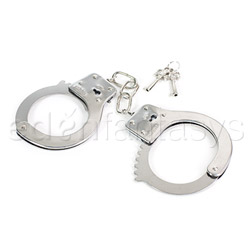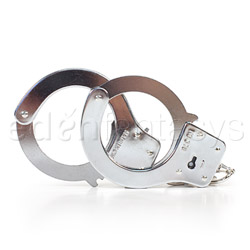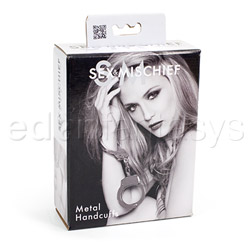 Summary:
Okay, the cuffs do not have a weird fishy smell or anything; they don't smell at all. They are perfect for role-playing, and are super easy to hide. They can bite your wrists if you are a bigger person, but with a little adjustment you can get used to it. Also, it is better to buy them in pairs because the little chain in the middle is very short. Overall, the cuffs are super fun and the price isn't bad either.
Pros:
Safety lever is perfect because you never know when your partner has to run out
Nice cool metal
Cons:
Bulky packaging
Cuffs could be made for bigger people
Best use:
Alrighty, I am doing a review on the Sex & Mischief Metal Hand Cuffs. The cuffs are best used on the wrists, because they are those regular little metal cuffs you find in the dollar store. The width they can take is limited and not the best thing for bigger women. I have bigger wrists, so I was only able to put them on...about 2 clicks, before they became uncomfortably tight. They are better suited for more advanced users, because as a beginner they left welts on my wrists, and it took about 5 mins for my husband to get me into a comfy position. Not great when you are trying to role-play kinky scenes.
Design / Craftsmanship / Material / Size / Fit:

The design is very generic and nothing about the cuffs stands out. They are plain, metal hand cuffs. The cuffs are, however, very strong. It is not something you want to be wiggling around in too much because they can really bite your wrists. The metal is solid but light, and can be very, very cold. They are smooth and didn't have a strong smell to them, but if you really sniff them you will smell the metal! LOL I do have bigger wrists, but in the end you can make them work. For the average person, they are a good fit. Like I said before, they are like the generic cuffs you can get at the dollar store; they even have the little lever on the side as a safety, but overall, they are much stronger.

Material:

Metal

Material safety

Color:

Silver

Length:

10"

Weight:

0.75 lb

Performance:

It worked very well for me. The role-playing was amazing; after we practiced with the cuffs a little, it ended up being super fun. When I first opened the box and saw these cuffs in a plastic bag I thought, "What the hell is this?!" But, after playing with them and testing them out, they ended up being a load of fun! The second my husband saw them he told me he had loads of things planned, and has pretty much secured me everywhere in the house.

Care and Maintenance:

I don't want to get the cuffs wet because of them being made out of metal, water is out of the question. We haven't really gotten down and dirty with them, and I just dust them off when I don't have anything to do. They are very easy to care for. They can pretty much go anywhere because they are thin and light. I keep them in a small silk baggie in my drawer, but when left out it looks like something the kids were playing with.

Packaging:

Really, the cuffs were packed very bulky. They come in a small plastic pouch/bag that is thrown in to this box that you could fit 10 pairs of cuffs in. There are no instructions to the cuffs because, come on, if you don't know how they work then you need to come out of your cave.

Other

Safety features:

Food-grade material / Latex free / Non-porous / Phthalates free