Sportsheets Sex and Mischief rope restraints - Restraints from Sportsheets

Sex and Mischief rope restraints videos
Product Details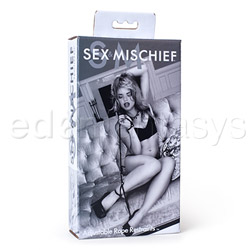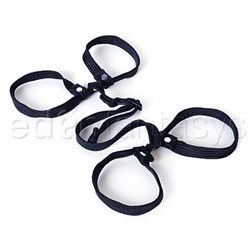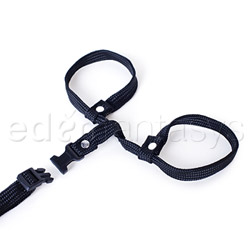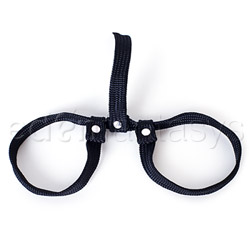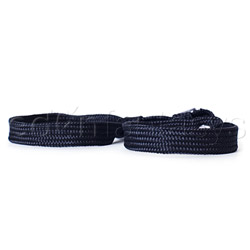 Summary:
These are good beginning bondage cuffs, with a minor safety flaw. Other than that, though, they're fairly effective, well made, and sturdy for the money.
Pros:
Simple to use, cheap, moderately effective.
Cons:
Not safe without a partner's supervision.
Best use:
These have all the hallmarks of a good beginner toy. They're cheap, non-threatening and easy to escape. They're ideal for couples with smallish sized submissives that want to experiment with bondage play. They are less ideal for a more experienced kinkster as they're not terribly secure. In fact you can wiggle your hands out pretty easily. A word of caution as they also tighten rather easily so you may want to be on the careful side when you use these to avoid cutting off circulation.

Also they're basic black and while not offensive, they're not exactly sexy looking if you're not turned on by camping gear (which hey, could totally be your thing).
Design / Craftsmanship / Material / Size / Fit:

All right, so these are not rope, technically - they are something more akin to nylon cord. The nylon cord is looped around itself and fastened with rivets. There is also a connector buckle (like the sort of buckle you might see on a back pack) that attaches the wrist cuffs to the ankle restraints. All in all it reminds me of a piece of camping equipment more than a piece of bondage gear.

Material:

Metal

/

Polyester

Material safety

Color:

Black

Length:

40"

Width:

1 1/4"

Closure:

Buckle / Snaps

Weight:

0.1 lb

Performance:

They'll hold you against some struggling though the narrow width of the cuffs and the fact that they tighten can make them uncomfortable and a bit risky in terms of circulation. I'd strongly caution you not to leave a submissive alone tied up with these no matter how easy to escape they may seem.

Other than that one flaw in their safety features they perform... reasonably. I recommend them to beginners if you like them for other reasons and are willing to be cautious.

Other

Size:

One size fits most

Safety features:

Food-grade material / Hypo-allergenic / Latex free / Non-porous / Phthalates free