Decent for beginner bondage
Overall its a decent product, its just not right for me. The ankle restraints could have been a little larger and they get a little too tight with as rough as we like to play. I would have enjoyed it as a beginner tho as they are fairly easy to escape should you feel the need to do so.
Published:
Pros:
easy to escape, flexible, great for beginners
Cons:
cheap material, easy to escape, can become too tight
Material/size:
The Adjustable Rope Restraint system is intended as a light bondage aid. It's made of soft braided polypropylene which is looped around itself and secured with nickel free metal snaps to form sliding, self tightening loops. The material is soft enough, all though it resembles a dog harness more than rope, it shouldn't cause any chaffing or irritation during use. The wrist and ankle straps are connected by a plastic, rather cheap buckle that is adjustable to an extent. The looped sections of the restraints are only 25" long and have nothing to stop them from tightening all the way down, the more you resist the tighter they go, which can be very dangerous due to circulation being cut. The connecting strap goes from aprox 4" all the way to about 18", which does not leave much room to work with either.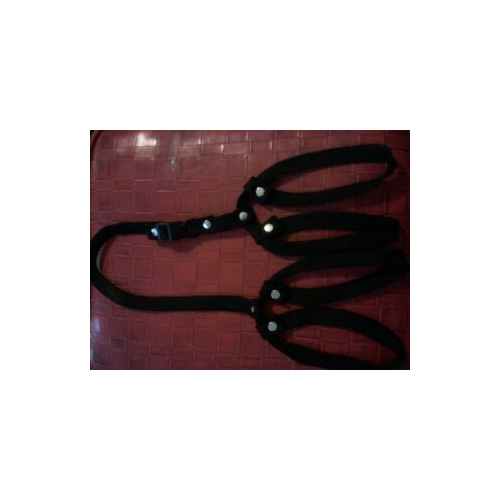 Uses:
The wrist restraints worked fine, however being a bigger girl I found the ankle straps to be a bit on the tight side when slipping them over my feet. They work well with hogtie position as well as being able to be separated and used to restrain only the ankles or wrists. However, due to the straps all being on the smaller side they are practically useless in any other position, unless the person being restrained is a very short, petite person. Also, you cannot separate the legs very far with the ankle straps on so intercourse while wearing these would definitely be a challenge. They tighten very easily on their own though so you need to be aware of how tight they are if you will be wearing for any extended amount of time. Otherwise they are a very safe and comfortable introduction to bondage play. They are easily escapable, soft and flexible, and easy to store away.
Packaging:
It arrived in a cardboard box with a tasteful picture of a girl displaying the restraints in a couple of poses. The box had a lot of useful information on it and even a little bondage story printed on the back. It also lists the product description, brief instructions on basic use and a list of the materials used. For those interested in more Sex & Mischief products it has the website printed clearly and a bar code that I was able to scan with my droid phone to pull up even more info. Inside the restraints were simply coiled around and left loose inside the box.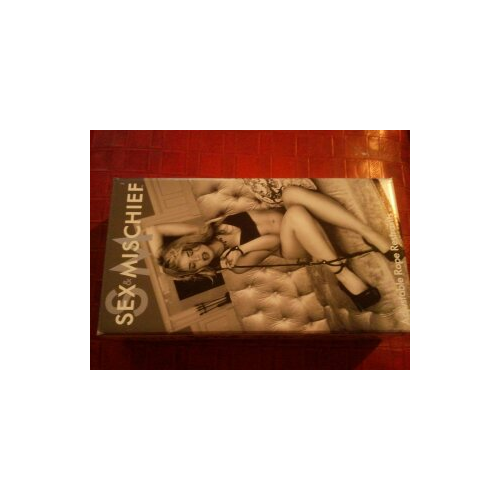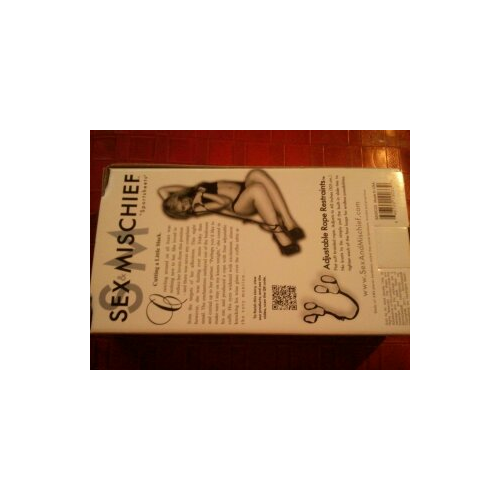 Cleaning and care:
These are very easy to care for and store. Simply hand washing them in the sink, with warm water and some liquid detergent, and then either laying them flat or hanging them to dry is the best way to clean them when you find it necessary. I would avoid throwing them into the washer or dryer because of the plastic buckle. The color will eventually fade over time and the snaps won't be as shiny after several washes but the integrity of the item should stand up just fine.
Experience
I really did not get much use out of these. We attempted a few positions but found they were not really function for the more experienced bondage fans and offered little in the way of excitement. The only reason it gets any stars is it is made well, durable. And for the beginner who is a little unsure of how they feel about being tied up they are a safe and easily escapable restraint system for those who fear they might panic.
Follow-up commentary
21 days after original review
Ok, while this product still doesn't work for me as its originally intended (too tight on ankles) I have found that it can be rigged to use as an over the door wrist restraint. Simply by looping one end around an object to keep from pulling the straps through, and then closing the door on it it can be used to hold someone (naturally me of course) in place with arms stretched above their head. My Mister (creative Sir that he is) thought this up while looking at some other over the door restraints. We've found a new appreciation for this device, though it is still rather cheaply made. We'll see how long it lasts with this new wear and tear!
This product was provided free of charge to the reviewer. This review is in compliance with the FTC guidelines.

Thank you for viewing
Sex and Mischief rope restraints
– suspension kit review page!