Doc Johnson Goodhead holiday 5 pack - Lubricant from Doc Johnson

Product Details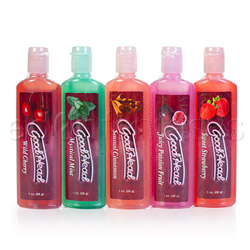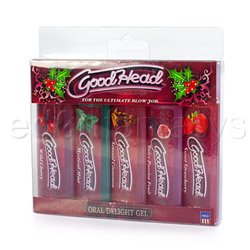 Summary:
Already enjoy oral or want your partner to enjoy it more? Grab a pack of GoodHead. This specific pack has a holiday theme with five different flavors. The flavored and scented gels are easy to use and clean up, and taste great.
Pros:
Tasty scents and flavors, makes oral even more fun and enjoyable, easy to use.
Cons:
Glycerin, not all are equally tasty, needs to be reapplied often, same flavors as non-holiday kit.
Texture / Consistency / Thickness / Viscosity:

This product is categorized as a lubricant, however it is not one and should not be used as such. This gel is very thick and doesn't squeeze out fast at all. It sort of squeezes out in perfectly proportioned beads. The gel is not completely uniform and has a more liquid like cushion that makes the gel even easier to spread around. One drop will cover the entire back of my hand. It is never runny or sticky. It stays put and is very smooth. It can be rubbed into the skin, but that decreases the intensity of the taste. It also mixes well with natural juices.

Base:

Water

Ingredients:

Water (Aqua), Glycerin, Cellulose Gum, Flavor (Aroma), Rubus Idaeus (Raspberry) Fruit Extract, Fragaria Chiloensis (Strawberry) Fruit Extract, Vaccinium Angustifolium (Blueberry) Fruit Extract, Butylene Glycol, Alcohol Denatured, Sodium Saccharin, Citric Acid, Diazolidinyl Urea, Sodium Benzoate, Potassium Sorbate. May Contain: Caramel, Red 40 (CI 16035), Red 33 (CI 17200), Blue 1 (CI 42090), Yellow 5 (CI 19140)

Color:

Green / Red

Taste / Aroma:

The pack comes with five different flavors! There is a very nice variety of holiday themed sweets. All five have subtle scents and not overly strong flavors. The idea is to add a light flavoring that you won't get sick of quickly. It keeps you licking and sucking!

Sweet Strawberry - Will arguably be the favorite. It tastes like Gum Drop candies! Slather it on an erect penis and it turns into a lollipop! It smells equally yummy.

Sensual Cinnamon - Cinnamon screams winter holidays. This light cinnamon is the perfect topping to your naughty bits.

Mystical Mint - Get lost in the spearmint aroma and taste of this gel. It will mask other tastes you don't wish to experience.

Wild Cherry - All the great fruity flavor minus the medicinal aftertaste that many cherry flavored serums possess.

Juicy Passion Fruit - A funky concoction of sweets.

Flavor:

Cherry / Cinnamon / Mint / Passion fruit / Strawberry

Performance:

Pick any of the flavors or mix and match! Minty Strawberry? Sure! Each tube is very easy to open. Pop the top up and squeeze out about a drop of gel. It should be about the size of a large pea. The gel spreads easily especially with the help of other juices like spit. It goes a long way. A single bead of gel should be enough to spread around a penis or vagina for oral sex. It gets used quickly, so be sure to keep the tubes readily available until you are done. It is slick enough to be used during a hand job or fingering if you don't mind getting your hands a bit goopy.

The gel taste does linger for about 15 minutes or 30 if it hasn't been diluted by spit or other juices. This means it can be applied before play to be a sweet and tasty surprise for your partner when and if they end up going down on you. I wouldn't apply it too long before potential play because it might get sticky.

It is not recommended for sex as a lubricant. It is easy to clean up with a wet wash cloth and water. Soap is not necessary.

The set includes:

Five 1.0 fl.oz. flavored gels

Safety features:

L-Arginine free / Paraben free

Special features:

Packaging:

The GoodHead gels come in separate 1 ounce plastic tubes. They are slender and simple. The flip open tops are easy to open and close. They have front labels with pictures depicting the flavor inside. They are also opaque so the color of the gel can be seen. The backs list the ingredients. They all come in a plastic box decorated with holiday themes. You can gift it all together or split it up as stocking stuffers!

The packaging isn't the most discreet, but it isn't graphic so it might go unnoticed if it's amongst other items.

NOTE: These gels are non-staining and will wash out of clothing.

Volume:

1 fl.oz.

Weight:

0.5 lb

Special Features:

There is a subtle cooling effect produced by the gels. This can help calm the gag reflex.

Personal comments:

Now the non-objective stuff. I like the more gel like nature of GoodHead instead of the more liquid like consistency of other similar products I have tried. Unfortunately, these aren't the best tasting, but everyone has difference preferences. I listed the flavors in order of favor. The strawberry is amazing! I could eat it alone, nevermind putting it on a tasty hard cock. All the others were pretty average in taste, except for the passion fruit which is the only one that tastes bad to me. But 4 out of 5 being usable it a great amount for someone who is pretty picky!