System JO JO 6v volt - Clitoral gel from System JO

Product Details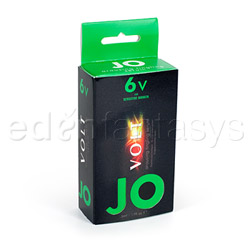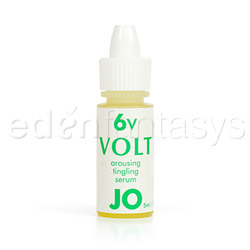 Summary:
Always wanted to try an arousal serum but been afraid to? System JO has developed a new line of arousal serums, called Volt, for you! The 6v Volt is the gentlest in the line, and is designed to heighten your pleasure and enhance your sensations. Simply apply this oil based serum one drop at a time and wait to see what happens! The effects can be felt within minutes, and last much longer. Best of all, 6v Volt is easy to wash off after you're done, and won't become sticky or flaky as it dries.
Pros:
Easy to apply, can apply 1 drop at a time, nice packaging, safe ingredients.
Cons:
Very runny, doesn't stay in place, smells medicinal, numbs the tongue.
Texture / Consistency / Thickness / Viscosity:

Serum is the best word to describe the texture of this product. It has an oily consistency and is a thin liquid; it's similar to vegetable or olive oil. This serum feels oily when rubbed between two fingers, and is not sticky at all. One drop on the tip of your finger will run off quite quickly. JO 6v remains runny once applied to your intimate areas, and it will spread around fairly quickly even if you don't want it to. That has pros and cons. The pro is that your application does not have to be exact to get serum to your intended location. The con is that you can't keep the serum on your intended location only.

Base:

Oil

Ingredients:

Oley Alcohol, Zanthoxylum Bungeanum (prickly Ash Bark), Olea Europea (Olive) Fruit Oil, Curcuma Longa (Turmeric) Root Extract, Melia Azadirachta Flower Extract, Melia Azadirachta Bark Extract, Pearl Powder, Moringo Pterygosperma Seed Oil, Ocimum Sanctum Extract, Ocimum Basilicum (Basil) Extract.

Taste / Aroma:

JO 6v smells like a liniment, to me. It has a very medicinal smell. It reminded me of the smell of a pine forest and a peppermint plant all in one. The aroma is pretty strong when the serum is in use: not quite strong enough to fill a room, but definitely strong enough to fill the immediate area.

The taste is also like a real peppermint leaf mixed with pine needles. The interesting thing about getting this serum on your tongue is that it can make your mouth or tongue numb (even after only one tiny lick). It's a very strange sensation, but it isn't unpleasant or harmful. That is why I would not recommend using this during oral, since a numb tongue may make it difficult for the giver to continue with any success. The numbness goes away within several minutes, and still leaves a bit of a menthol feeling in the mouth and nose.


Performance:

While testing this, three drops were first used on a nipple. There was only a very minimum amount of tingle, nothing that was noticeable. For clitoral testing, one drop was applied. After 4 minutes, there was no change in sensation, so a second drop was applied. After 4 more minutes (a total of 8 minutes) a third drop was applied. After 2 minutes (a total of 10 minutes altogether) with three drops, new sensations were noticed.

There was a general warming of the entire genital area, since the drops really spread out everywhere. A cool, tingling sensation was also noticed around the clitoris (the area of direct application). The sensations lasted approximately 20-30 minutes. No painful burning was experienced.

After use, the product seemed to wipe away completely with wet wipes, and left no residual tingle or discomfort. It did not dry sticky, nor did it flake or peel off. It just went away.


Safety features:

Glycerin free / L-Arginine free / Paraben free / Petro-chemicals free

Special features:

Sensitive
Tingling sensation

Packaging:

JO 6v Volt is very nicely packaged. The bottle of serum sits inside a cardboard box, and that cardboard box slides into a cardboard sleeve. It is elegant and classy, though not entirely discreet. It would be suitable for storage or gift giving.


The bottle inside is very small, about the size of an average bottle of eye drops. Since you only need to use a few drops at a time, it is a generous supply.



Special Features:

This is an oil based product, and System JO only uses plant based ingredients in all their formulas. The ingredients for 6v are no exception; they are exactly as they appear on the main product page. JO 6v Volt is glycerine, L-Arginine, paraben, and petro-chemical free! If you have any sensitivities or allergies to any of the listed ingredients, you might want to stay away from 6v Volt.

The main active ingredient in the Volt line is Prickly Ash. The Prickly Ash seed is used in Sichuan/Szechuan/Szechwan cooking to make a dish spicy. It is famous for making the mouth tingle and go numb when eaten. Traditionally, it has been used to dull the pain of a toothache and stiff joints and muscles. It is also said to enhance blood circulation.


How is this different from the 9v or 12v Volt?
System JO has three different products in the new Volt line: the 6v, the 9v and the 12v. According to the company rep, the ingredients are the same in all three products; the only difference is the intensity. The 6v is the gentlest, 9v is a bit more intense and the 12v is the most intense.


Experience:

In the past, I have had very unpleasant experiences with arousal lubricants. Most of them are too strong for me and cause a painful burning sensation. I gravitate more towards products that have a cooling effect rather than a warming effect. Needless to say, I was hesitant and a bit scared to try 6v Volt. I was very pleasantly surprised when I did! While I'm not sure that it actually made me more sensitive or more aroused, it was not unpleasant or painful at all. I can see how it could get around the urethral opening and perhaps cause some discomfort there, but that did not happen to me. The effects I experienced were subtle and quite pleasant, but I did start off very slow.