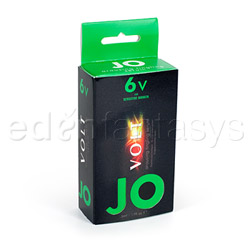 JO 6v volt
Clitoral gel
by System JO
Never Again
I guess if you like your vagina being on fire, then this product would be the right one for you.
Published:
Pros:
Could be used on the clit and ONLY the clit
Cons:
Weird off putting smell
Horrible burning
In my reviews I'll be listing the basic information for each product first, then continuing on to my actual review of the product.

Ingredients: Oley Alcohol, Zanthoxylum Bungeanum (prickly Ash Bark), Olea Europea (Olive) Fruit Oil, Curcuma Longa (Turmeric) Root Extract, Melia Azadirachta Flower Extract, Melia Azadirachta Bark Extract, Pearl Powder, Moringo Pterygosperma Seed Oil, Ocimum Sanctum Extract, Ocimum Basilicum (Basil) Extract.

Base: Oil

Safety Features: Glycerin free / L-Arginine free / Paraben free / Petro-chemical free

Special Features: Sensitive
Tingling sensation

Taste / Aroma: Very strange smell, something like cayenne pepper, spearmint and burnt cedar wood. It wasn't an *awful* smell, but it wasn't pleasant either. I did not taste this product and DO NOT RECOMMEND this product come any where near your mouth, ever!

Actual Review: Let me begin this review by saying the following, I do NOT RECOMMEND THIS PRODUCT FOR WOMEN WITH SENSITIVE GENITALS! The amount I used was only about two dime sized drops applied directly to my clit and no where else. There was no listing on the package relating to proper use amount. I found this product to be overbearingly painful when it came into contact with the inside of my vagina, as I imagine it would with any part of the body that has a mucus membrane. Now this product in general is recommended for the clitoris, however, as I'm sure you all know, sex can get messy, wild, and well, there are "natural" fluids that occur, so any product applied would end up being spread to *other* parts of the body. This being so, I have to say JO v6 volt applied and kept ONLY ON THE CLIT is a great lube. It starts out as a mild, very comfortable tingling sensation after about 3-5 minutes, but as time and *friction* is applied, the feeling becomes much stronger. Now here's where the issue begins. After a bit of foreplay with my male partner, some of the JO 6v volt ended up being spread around my vagina and ended up *in* my vagina. At first, the sensation wasn't bad, even nice, HOWEVER, once my partner and I started having sex (vaginal intercourse), the pain was intense and horrible. I'm talking like a chili pepper bad burning sensation. It was awful and in my opinion, NO product for intimate use should be placed on the market when it can cause such pain to the user. On a side note, my male partner was not effected by this product hardly at all. There was a very slight tingle, but nothing like the sensation I felt on my clit, and later on in my vagina. I had to immediately stop and go shower in attempts to remove the product, however, it took about 10-15 minutes for the burning to stop completely. Afterward, I was still left with a very unpleasant feeling. I would not recommend this product to anyone who has very sensitive genitals, or honestly who isn't 100% sure it will not end up anywhere but the clit.
Experience
I guess if you like your vagina being on fire this product is right for you.
This product was provided free of charge to the reviewer. This review is in compliance with the FTC guidelines.
Thank you for viewing
JO 6v volt
– clitoral gel review page!