Shunga Erotic Art Garden of edo organic collection - Massage kit from Shunga Erotic Art

Product Details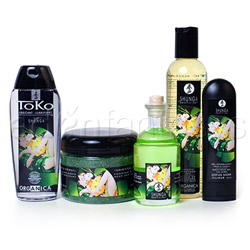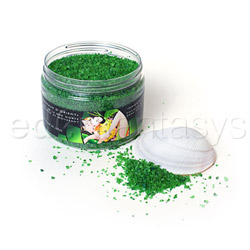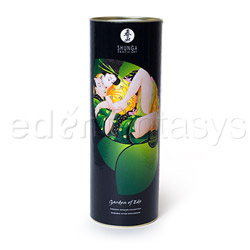 Summary:
This is a beautifully packaged set with some great products and some products that left me/us wanting more. The Shunga Garden of edo organic collection is a success it terms of sparking and encouraging romantic endeavors.
Pros:
Beautifully packaged, the unisex scent is very light and non offensive, bath salt is amazing!
Cons:
Sensitizing gel made me feel numb and desensitized.
Texture / Consistency / Thickness / Viscosity:

Ingredients:

Bath Salt: Dead Sea Salt (Sodium Chloride), Sodium Lauryl Sulfate, Sodium Docecybenzene Sulfonate, Glycerin, Fragrance, FD&C Blue #1 (CI 19140), FD&C Yellow #5 (CI 42090) Massage oil: Cold Pressed Sunflower Oil (Helianthus Annuus Seed Oil), Rapeseed Oil (Brasica Campastria Seed Oil), Grape Seed Oil (Vitis Vinifera Seed oil), Sesame Oil (Sesamum Indicum Oil), Avacado OIl (Persea Grratissima Oil), Natural Vitamin E (Tocopherol), Flavor (Aroma) Toko lubricant: Water (Aqua), Glycerin, Propanediol, Hydroxyethyl Cellulose, NA4 EDTA Intimate Kisses Oil: Glycerin, Propanediol, Flavor (Aroma) Sodium Saccharine, FD&C Blue #1 (CI 19140) FD&C Yellow #5 (CI 42090) Sensitizing Gel: Water (Aqua), Glycerin, Proanediol, L-Arginine, HCI, Hydroxyethyl Cellulose, Natural Damiana Extract (Tumera Aprodisiaca Extract), Menthyl Lactate, Natural Vitamin E (Tocopherol), Flavor (Aroma)

Taste / Aroma:

Flavor:

Unflavored

Fragrance:

Green tea / Lotus flower

Performance:

The set includes:

Erotic massage oil (8 fl.oz)
Toko Organica Lubricant (5.5 fl.oz)
Intimate Kisses aphrodisiac oil (3.5 fl.oz.)
Lotus Noir Sensitizing gel (2 fl.oz)
Oriental Crystals foaming & scented dead sea salt (14 fl.oz)

Packaging:

Volume:

14 fl.oz. / 2 fl.oz. / 3.5 fl.oz. / 5.5 fl.oz. / 8 fl.oz.

Weight:

3 lb