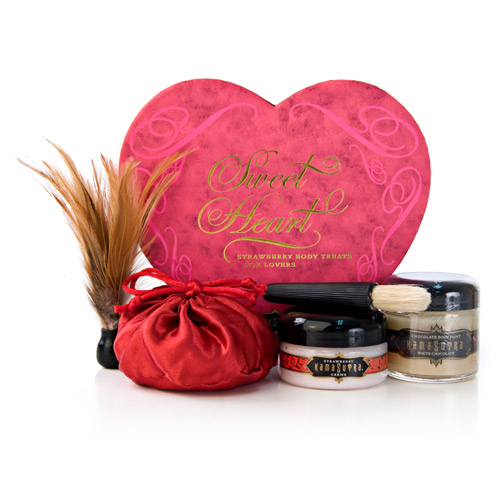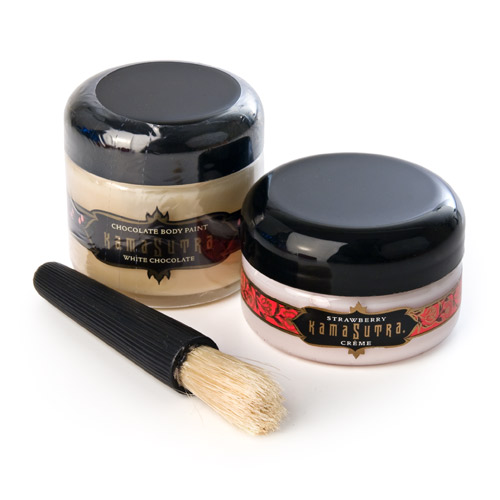 This product is out of stock.
Notify me
A closer look
Romantic kit including strawberry souffle, white chocolate body paint and strawberry honey dust.
How it feels
Flavor: Chocolate / Strawberry
Ingredients: Strawberry Sweet Heart Box includes: Net wt 1.8 fl oz 50 ml Strawberry Crème Body Soufflé, net wt 2 oz 50 g White Chocolate Body Paint, net wt 2 oz 50 g Strawberry Dreams Honey Dust.
How it works
Edible and arousingly delicious
How it measures
Volume: 1.8 fl.oz.
2 fl.oz., carry-on luggage friendly
Weight: 1 lb
Sweet gift alternative Decent quality products Priced fairly

What a lovely thought from Kama Sutra, which doesn't surprise me with there mission to bring bodies closer together in such a way of sensual pleasure.

Great as a gift, fun to use, body souffle is nice for massages.

Bring something new to the bedroom with these fun and tasty body edibles that are oh so sexy! There is something for everyone in this amazing pink and gold heart shaped box!