Low-calorie, high-pleasure
If you're looking for a bit of sugar and spice for your partner, try thinking with your pants instead of your heart (okay, while not usually the best idea, it's sound advice this time)! The Strawberry Sweetheart Box makes a smashing gift, especially for those who prefer a bit of a lighter scent and taste. Be sure to check for sensitivities before using, as there are some ingredient concerns, but otherwise: full steam ahead!
Published:
Pros:
Sweet gift alternative
Decent quality products
Priced fairly
Cons:
None of the products are five stars on their own
Contains several iffy ingredients.
The Sweetheart Strawberry box makes for both a fantastic gift to your lover or a treat for yourself! Rather than buying a plain old box of candy for that special someone, pick them up something a little bit more sensual and really get their engine running. This is sold also in a chocolate variety, but for those of us who do not like dark chocolate (or who simply prefer something a bit more fruity!) the Strawberry box is the way to go.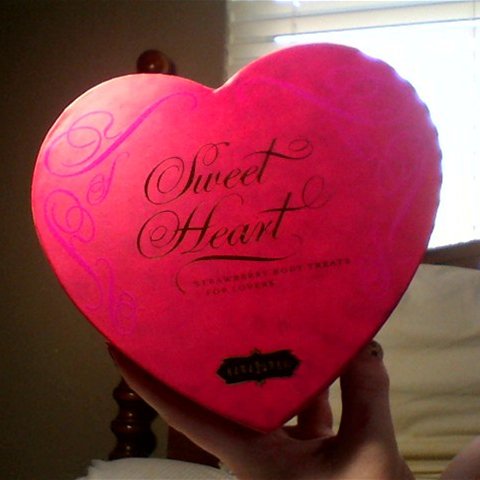 There are essentially three components to this box: Kama Sutra's Honey Dust, their Body Paint and the petite size of their Body Soufflé. In the strawberry box, both the Honey Dust and Body Soufflé are flavored like strawberries, while the Body Paint is a white chocolate. The chocolate box boasts chocolate crème brûlée Soufflé, along with dark chocolate Body Paint and chocolate Honey Dust. The Honey Dust is packaged with a small feather tickler, which is intended for use as an applicator, and the Body Paint comes with a brush as well.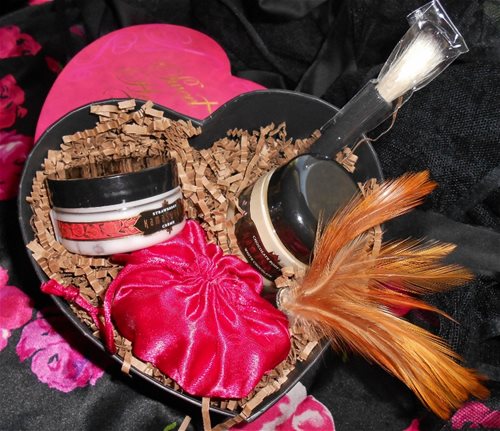 Honey Dust
Corn Starch, Honey, Flavor, Silica, Sodium Saccharine, Red 33 and Red 40.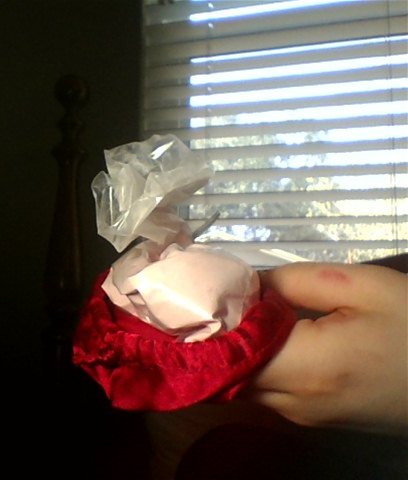 Kama Sutra's Honey Dust comes in a 50g or 2oz portion of product. It is placed inside a plastic bag, sealed with a twist tie, which is then tucked into a small, red, satin pouch. It is a soft, cornstarch-based edible powder intended to be spread onto and licked off of your partner's skin. The powder itself is a light pink, and it is very difficult to see on pale skin. Since the flavour and scent are not strong, this makes for a great starting point when engaging in a bout of tasty play. Because it is very fine, it can easily be poofed into the air or onto the sheets.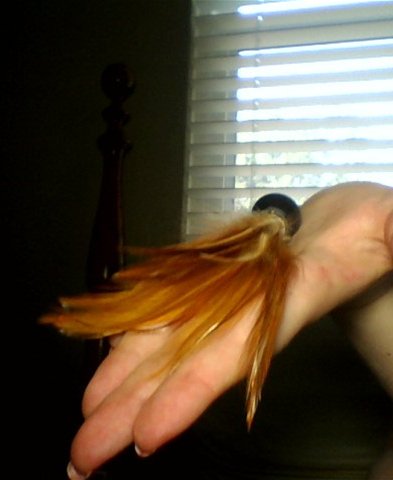 Speaking of "poof," the feather applicator is unfortunately difficult to used, and might better serve simply as a tickler - a small makeup poof or brush would do a much better job applying a thin, sweet trail of this powder to your lover's skin. If you use too much of the powder, you may find that it tastes chalky, which is the last thing that you want in your mouth. The scent and taste are quite fleeting, so it is unfortunately not feasible to put this on a few hours before you intend to use it. It does dry out your skin, which can be either a good or a bad thing - a fine layer is a great way to keep off the sweat during an active session, or a great excuse to ask your partner for a rub down with the Body Soufflé. For a full review of this product, check out my breakdown
here
.
Petite Body Soufflé
Water, Ethylhexyl Palmitate, Cetyl Alcohol, Glyceryl Stearate, Caprylic/Capric Triglyceride, Glycerin, Dimethicone, Cetearyl Alcohol, Flavor, Polyacrylamide, C13/14 Isoparrafin, Laureth/7, PEG/100 Stearate, Carbomer, Sodium Saccharin, Sodium Hydroxide, Potassium Sorbate, Tetrasodium EDTA, Phenoxyethanol, Red 40 (CI 16035), Red 33 (CI 17200), Benzyl Alcohol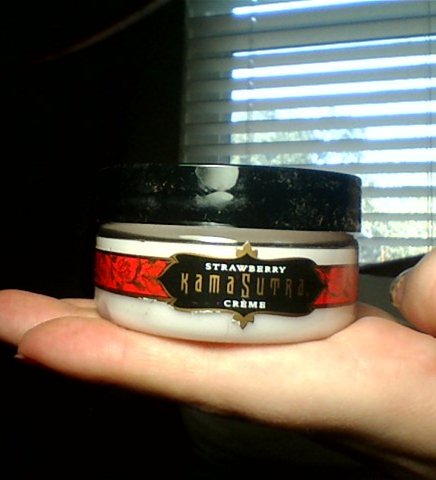 The Strawberry Body Soufflé is another lightly flavored treat, perfect for those who are overwhelmed by strong scents or tastes. It does contain some possible allergens, so be extra careful to spot test before applying this to a large area. I would not recommend consuming large quantities of this, simply because it is not intended for internal use. As with the other items within the Strawberry Sweetheart Box, keep it away from sensitive areas or abraded skin.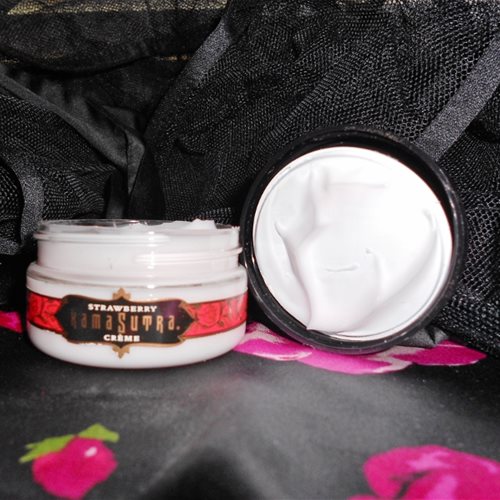 This is much lighter and fluffier than either lotions or body butters - the oil to water ratio puts it between the two along a continuum. It's very silky and can help the hands glide across the body, but it is not a substitute for a good massage oil. If you'd like a brief massage, however, this is ideal. It won't stain your sheets, and absorbs into the skin quite well after application. Do not make the mistake of tasting this right out of the jar - rub it into your skin first before trying to get a sample, because the Soufflé is much more palatable that way. I find that this makes a terrific hand lotion because of the fleeting scent and taste - you don't run the risk of bothering those with sensitive noses, however you don't wind up with the taste of chemicals clinging to your hands either. If you're interested in reading more about this product, you can do so
here
.
Experience
Body Paint
Corn Syrup, Palm Kernel Oil, Hydrogenated Palm Oil, Non Fat Dried Milk, Whole Milk, Glycerol Lacto Esters of Fatty Acids, Soya Lecithin, Salt, Vanillin, Ethyl Alcohol, Water, Food Starch, Titanium Dioxide, Flavor and Sodium Benzoate.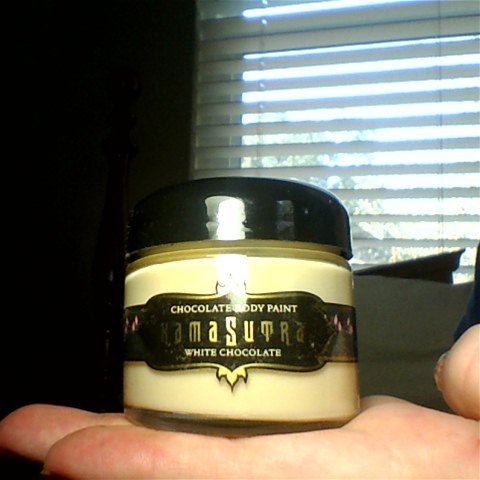 The White Chocolate Body Paint is the odd-flavour-out, but since it doesn't really taste like white chocolate, I find that it is not too out of place (aside from which, white chocolate-covered strawberries are divine). This is a bit thicker than your average chocolate syrup - it all but stays in place when on the body, unless you heat it up beforehand. If heating it, be very careful to do so in small increments and stir thoroughly before testing the heat, to avoid hot pockets and unwanted burns. This Body Paint is again, lightly scented and flavored, rounding out the trio and ensuring that those who have a hard time with strong aromas or tastes can join in the fun as well. The ingredients are far from healthful, so be wary if you tend to be health-conscious: you may prefer to pick up something without Corn Syrup or Ethyl Alcohol. Unfortunately, this does leave a sticky residue on your skin after it has been licked off.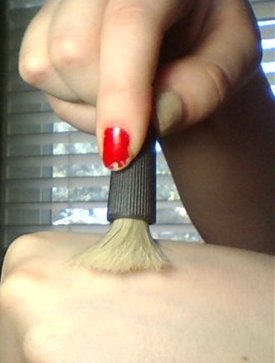 The applicator brush is unfortunately a dud. It's quite rough, so if you are a fan of sensory play, it would make for a great foil to the soft feathers of the tickler, however as a paintbrush, it leaves a lot to be desired. It's too wide and inaccurate to be useful as a paintbrush unless you intend to use the entire jar of product on a large canvas, like your lover's entire back, and has the unfortunate problem of shedding. Luckily, it can be easily replaced with a finger or small makeup brush, and though it's rather uncomfortable and streaky, it doesn't take away from the paint itself. More information on the Body Paint can be found
here
.
Overall
This kit is great value for your money if the products inside are to your tastes, especially if you happen to catch it on sale, as I did. Everything included in the Strawberry Sweetheart Box can be easily washed off with soap and warm water, which makes cleanup a breeze. This makes a much sexier alternative to traditional chocolates or flowers, and since the flavors go together well and provide many different textures and consistencies, this is all you need for a fun night in. Unfortunately, some of the ingredients do make me a little nervous, but if you are careful to test for sensitivities, you're consuming in small enough quantities that you shouldn't come to any harm. The packaging itself is quite sturdy, and can easily be kept long after the contents have disappeared - it would be useful for storing jewellery or letters, and is discreet enough that it wouldn't look out of place on your night stand. I think that this is a really sweet gift, and though none of the products on their own rank five stars, I think that in combination, this is definitely a 5-star gift.
Follow-up commentary
31 months after original review
I still have the tickler and the little silk bag from the love dust, and would be happy to get my paws on many more Kama Sutra products.
This content is the opinion of the submitting contributor and is not endorsed by EdenFantasys.com

Thank you for viewing
Sweet Heart strawberry box
– edible paint review page!