There might be a little dust on the bottle
Kama Sutra's Honey Dust is a great way to sweeten up your bedroom. The fine, edible powder is far from overpowering, though some may be searching for something a little bit more flavorful. Using a fine layer rather than coating yourself will greatly enhance your experience, however the applicator unfortunately isn't much help there. Overall, it's a fantastic treat when you're interested in a light taste, but the packaging and tickler leave much to be desired.
Published:
Pros:
Light taste and scent
Sweet, but not too sweet
Helps keep things dry
Cons:
Light taste and scent
Impractical applicator
Complicated storage
With a name like "Honey Dust," how can you go wrong? Kama Sutra's tantalizing edible body powder is a sure winner for those who like a touch of taste with their tease. Available in five flavors - Raspberry Kiss, Strawberries & Champagne, Tangerines & Cream, Chocolate Caress and Sweet Honeysuckle - there's something for just about everyone. I received a small pouch of Strawberries & Champagne and I can't wait for it to come back in stock so that I can pick up a full-size replacement.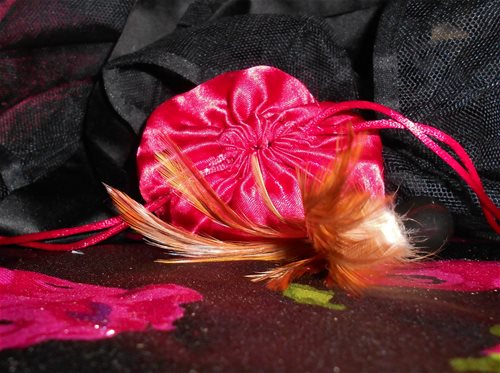 Kama Sutra's Honey Dust comes in a small, plastic baggie inside a satiny pouch. As well as the edible powder and the pretty little bag, you receive a small feather tickler which is intended to serve as an applicator. If this comes to you as a part of a package deal, you receive 50g, or 2oz of product. Purchasing the full-sized container will get you a whopping 200g (8oz) of silky delight. The full-sized product comes with a neat tin for storage, however the lid is not air-tight and if you opt to store your powder inside, be careful not to knock it over.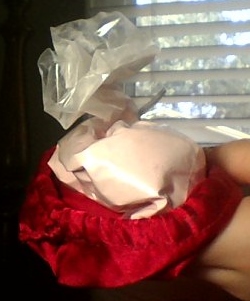 The Honey Dust in Strawberry is a light pink powder - it is essentially flavored corn starch, and as such, that is the consistency. It is easy to use too much of this product, in which case you would likely find it chalky. When using a small amount, you really benefit from the light strawberry taste, however a large amount can quickly overwhelm you with its chalky texture. The smell is much stronger than the taste, though you have to be careful not to breathe too deeply lest you wind up with a nose-full. It smells like strawberry hard candies, and the taste is that of artificial strawberry as well.

It is sweet, but not overly so - if you're looking for something with as much flavor as a flavored lubricant, you're not likely to find it here. This is more suited to providing just a touch of flavor and letting your partner's natural taste fill in the blanks. The strawberry flavor does use Red 40, so be careful if you are prone to migraines or other coloring sensitivities. It also has several sugars, and as such should be kept away from the genitals to avoid infection. If do you accidentally use too much, you may find that the first lick causes it to clump together. The scent does not last very long, and does not linger after this product has been coaxed off of the skin.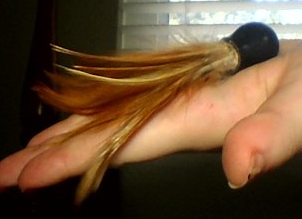 The included applicator is a small feather tickler, and it is quite frankly rather inefficient and irritating to clean. If you have a small powder poof that you could dedicate to this Honey Dust, you'll find yourself much happier with the application process. Using the tickler for application makes precision a difficult endeavor, and if it's humid, you may find that the feathers cause the otherwise loose powder to clump. Instead, it may be best used to create an entirely different sensation from the powder - whilst licking and sucking the powder from one part of your partner's body, you could use a free hand to trail the tickler along another, teasing two different ways simultaneously. The tickler is not solidly constructed, so be careful not to play too hard. There is visible glue on the feathers next to the handle, but it is only really noticeable if you are looking for it. When cleaning the feathers, wiping them down gently would be ideal, however if you do need to wash them, do so with a mild soap and water, and ensure that you give them plenty of space to air dry.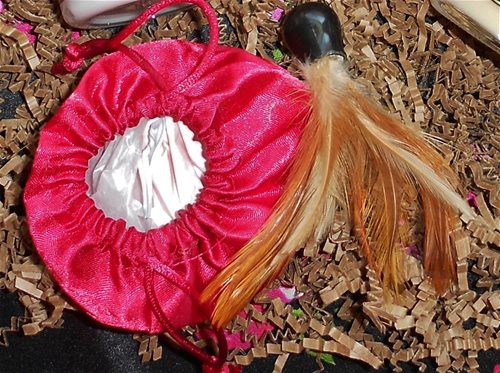 This dust required minimal cleanup after application, however if you have shaky hands or a squirming partner, you may find that it gets on the sheets. Putting down a towel before use will save you the hassle of having to strip the bed after playtime, though quite honestly, you likely couldn't feel that you were sleeping on powder residue anyways. Simply brushing off the skin can remove the majority of the Honey Dust, but a quick wipe with a wet cloth or an Eden Wipe would take off any powdery feeling that gets left behind. If you find that you react after a spot test, you should wash thoroughly with soap and warm water to ensure that no product remains. This can dry out your skin, so ideally after your partner has had their way with you, they can give you a nice, moisturizing massage. Alternatively, if you find that you're overheating on a hot summer's day, application of this powder can help to keep you cool and dry.
Experience
My partner and I have an array of Strawberries & Champagne flavored products, and are unlikely to whip out just one. We use this in combination with other products from Kama Sutra, as well as several flavored Shunga treats. This is one of your favorite ways to begin a session of intimate play, especially when it is hot outside. A light coating of Honey Dust works fantastically to keep us dry and kissable when things get steamy.

A sweet trail of powder can provide an easy path down our partner's body, and it is a fantastic excuse to go with oral sex over intercourse. We have had a few problems with the powder getting everywhere in the air if one of us laughs or if we open the bag too quickly, but there haven't been any serious messes. The powder is very difficult to see on my fair skin (which is why you lovely people have no swatches - I may as well have been photographing myself without the powder), but my partner takes no issue with searching all over until he's found every last speck. Because we have so many other products with a stronger scent and taste, Kama Sutra's Honey Dust is perfect for when we want just a little something sweet.
Follow-up commentary
31 months after original review
This never ended up getting much use, but I did still really like the idea. I'd be down to try it again if I could get my hands on it. One thing that I will say, though, is that it's not really practical with hairier guys unless you want a mouth full of sticky fur.
This content is the opinion of the submitting contributor and is not endorsed by EdenFantasys.com

Thank you for viewing
Honey dust
– edible powder review page!