Oceanus Naturals [G] female stimulation gel - Gel from Oceanus Naturals

Product Details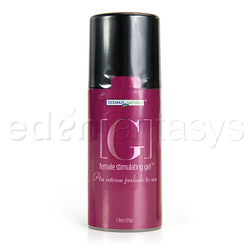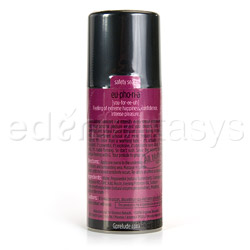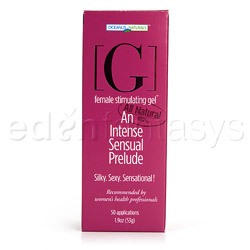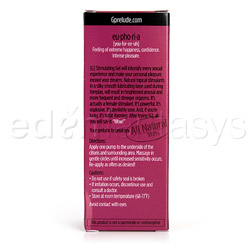 Summary:
If you like tingling sensations and have played with warming and cooling lubes or gels in the past, this is a good next step for you. This water-based, all natural, glycerin and paraben free gel can lend itself to more than just clitoral application, making it an nice addition to anyone's collection of sensation-inducing products.
Pros:
Easy to dispense, stays put, provides intense tingling sensation
Cons:
Might be a little too strong for some people
Best use:
This lube is made for women - as a stimulating gel. Although it clearly says 'G' on the bottle and on the box, the instructions tell you to apply it "directly on the clitoris", however I think you could use it on the g-spot if you were so inclined. The lube provides a strong tingling sensation and is really only for users who like warming or cooling products - although it does not smell of menthol, it feels like menthol. It is water-based, glycerin and paraben free, and pH balanced.
Texture / Consistency / Thickness / Viscosity:

There was no stickiness when using the G gel by Oceanus Naturals. It is an easy to use lube because it's somewhat thick and doesn't absorb quickly. It has a good slippery feel.

Base:

Water

Ingredients:

Water, Propanediol (natural humectant), Carrageenan, L-Arginine HCI, Citric acid, Niacin, Evening primrose oil, Sodium hydroxymethylglycinate (natural enzyme preservative), Menthol, Sodium benzoate.

Color:

Clear

Taste / Aroma:

There is no taste and no smell - which is strange given how strong this stuff is. I expected a smell - at least of the primrose or menthol, but there was none.

Performance:

If you do not like really strong tingling sensation, this is not the product for you. I did not feel the tingling when the lube was on my fingers, so I was especially surprised when it grew so quickly once applied to my clit. I even realized I'd gotten some on my labia, because that was burning, tingling, cooling too. It's a strange feeling - like a cold burning. Not a bad burning, but one that you cannot ignore. If you have ever been disappointed by cooling or warming lubes - this is the one for you. It's quite strong. I don't think it actually makes you swell or become more engorged, but you feel like you are because of the heightened sensitivity. I did not rush to wash it off - and so, I found that it lasted over 20 minutes before diminishing - and the more the area was stimulated, the better it worked. When I did shower, about an hour later, it was like it was never there. Simple soap and water does the trick.

Safety features:

Glycerin free / Paraben free

Special features:

All natural
Moisturizer
Warming

Packaging:

The G gel comes in a berry colored box that has text on all 4 sides. Ingredients, use, company info are clearly listed on the box and on the bottle. There is also an instruction sheet int he box to accompany the bottle. Very thorough. The pump bottle is airless and sturdy; it has a clip on lid, much like you'd find on stick deodorant. It's actually about the size of a stick of deodorant too. Very travel friendly, no worry about leaks. Not totally discreet, but it doesn't scream sex product either.

Volume:

1.9 fl.oz.

Weight:

0.2 lb

Special Features:

Tingly tingling tingle! It gives intense sensation and could be used in imaginative ways - like on nipples, penises, anus, and so on. Might be really fun for sensory play with a partner.

Personal comments:

I'd played with the idea of naming this review "It's tingling, baby...go 'head, baby"...but ya know what? Hardly anyone gets the damn reference. LL Cool J gets no love anymore, huh?

I am sure I could come up with a bunch of other silly names about ice-burns and singing clits, and whatnot.

Experience:

This was a little strong for me. I used it during masturbation and during partner sex. It made my clit so sensitive, I could barely touch it - which, in some cases, will be awesome. I was rather surprised at how well it worked and will use less in the future. I also plan on experimenting on my husband's body with it.