Love To Love So hot arousal gel - Clitoral gel from Love To Love

So hot arousal gel videos
Product Details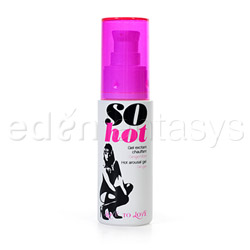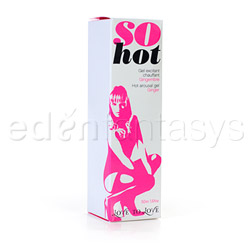 Summary:
Heat things up with a dab of "So Hot Arousal Gel", a ginger flavored, pH neutral and paraben-free warming gel, that goes from warm to hot with just one blow. Before you know it, this will have you begging to have your fire put out - or keep applying it and let it smolder all night long!
Pros:
Warming, condom compatible, pump dispenser, safe to ingest, paraben free.
Cons:
May not arouse enough if used as a solo product, bitter, expensive.
Best use:
The "So Hot Arousal Gel" is made in France and delivers a little "Oo-La-La" to playtime. It's a warming gel, used to awaken a woman's passion when it needs a little extra boost to get things going. It could equally be applied on a man, but it's primarily intended for the ladies.

Applying one pump directly to the clitoris and the remaining vulva (or nipples/anus) will result in a mild warming sensation, without experiencing any stinging or burning, especially on the delicate moist tissues. This feeling of warmth can be intensified to a hotter sensation when blown upon. Ingesting the product during oral sex (indirectly) is completely safe. The product is also condom friendly.

NOTE: Users may experience different sensations with the product; however, for the most part, it is mild and should not cause a burning sensation. It is not a contraceptive and will not protect against STIs.

The ingredient list is short, and its main highlights are that it is pH neutral and paraben free. The addition of Ginseng and Ginger create the invigorating warming sensation.
Texture / Consistency / Thickness / Viscosity:

The product is clear and a bit less runny than your average lubricant and about as thick. When applied on the skin, it leaves a non-sticky, oily-looking sheen that leaves little residue when wiped off.

Base:

Water

Ingredients:

Propylene Glycol, Glycerin, Carbomer, Aqua, Panax Ginseng Extract, Sodium Hydroxide, Zingiber Officinale Extract, Sorbitol.

Taste / Aroma:

The taste is bitter, but not overly unbearable, especially if you are dedicated to pleasing your partner. The bottle says "ginger" on it, but if that implies the flavor (or perhaps just what creates the warming sensation), it is barely noticeably with the bitterness. It has very little to no scent at all.

Performance:

Once applied, the product rests mostly on the skin's surface without absorbing too much, and will last until it is fully washed off with soap and water. Even if it is rubbed in to the skin and wiped off, there is still a chance the effects will linger a bit longer. The plastic bottle dispenses roughly a dime size amount with each pump, so this should last quite some time, depending on the frequency of use, and additional applications may be necessary.

Safety features:

L-Arginine free / Paraben free

Special features:

Packaging:

The white plastic pump bottle contains 1.6 ounces (50 ml) of product and is packaged in a white box. An 8-language instructional brochure is included, but surprisingly enough, it fails to mention that blowing on the product is the fastest way to feel a jolt of heat. The remainder of an extensive line of "So Hot" products is also presented.

Volume:

1.6 fl.oz.

Weight:

2.8 oz

Experience:

The first time I tried the product on my clitoral region, I felt a warming sensation, but it was nothing to scream about and didn't last longer than 10-15 minutes if I failed to wash it off. I guess I expected it to be like one of the arousal gels that really get the clitoris tingling, but this left me saying, "That's it?". It wasn't until a few days later when I blew on it, and then it finally felt hot. I just wish the instructions mentioned that little tidbit. So now you know!

Overall, it's an okay product, but a little pricey for my tastes and too distasteful for mine and my partner's palate!