Hustler Dr. Flynt's love slick - Lubricant from Hustler

Product Details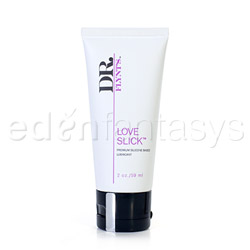 Summary:
Dr. Flynt's Love Slick is a silicone based lubricant that is quite affordable and long-lasting. It is a thin, flavor- and scent-free lubricant that works well for intercourse and masturbation. Minimal needed and minimal cleanup. Basically, it is everything you would need out of a lubricant. Also, it is Paraben and Glycerin free, which makes it even more admirable.
Pros:
Long lasting, no scent or flavor, silicone based, paraben and glycerin free, slick.
Best use:
Dr. Flynt's love slick is a silicone lubricant made by Hustler that is intended to add lubrication to all of your sexual experiences. It can be used for masturbation and/or sex, but I would not recommend it for use during oral sex. It is an unflavored and unscented lubricant, crafted with minimal ingredients to provide a slippery surface while not causing irritation, as it is Glycerin and Paraben free.
Texture / Consistency / Thickness / Viscosity:

The lubricant is very thin, and just the minimum amount is needed to create a slippery, friction-free surface during intercourse or with a sex toy. It dispenses from a small circle under the lid that allows for direct pouring without it pouring out everywhere. The texture of the lubricant is very silky. It may seem a bit greasy; however, it does not leave a greasy film- this is just the silicone. Also, because it is silicone, it stays in place longer and does not require multiple applications. During intercourse we only apply it once to get things started. As for use with a toy, it may take one to two applications.

Base:

Silicone

Ingredients:

Cyclopentasiloxane, Dimethiconol, Cyclohexasiloxane, Dimethicone

Taste / Aroma:

This lubricant has no flavoring or scent. It is free from any additives such as dyes, perfumes, and aromas. This makes it more desirable for us because we do not have any irritants to worry about. It also has no tingling or warming, so there is no irritation from that either. If you have allergies or are sensitive to certain ingredients, this might be the ideal choice in lubricant for you.

Performance:

Overall, it performed really well. We have come to enjoy our silicone lubricants, especially for intercourse, because they add a slick surface that makes it more enjoyable. Dr. Flynt's Love Slick got the job done too! It is just as good as most of the other silicone lubricants we have used. It took very little to add slickness to us, and we did not have to reapply it. Also, it absorbs really well so it does not require a lot of clean up. I usually just use a wipe afterward to remove any excess lubrication that has not been absorbed. My favorite thing about this lubricant is that it takes very little to accomplish lubrication. Some products have to be reapplied multiple times, but not this one. I really liked that it worked well for us and did not leave a bad mess behind.

Safety features:

Glycerin free / L-Arginine free / Paraben free

Special features:

Packaging:

Volume:

2 fl.oz.

Weight:

0.2 lb