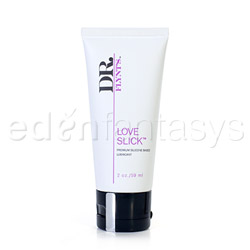 Dr. Flynt's love slick
Lubricant
by Hustler
A Slick to the Finish Lubricant
Small amounts of Dr. Flynt's Love Slick mean that the small tube goes a long way. It is an excellent bargain for the price. Since you do not have to reapply it often, its value is even better. I really found no reason not to think this is one of the best lubricants on the market today.
Published:
Pros
Easy to use, no scent, extremely slick and long lasting.
Cons
Have to be careful about which toys to use it on.
As a chronic user of water based lubricants, this slick, silicone gel came as a great surprise. Frankly, I was not expecting the huge difference between water and silicone. Dr. Flints Love Slick lives up to every syllable of its name. And, you are going to love the Slick. You will not have to worry about any sort of obnoxious smell. Right out of the tube this gel was ready to go, even on my fingers before I applied to a toy or my partner, I knew I was in for a treat. It is not a particularly thick gel, but it is thick enough not to run off until you can get it to where you need it. A word of caution, read the label on your toys to make sure that a silicone lubricant will not damage it. This is why I have resisted leaving a water based lubricant; I was concerned about rubbing it on the wrong toy. However, this is not a worry I am going to dwell on in the future.

The step up of this gel from my many water based lubes is dramatic. My partner and I used this for the first time and thought it would last forever before it was necessary to reapply it. Eventually, we did have to add a little more, but a little really does go a long way and last for a very long time. It added a new dimension to our lovemaking experience with or without the toys. Her natural lubricant is not what it used to be. With Dr. Flints Love Slick, we did not miss her natural contributions. This stuff even leaves your finger tips feeling slick and smooth several hours later. It does wash off easily when you are ready to clean up. I like to go big when playing with toys or using several fingers for insertion into my partner. This product is slick enough that I think if I had really tried, my whole hand would have slid inside.

One of the best parts was that my partner had no left over soreness or discomfort. This gel made everything move easily enough that no scraping, scratching, or excessive abrasion happened. It was the first time in a long time that my partner and I felt this much freedom to let our sex just run amok. It was great!

We have used this same tube multiple times now, and it is still above half full. It seems to be a great value as well as a top flight product.
Experience
When I put the lube on my fingers, I expected to feel some slickness and a little ease to put my finger(s) into my partner. What I felt when I applied the gel to her pussy was instant access. My fingers raced into her body with no resistance although we had not had a lot of foreplay to warm her up. Most of the time, we have found the need for several minutes of rubbing and stroking before she can accept my fingers comfortably inside without going slow and gently. This time, it was all systems go from the first touch. We could not wait for the next time to have sex so we could experience the freedom again.
This product was provided free of charge to the reviewer. This review is in compliance with the FTC guidelines.
Thank you for viewing
Dr. Flynt's love slick
– lubricant review page!