Sliquid LLC Ride silicone lubricant - Lubricant from Sliquid LLC

Product Details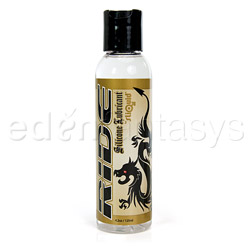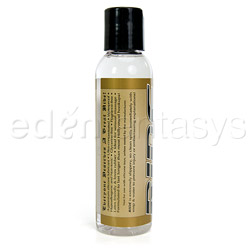 Summary:
Ride has the best staying power of any lube I have tried. Ever. If you, like me love having long sexy weekends, this is definitely the lube for you. It's very smooth, very natural, there's no piling up or waxy build up, and there's only a hint of a greasy feel. It's compatible with condoms and is glycerin-free and it makes skin smell like it's just come out of the shower.
Pros:
Great lube for a reasonable price, it has a nice scent and it AMAZING staying power.
Cons:
It could be thicker.
Best use:
Ride is useful for pretty much everything. It's condom safe, paraben-free, nonoxynol-9 free, and L-arginine free. It's also hypoallergenic. The only thing this lube isn't compatible with is some silicone toys (spot tests on all my toys were fine).

Ride also has excellent staying power

Excellent as in, this lube has THE best staying power of any lube I've ever used (and I've used over a different kinds). It's excellent for anal sex, fisting, long sessions, vigorous sessions, or if you just want to be able to have a nice long weekend without going through multiple bottles of lube. This lube is also excellent for long weekends of intermittent fun. My sweetie and I like to play for several hours, and I only had to apply this lube once. It felt as if I had just applied it all through our play. It lasted so long that it still felt fresh in the morning.
Texture / Consistency / Thickness / Viscosity:

The texture is wonderful, although there is a hint of a greasy feel. I don't mind the grease factor (it's probably how the lube lasts so long) but it was odd. I've never had a silicone lube that felt greasy, but it's a very subtle texture. I only noticed it because I rubbed it between my fingers for a several minutes before putting it on myself. Once it was on me, I didn't notice the greasy feel at all. In general the consistency is very smooth, very natural feeling, and extremely slippery.

Ride also has near perfect thickness. On a scale of 1 to 10 with 1 being water and 10 being molasses, Ride is about a 3 or 4. This means it's thick enough for fisting and anal sex, and thin enough for vigorous sessions. Personally, I like lube that's just a little bit thicker, but Ride still works brilliantly for me. For the cost and the amazing staying power Ride has to offer, I don't mind the compromise.

Base:

Silicone

Ingredients:

Cyclopentasiloxane, Dimethicone, Dimethiconol

Color:

Clear

Taste / Aroma:

This lube has a scent! I was completely surprised by it since I've never had a silicone lube before that had one and because the overview says its unscented. This lube also only has three ingredients (Cyclopentasiloxane, Dimethicone, and Dimethiconol) none of which are supposed to have a scent. It's a pleasant scent, kind of like a cross between All Spice and ivory soap, and it made me immediately think of the smell of fresh-out-of-the-shower skin. I waved it under my 4 roommates noses and they all agree it's a pleasant smell. Not too strong, but not too subtle either. The scent accents and compliments my sweetie's skin rather than covering it up and I didn't notice it at all once things started getting hot and heavy.

Ride is is also completely tasteless.

Performance:

Ride lasts a LONG time. I used it four nights in a row and each night it needed no reapplication during sex, had amazing performance during sex, and lasted long enough that I still felt fresh and ready for more sex in the morning. I don't think it could get any better.

Clean up is easy. This lube came off easily in the shower with a little warm water, although it feels so natural that I didn't feel the need to wash it off right away like I do with most lubes. This lube also did not stain my sheets and the scent was long gone by morning.

My only performance complaint has to do with the thickness, and that's a very minor complaint. One of my favorite things in the world is fisting, and fisting feels AMAZING with thick lubes. It still works great with thinner lubes, but it's just not quite as good. Ride is thick enough to work for me, but it could be better. Once again, since the staying power is so incredibly amazing, I don't mind the thinness.

Safety features:

Glycerin free / Hypoallergenic / L-Arginine free / Paraben free

Special features:

Packaging:

I really appreciate the bottle. My current favorite silicone lube, Pink, comes in an impossible bottle that breaks easily and gets really, really slippery if you have lube on your hands. This is not a good combination (especially if you have hardwood floors). This bottle is plastic which, while it's not as pretty as glass, does not break when you drop it. The Ride bottle also dispenses really easily with one hand, unlike many lubes I've used.