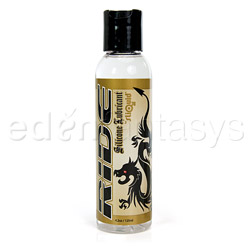 Ride silicone lubricant
Lubricant by Sliquid LLC
Ride The Wave Of Pleasure With Ease
Ride Silicone Lube is one lube that you can use anytime and for anything that you need it for. It makes for a lot of resistance-free fun that could leave you wanting to use this lube over and over again. If you're also tired of reapplying lube constantly while you play, you won't need to worry about it with this lube; in fact, getting it on won't be a concern, but getting it off might be a little more challenging.
Published:
Pros:
Very slick, never needed to reapply
Cons:
A little tough to get cleaned off, but not too much of a hassle
This lube was definitely one of the best lubes that I've used in a long while, and it made using toys, masturbating, and anal play very easy to do. Ride Silicone Lubricant is one lube that will give you the right amount of slickness for anything you want to do. The first time I used the lube I used it with a masturbation sleeve. I popped open the top and the first thing I noticed was that the lube did not have a strong scent to it at all, which I liked a lot because it didn't leave an aroma in the room later. When I poured some of the lube into the masturbation sleeve I discovered that it lubed up the toy much easier than other lubes, even using less. After inserting myself into the toy it was like there was no friction at all, and all I felt was the stimulation of the toy with no resistance. After finishing I discovered that the lube was not that easy to wash off my body. Even after using soap and hot water I could still feel some of the lube on my body until I attempted to wash it off a second time. It was even more of a hassle to try to clean it off the toy; it took me a good three tries to wash it all off.

The second time I used the lube was just for regular masturbation and the lube amazed me again. With other lubes I normally would have to reapply more at some point to continue my session, but with this lube I did not and was able to make it though my session without having to reapply even once. My hand was very slick from the lube, and it made stroking myself very easy in any way that I wanted.

The last thing I used the lube for was anal play with a toy of mine. Once I applied the lube to my toy as well as my hole the toy slid in with ease. Normally with other lubes I am not able to get my toy in on the first try due to there still being some friction. This lube is good for all occasions and whatever you need it for, even though it can be slightly troublesome to clean off of yourself and your toys.
This product was provided free of charge to the reviewer. This review is in compliance with the FTC guidelines.

Thank you for viewing
Ride silicone lubricant
review page!