Wicked Ultra chill - Lubricant from Wicked

Product Details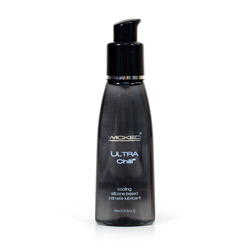 Summary:
Add a bit of a cool, slippery sensation with this long lasting cooling lube by Wicked. Fun for couple play and solo sessions, this lube is seriously smooth and slick--it's long lasting and adds a sexy cooling that is not an overpowering or burning feeling. Smelling faintly of cinnamon and cloves, the aroma is warm and sensual instead of refreshing and eye awakening: a wonderful change!!
Pros:
Cooling effect, long lasting, slippery, light fragrance, not overpowering.
Cons:
Contains menthol, stains clothing/bedding, not compatible with all toy material.
Best use:
Silicone lubes are great for extended play, solo experiences, and for some toys. This lube by Wicked is a cooling lube and contains menthol and menthol agents--be careful of allergic reactions. I am allergic to menthol and so my husband gets to try this and enjoy using it in the future. And he liked it!! This is perfect for shower or bath time fun, since silicone is waterproof.

For toy use, it is safe for plastic, glass, metal and wood toys. Do NOT use this on silicone, jelly, senso, cyberskin or other soft materials. You can use this as a bit of couple's play to induce a cool, slightly tingly feeling to nipples, vagina, or penis. I would not recommend this for anal play due to the menthol; it can create quite a burn to sensitive, thin tissues (trust me on this one!).

This is a fun occasional lube to add a bit of chill to your sexual adventures. I would rotate it with warming and flavored lubes, as well as the good old plain lube standby, for varied sessions and added sensations. You will never be bored with the varieties of lubes if you do use a rotation.
Texture / Consistency / Thickness / Viscosity:

The lube dispenses easily when pumped. It is very thin and slick, and it does run immediately after pumping onto your skin. This is not a lube you want on your clothing or blankets, so make sure you rub it in immediately. I did get some on my corset while playing with my husband, and it did stain the material.

The glide is phenomenal; silicone lubes have such a smooth, slippery, and long lasting glide. This one is no exception!! Wicked has done everything right, and the amount of coolness is just right for my husband's enjoyment.

This lube lasts and lasts and lasts some more....kind of like the Energizer bunny. We needed to wash it off for penetration due to my allergies, but it would have transferred over for that in normal circumstances. I did make sure we did not use any sleeves or the silicone cock ring we have, since we did not want to cause material reactions that would damage our toys.

Base:

Silicone

Ingredients:

Dimethicone, Dimethiconol, Water, Caprylyl Methicone, Mentyl Lactate, PEG-12 Dimethicone, Menthol

Color:

Clear

Taste / Aroma:

The aroma is definitely a bit different than I anticipated. Instead of a menthol or minty aroma, it is a light cinnamon and clove smell that reminds me of pumpkin pie. Not the actual pie as much, but the spices. I found it pleasing, and it is a warm, comforting aroma.

I thought it was going to be a more refreshing, energizing smell, but actually found it worked well with our play time. The aroma is very light and in no way overpowering.

There was not much taste to the lube, but there is the silicone coating left on your mouth. I do not recommend oral without washing this off first.

Performance:

As I was about to jump in and apply the lube--I remembered my little experience with some G-spot arousal gel recently. I checked the ingredients and...guess what? My husband gets to experience the delights of this lube!! Yep--loaded with menthol. Oh, man, am I glad I checked - it would have been a sad night for me if I would have just jumped into using the lube.

I let him know he was in for a bit of a surprise, decided to let him relax and enjoy the experience, and applied it to his penis. It took a few seconds to kick in, but he said it was a more cool feeling and not as much of a tingle. My husband liked the cooler feeling and said it could be used for prolonging the moment or edging.

Blowing on it did not change the effects, like it does with some other products. Again, oral is not recommended due to the coating left in your mouth. It does eventually absorb into the skin--to a point. There is always a bit of the silicone slickness left on the skin until you wash it off.

The lube lasted for about 45 minutes, but did take two washings to remove it completely (or at least enough for me to be comfortable with having sex after using it on him). The interruption was an inconvenience, but with both of us doing the cleaning, we managed to keep the mood going.

Safety features:

Glycerin free / L-Arginine free / Paraben free

Special features:

Cooling
Moisturizer
Vegan

Packaging:

The bottle is encased in shrink wrapped plastic and has a perforated strip for easy opening. This strip runs vertically up one full side, and is best removed by starting at the bottom and pulling it upwards toward the dispenser. Grab the open sides and it will peel off easily.

The dispenser is small and hand-sized, but holds a full 2 ounces of lube. This will last a longer time than water based lubes, since silicone lubes do not require as much reapplication. You are probably also not going to use a cooling lube for everything or every session.

The bottle looks black, but is a dark, smoky gray when the light shines through it. There is a label on the front that states the name and purpose, but you can either cut it off under the word "Chill" or peel it off the face completely. I recommend cutting if you own more than one type of this brand of lube.

The back label is helpful for explaining the cooling, tingling, and attributes of silicone lube. You may peel this off as well.

Volume:

2 fl.oz.

Weight:

0.2 lb

Special Features:

*Paraben free
*Glycerine free
*Vegan friendly