OhMiBod Bedroom Kandi natural lubricant - Lubricant from OhMiBod

Bedroom Kandi natural lubricant videos
Product Details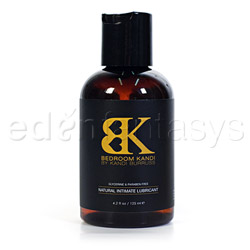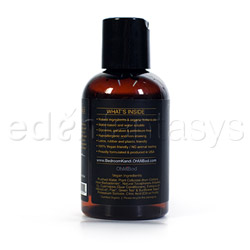 Summary:
This is a premium Sliquid lubricant, revamped for the launch of Real Housewives of Atlanta star Kandi Burruss' Bedroom Kandi line. The water-based formula is light and silky to the touch, and very effective as a vaginal lubricant.
Pros:
100% organic, light and non-greasy formula.
Cons:
Not designed for anal penetration/intercourse.
Best use:
Bedroom Kandi Organics is a personal lubricant for intimate encounters. Anyone who is concerned about parabens and glycerin in products that touch membranes and flesh will be interested to know that this lubricant is a product many have known and loved for years. It's a Sliquid product! Sliquid Organics Natural, to be precise. Same great product, same great price with a whole new attitude!
Texture / Consistency / Thickness / Viscosity:

It feels like silk. It isn't thick, nor is it watery. This feels closest to natural lubricants produced during intimacy. The lubricant itself comes out of the bottle quite nicely, if you get a good squeeze on it. It does have a tendency to drip once poured on external parts of the body, but if you use a lubricant applicator to inject it into the orifice of your choice it makes for a much more pleasant experience.

Cleaning up after use is really easy since it is water-based. A toy wipe, baby wipe or a few splashes of water takes it right off. Because the formula contains aloe, skin is left feeling softer and smoother.

Base:

Water

Ingredients:

Purified water, Plant Cellulose (from cotton), Aloe Barbandensis*, Natural Tocopherois (Vitamin E), Cyamopsis (Guar Conditioners), Extracts of Hibscus*, Flax*, Green Tea* & Sunflower seed*, Potassium Sorbate, Citric Acid (Citrus fruits)

Color:

Clear

Taste / Aroma:

This lubricant has no taste or odor. It does not stain fabrics. It's simply a clean and clear lubricant made from all natural ingredients that are both body-friendly and Vegan.

Performance:

It's a slippery wet-dream come true! This is great for vaginal sex or for masturbating your partner with. Call it a pinch-hitter if you will. This is the best product when you're on the last line of defense, and an orgasm will be inevitable.

It is not so great for anal sex. The consistency simply is not thick enough to create that protective barrier between the delicate tissues of the anus and the item chosen for penetration. There are different, thicker formulas out there for anal sex.

I recommend injecting this lubricant into the orifice instead of using it as a surface lubricant, as it tends to dry out quicker than the Sassy Booty formula. This is a great indication of how light it feels on the skin. Reapplication may be necessary in certain cases, especially if you are using this product in the shower.

Safety features:

Glycerin free / Hypoallergenic / Paraben free / Petro-chemicals free

Special features:

Packaging:

The Bedroom Kandi Natura Intimate Lubricant is Sliquid Organics Silk repackaged for OhMiBod and Kandi Burruss. The bottles are the same - the difference is in the label: this label is a sophisticated shade of black with gold and white printing. There is a statement from Kandi on the back.

It does not fit under the TSA's mandated 3 ounces, but it can easily transfer to an approved container for traveling by plane. If the bottle tips over while the cap is closed, it will not leak onto other items. Small drips can happen if the cap is open, but it happens very slowly.

The bottle is a click operation, not a flip-cap style. Squeezing the bottle during the first few uses might be a little difficult, but it gets easier once the volume diminishes.

Volume:

4.2 fl.oz.

Weight:

0.5 lb

Special Features:

Ingredients:
Purified water, Plant cellulose(from cotton), Aloe borbadenis*, Natural tocopherole(Vitamin E), Cyamopsis, Extracts of Hibiscus*, Flax*, Green tea* and Sunflower seed*, Potassium Sorbate, Citric Acid (Citrus Fruits).

Experience:

I really love this lubricant when I'm using my TPR and Silicone toys, especially with my Vixskin and Tantus models. It goes exceptionally well with the Bedroom Kandi Happiness & Joy.