Natural Liquid Luxury
Bedroom Kandi is a perfect water-based lubricant with no hideous smell or taste and it can be used with every type of toy. It is Vegan-friendly and vagina friendly so it does not upset the delicate pH balance for those who are prone to infections. If you are looking for something to use anally, you might want to look elsewhere, but Bedroom Kandi is certainly a plus to have in the organic enthusiast's collection.
Published:
Pros:
100% organic
Long-lasting when directly applied to skin
No flavour, no residue when dry
Cons:
Anal negative
Better for application to a wet area
One ingredient may be an irritant to some
THE PRODUCT:
Bedroom Kandi (B.K.) is a clear, water-based lubricant. It is priced the same on Eden as it is on the Bedroom Kandi website, so if you desperately need to replace it if Eden runs out, you can check their page. However, I will always advocate buying directly from Eden for perfect and discreet service.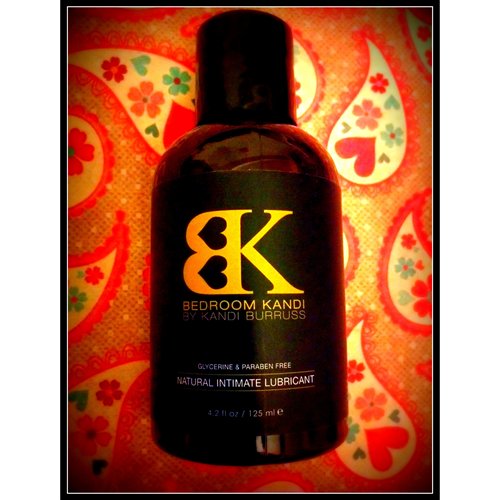 THE BREAKDOWN:
1. The Senses
Smell
It has a smell that is a very very light, citrus plant-like scent (very much like the ingredients). I am very sensitive to scents so others might smell B.K. and smell nothing.
Taste
The taste is listed as undefined, and I am hard pressed to describe it as tasting like anything. A plus for people who do not like lubricants for oral to have flavour.
Touch
It is slightly slippery, but not extremely. It is the only downside of the lubricant in terms of the initial insertion of a penis for anal (more about that later). It is thinner than an oil-based lube I previously owned and can run through your fingers easily. However, I will say that you have to squeeze the bottle with a decent amount of pressure to get it out, so you don't really have to worry about it spilling. The bottle is well-designed in this respect. This is currently the only lube I own, but I have another one on the way which I will compare it to in my 2-month follow-up.
DESIGN & PACKAGING
The design of B.K's bottle is quite elegant, with a carefully chosen backward B in a simple font, where the B spaces are hearts and the thick down stroke is conjoined to the forward facing K down stroke in gold lettering. The bottle has three sections, the front section, a message from Kandi Burruss who collaborated with Sliquid to make the product, and a "What's Inside" section. The bottle is recyclable.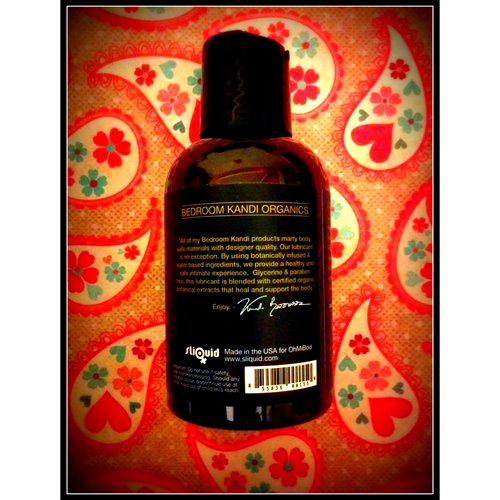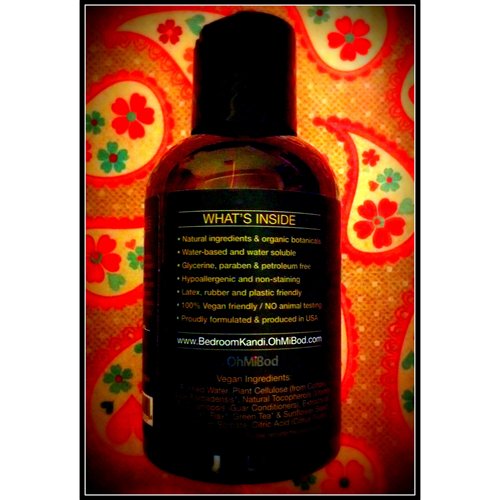 INGREDIENTS
This is listed as 100% Vegan Friendly and as having Vegan Ingredients.
Purified water, Plant Cellulose (from cotton), Aloe Barbandensis*, Natural Tocopherois (Vitamin E), Cyamopsis (Guar Conditioners), Extracts of Hibscus, Flax, Green Tea & Sunflower seed*, Potassium Sorbate, Citric Acid (Citrus fruits)
Aloe Barbandensis
is also known as Chinese Aloe, Indian Aloe, True Aloe, Barbados Aloe, Burn Aloe, First Aid Plant, Wand of Heaven and Miracle Plant. It is essentially Aloe Vera, which is great for the skin, especially burns.
Natural Tocopherois
is commonly used as an antioxidant, but people who have allergies to tocopheryl esters, should be careful with this product.
Cyamopsis
I could not find much on this, but the plant itself is known to be resistant to droughts.
Potassium Sorbate
It's primary use is as a food preservative, but is commonly used in personal care products to inhibit the development of microorganisms for shelf stability. Some manufacturers are using this preservative as a replacement for parabens (this lube is vegan & not tested on animals. It is latex rubber and plastic friendly. It is paraben, glycerin, & petroleum free. It is hypoallergenic and non-staining as well as water-based and water-soluble).
MEASUREMENTS
(See photo)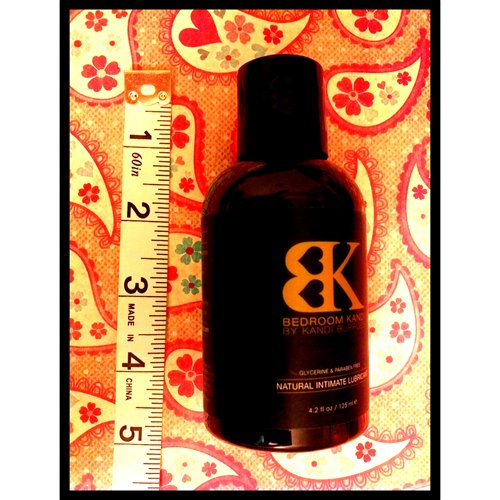 STORAGE
B.K.'s bottle as described in the measurements section is on the smaller side. Not too small that it doesn't hold a good amount, but small enough that it can fit in a purse or corner of a suitcase for travel, the back of a drawer or in the corner of a storage chest.
Experience
FUNCTIONS/PERFORMANCE/EXPERIENCE
I had a really horrible reaction to an oil-based, flavored and scented lubricant, and so I figured that my best bet would be water-based and natural, at least vaginally.

So far I have had no problems with Bedroom Kandi; whether it be for my own personal masturbation with fingers, or toys, or for use with my partner. I have discovered that it is better applied directly to the outside of my vagina or labia rather than to the toy, because it evaporates quickly on the toy. When applied this way it lasts as long as any other lubricant. It says to add water to water based lubricants if it dries up, so your best bet is to apply it to an already wet area. However, it has not been the best for anal, because if it absorbs right into my boyfriends skin, it makes insertion difficult. It works better when he drips it directly on the outside of my anus or perineum so it runs down and if he puts a good amount on the tip and halfway up the shaft of his penis.
Follow-up commentary
2 months after original review
Bedroom Kandi is still my #1 lubricant.
I owned this lubricant for several months before I actually completed a review for it, so I have had a large amount of time to experience using this.

Initially, I mentioned this was not the best for anal. Since then, my opinion is still the same, however my recommended method for dripping it right onto the anus and getting a good amount of the lubricant around the tip and halfway up the shaft of an "actual" penis works best. This is still our go-to lube for my partner and me, and it is not messy. Even if it gets on the sheets, it dries up without residue and is easy to wash off.

On the other hand, BK doesn't get along very well with some of my larger silicone dildos, in terms of traction. It seems that my naturally wet state works better than this lube, as it evaporates rather quickly and does not cover much surface area on my toys, leaving the potential for damaged skin. Unless you can find a way to dip your silicone toys in this, it isn't always the greatest. Again, the best method is to squeeze it right on you, and it is more likely to stay wet.

The bottle is still difficult to squeeze. It makes spillage a non-existent problem, but dispensing is an effort. I sometimes wish it had a pump, but the design of the bottle is still very pleasing and great for travel in comparison to a pump. I frequently stick this in my bag for a romantic weekend and have never had a problem with spilling.

I have had no horrible reactions to this product. The ingredients are indeed natural and safe, and I would happily purchase it again.
This content is the opinion of the submitting contributor and is not endorsed by EdenFantasys.com

Thank you for viewing
Bedroom Kandi natural lubricant
review page!