Intimate Organics Defense protection lubricant - Lubricant from Intimate Organics

Product Details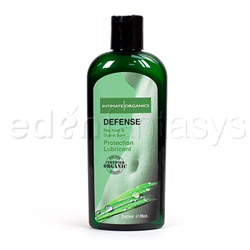 Summary:
This lube is unlike a lot of others. Not only is it organic and vegan, but it helps prevent yeast infections, cervical cancer, and genital warts due to some of its ingredients.
Pros:
Long lasting, great feeling, organic, vegan.
Best use:
On the surface, it's just a lube. It's water based, so it's compatible with all toys and condoms. It's glycerine free, paraben free, petro-chemicals free, vegan, DEA free, and naturally derived.
It's mainly geared towards women, but there is no reason that men couldn't use it as well. It has carrageenen in it, which inhibits the viruses that cause cervical cancer and genital warts, and it's also being studied for its impact in preventing other STDs as well. It also has Guava Bark Anti-Bacterial Extract in it, which is used in the Amazon to treat and prevent yeast infections.
Here is the side of the package: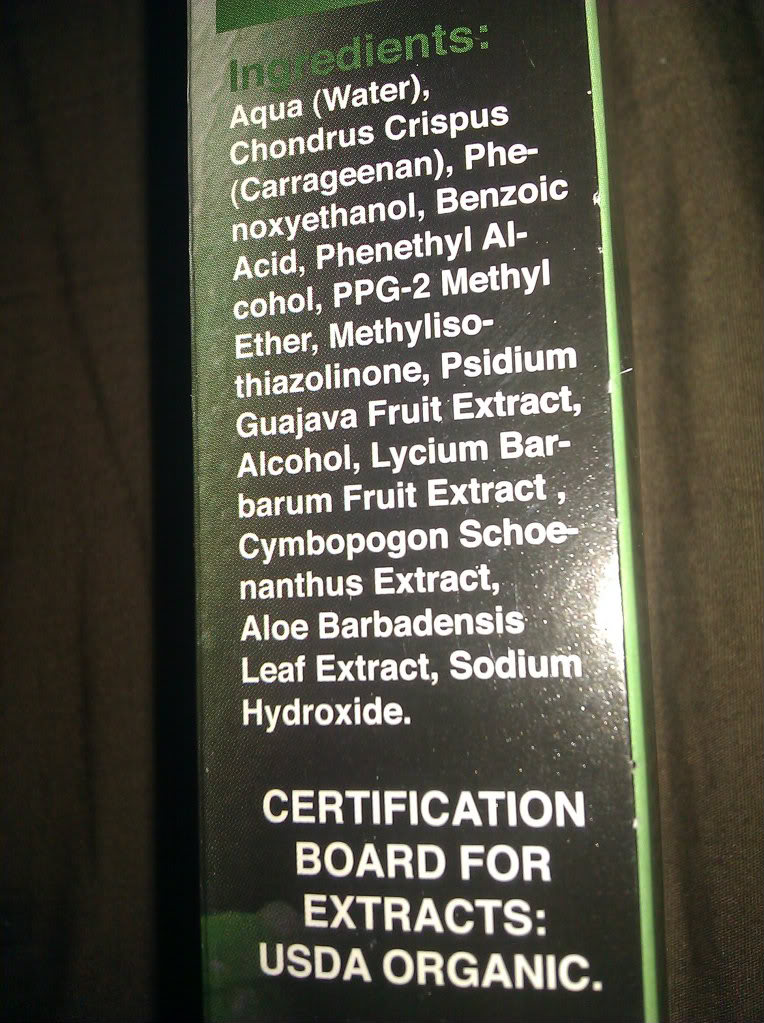 Texture / Consistency / Thickness / Viscosity:

Maybe it was the green theme of the packaging, or something like that, but before I opened this I had the impression that it was going to be kind of like a gel, or thick like aloe. But I was wrong. When I unscrewed the lid, it was sealed with a plastic piece that was a pain to try and rip off. I ended up just puncturing it instead.

Usually when I write a review on lube, I do this thing where I squirt some on my fingertips, take a picture, and then wait five seconds and take another picture, so that you can see how far it ran down my fingers. But with this, I put it on my fingers and it ran down them like baby oil would, except it's not oily.





It's kind of hard to see in the pics, but the lube ran in between my fingers, and is almost all the way down to my palm. I had my camera ready to go but it still got that far. This makes it a little bit messy as far as application goes, but you also don't need very much, so a little bit goes a long way.

I honestly don't know how to describe how it feels. It's not sticky, greasy, or oily feeling, but it's not exactly like water either. It kind of feels like that aloe gel that you buy for sun burns, but in a more liquid form.

Base:

Water

Ingredients:

Aqua (Water), Chondrus Crispus (Carrageenan), Phenoxyethanol, Benzoic Acid, Phenethyl Alcohol, PPG-2 Methyl Ether, Methylisothiazolinone, Psidium Guajava Fruit Extract, Certified Organic (GojiBerry) Fruit Extract (and) Certified Organic Cymbopogon Schoenanthus (Lemon Grass) Leaf/ Stem Extract (and) Certified Organic Aloe Barbadensis (Aloe) Leaf Extract.

Color:

Clear

Taste / Aroma:

This has a very light, floral aroma. At first, I didn't even notice it. I actually had to intentionally smell it. I don't think that it would really be very noticeable during use. It has no taste to it at all.

Performance:

When I first poured it on my hand, I was pretty impressed with the feel of it and how long it took me to rub it in. I told my husband to feel it. I poured into his hand, which is always really dry, and he started rubbing it in; it took almost no time at all for it to absorb into his skin. I was pretty worried that it wouldn't last long during intercourse.

When we tried it out, though, I was pleasantly surprised. We didn't need to reapply it at all, where with most lubes we usually do. I think the moisture that was already there helped to prolong it, so I'm not sure how well it would work for anal.

When we were done, we didn't feel like a slimy mess. It had absorbed nicely, and there was no clean-up involved at all.

Safety features:

Glycerin free / Paraben free / Petro-chemicals free

Special features:

Packaging:

The bottle itself is brown with green labels. The cap is black, and to open it you push down on one side of the top, like a shampoo bottle.

Here are some pictures of the packaging:

Front:


The back had the same thing listed in several languages. Here is a closeup of the English part:


Here is the side that was opposite the ingredients:


At first glance, it doesn't look like lube. It looks like a facial product or something like that. So, if you had it in your purse, either in the box or out, it's fairly discreet unless someone is nosy enough to actually read it.