System JO JO agape personal lubricant - Lubricant from System JO

Product Details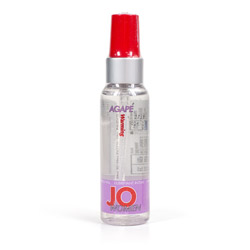 Summary:
A fantastic lubricant for vaginal sex, masturbation, or light anal play, System JO's Agape lubricant is meant for women, but can be used by anyone. It's water-based so it can be used with any toy, it lasts a really long time, and it soaks into the skin very, very well, leaving very little of anything behind. Agape doesn't gunk up or become sticky. It's a very good, all-around lubricant.
Pros:
Silky, smooth, mixes with female juices, easy cleanup.
Cons:
Sort of on the thinner side, has parabens.
Best use:
System JO for Women's Agape lubricant is water-based, and as a water-based lubricant it is suitable for use in any situation, with any toy, and at any time when a little extra moisture is needed. It works for masturbation, vaginal sex, anal sex... the uses for it are endless. And, it's not just for women!

It's a lubricant that's on the thinner side, but is not the thinnest around. If you like a thicker lubricant for anal sex, this may not be the right one. For lighter anal play, or use with anal toys, it works very well.

There are parabens in it, methyl paraben and propyl paraben, so if you know you have sensitivities or allergies to either or both of these, pass on this lubricant. Methyl paraben is virtually non-toxic, non-irritating, and non-sensitizing, but propyl paraben can be irritating to a small part of the population.

This lubricant is not the best thing to use in the shower, as it will wash away.
Texture / Consistency / Thickness / Viscosity:

The texture is fantastic--slippery, slick without being oily or greasy, and downright silky. It never gets sticky, even after wearing off. The Agape lubricant absorbs into the skin nicely, leaving a soft, smooth, sort of matte feeling behind.

It doesn't stay in place if you pump a bit onto your hand and hold it horizontally, but once in use (i.e. rubbed in a bit), it won't migrate or slip away. It's thin, but not runny in the way some lubricants are.

Agape's ingredients are as listed: Methyl Paraben, Propylene Glycol, Propyl Paraben, Sodium Carboxy Methyl Cellulose, Purified Water.

Base:

Water

Ingredients:

Methyl Paraben, Propylene Glycol, Propyl Paraben, Sodium Carboxy Methyl Cellulose, Purified Water

Color:

Clear

Taste / Aroma:

Agape by JO is odorless, and even what little smell it does have isn't very noticeable unless you put your nose in the stuff. The taste isn't the best so, while oral is possible, it may not be enjoyable. The taste is chemical-y.

There is no smell or taste left behind after it has been absorbed.

Performance:

One pump of this goes a long way. Only one or two pump(s) is needed for a typical masturbation session for me, and two pumps are ample for vaginal sex and light anal play. Of course, if you like things really slippery, more would be to your taste. A single pump produces about an entire palm's worth of lubricant (once it's spread out, but not absorbed).

It mixes in with my female juices and soaks into the skin quite well and doesn't leave residue or stickiness behind, meaning virtually no cleanup. In trying it out, reapplication wasn't necessary; it lasts for the entire session. I did not feel as if I was using a lubricant, and it felt very natural. It leaves skin feeling soft and silky, but not lotion soft.

If you find the lubricant drying up, a little water or saliva can reactivate it.

Safety features:

Glycerin free / L-Arginine free / Petro-chemicals free

Special features:

Packaging:

Agape arrived in a pump-top bottle with a cap, shrink-wrapped for safety. The pump is fantastic and releases a very good amount. It is easy to use with one hand and doesn't leak with the cap on. It is perfect for travel.

There is nothing unattractive about the bottle, but it does say "personal lubricant" on the front. It indicates that it is glycerin, silicone, oil free, and latex safe. It has directions (as if you need any!) and the standard warning in 4 languages (English, Spanish, French, German).

Personal comments:

I don't have much experience with lubricants. In fact, I have only used ID Glide and KY Jelly. Agape by JO simply blows ID Glide and KY out of the water! I love the pump top and just love the feel of it in general. I'm tossing my existing bottles and using this one primarily. It cannot be said enough how well it intermingles with my own female lubrication. It becomes one with it.

Objectively, this is a well made lubricant that can be used for just about anything. It's silky smooth, leaves your skin silky smooth, and has a great pump top. I have some major agape (that is, love) for the Agape lubricant by System JO.